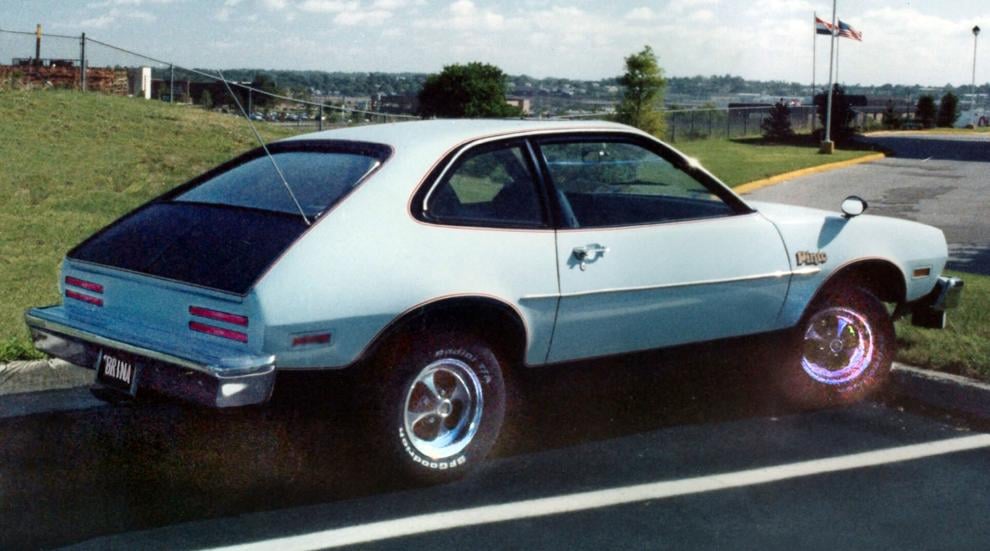 I'm not ashamed. I confess... I owned not one, but two Ford Pintos during my early years – but I did go to therapy and that helped get me through it.
My first Pinto was a 1971, Pinto Lime 'cheapie' with no options that I know of. It came along with my wife as a first marriage hand-me-down. That one didn't last long. One weekend we let my 18-year old stereo installation kid from my CMC Stereo store in Fairview Heights borrow it for a date. Fortunately Patrick nor his date were hurt, but the Pinto was totaled after he apparently launched it over a creek and got it airborne. What were we thinking?!?!
I had a bit better luck with Pinto No. 2, but it wasn't without a somewhat frightening experience. I was out junkin' one Saturday afternoon with Mark Littwiller, a good friend of mine. We were returning home and stopped at a red light on North Broadway in Baden, Missouri. Traffic was light and fortunately, I was the first one at the light. I happened to check my rear-view mirror and saw a full-size Ford station wagon bearing down on us, apparently not intending to stop. I had the Pinto, a 4-speed manual model, in first gear, popped the clutch and floored the gas, but it wasn't enough to keep from taking a hard rear end hit from the station wagon! No fire or flames (the Pinto had been in, prior to my ownership, for a recall to have a plastic shield installed to prevent fires from rear end crashes), just enough to cause major damage to the rear end.
Coincidently, I had seen an article in Hot Rod Magazine which featured a customized Pinto with 1968 Pontiac Firebird taillights installed in the rear fascia panel. I thought it looked pretty sweet so went looking for one for my car. I found a '68 Firebird with an unscathed rear panel at West Continental Auto Parts off the Rock Road in near West County. They cut out the panel and a body shop on the Rock Road installed it on my Pinto.
The rest of the makeover was done by yours truly, including painting the grill, rear deck, window frames and surrounding edges black. All black accents were trimmed with red pin striping and the windows were tinted with a medium tint.
I installed Cibie fog lights under the bumper and Lucas Flame Thrower pencil beams behind the grill. The stock rims were replaced with American Racing mags wrapped with BF Goodrich Radial TAs.
I installed European-style racing mirrors far out front on the fenders and if you've never had a car with that placement, you can't appreciate how nice it is not to have to twist your head from left-to-right to see who's coming after you! Finally I found some art deco style reflective Pinto stickers and placed them on the front fenders behind the wheels, and moved the antenna from the front fender to the rear-fast back deck at a slant.
Mechanically I didn't have to do anything engine-wise, but I did find a Pinto in a salvage yard with power steering. I purchased it along with the rack and pinion and installed it on my car along with a small diameter foam rimed custom steering wheel. When I got done, the result was a car that was surprisingly nimble, with steering so quick it made you feel like you were driving a go-kart.
Following all this work, I took my little sportster to a couple local rallies and a few auto-crosses, one on the parking lot of the West County Center mall and did fairly well.
The Pinto was a fun car that served me well for a number of years, because I never tried to get it airborne!
Prompting today's column was a story posted on Google, recounting a Car and Driver test report from back in the day, comparing the Chevy Vega and the Ford Pinto. Regarding the Pinto, C&D said, "The Pinto is exceptionally satisfying, even amusing, as a city traffic car. It's highly maneuverable, visibility is extremely good in every direction except toward the rear corners, and it has the sharp-edged, go-stop-turn feel of a sports car." 
The MSRP on the base Pinto two-door sedan in 1974 was $2,527. 132,061 were produced. Total series output was 544,209. Options were relatively few but included air conditioning ($383); AM radio ($61); AM-FM Stereo radio ($222); Luxury Decor Group ($137); Cruise-O-Matic transmission ($212); full wheel covers ($23); forged aluminum wheels ($154); white sidewall tires ($44) and a vinyl roof for $83.
Throughout their brief history, Pintos were powered by a number of engines including a 1.6-liter Kent in-line four from England, a 2.0 liter EAO in-line four, 2.3 liter OHC in-line four and a 2.8 liter Cologne (German) V6 in its final years.
FIN MAN FACTOID: Henry Ford II himself purchased a 1971 Runabout hatchback to use as one of his personal cars.
UPCOMING EVENTS: Stay tuned right here for information on shows and cruises, swap meets and such for the coming season. No final word yet on the Model T Swap Meet, but I should know something by the next issue of the OCC.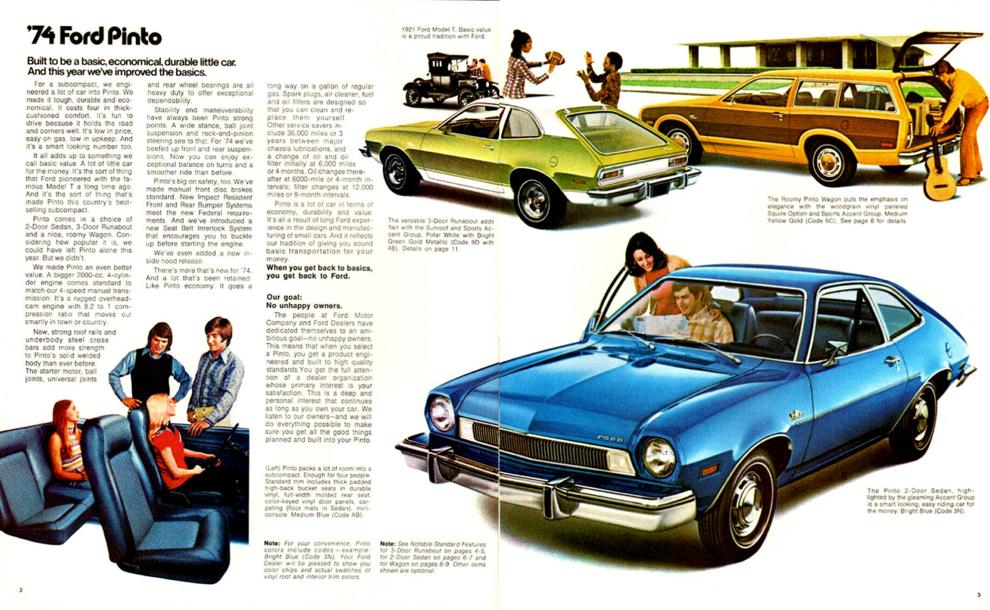 ---
This content was produced by Brand Ave. Studios. The news and editorial departments of the St. Louis Post-Dispatch had no role in its creation or display. Brand Ave. Studios connects advertisers with a targeted audience through compelling content programs, from concept to production and distribution. For more information contact sales@brandavestudios.com.