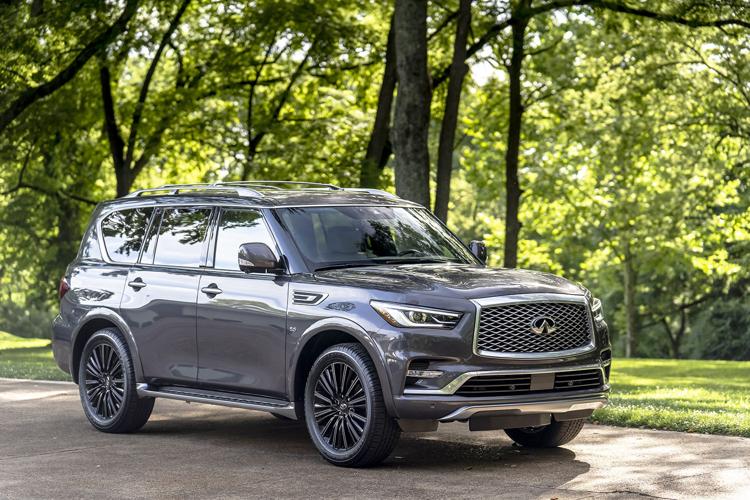 The 2020 Infiniti QX80 is sort of like Chewbacca in a tuxedo -- a hulking, nicely attired beast whose heart, generally speaking, is in the right place.
There's no disputing QX80's tough-guy credentials. This bad boy, offered as the rear- or 4WD Luxe model or the 4WD-only Limited, is a genuine truck, tipping the scales at nearly 3 tons and offering copious interior room in three rows for as many as eight people, all the while boasting enough muscle to tow more than 4 tons thanks to its big-displacement V-8 and body-on- frame, full-size truck platform.
This is no wussy, car-based crossover. It's an SUV-truck in the classic sense.
On the other hand, the tony Limited we drove covered its blue-collar capability with loads of luxury amenities. Standard on every Limited are tufted leather seats that are both heated and cooled in the front row and heated in the middle row, a veritable cineplex in back with two 8-inch video screens for aft-passenger amusement, 22-inch aluminum alloy wheels that make this bad boy look as if it were riding on Ferris wheels, power everything (including the fold function of the third row, the adjustment of the steering wheel and the functioning of the tailgate), tri-zone automatic climate control, "welcome lighting" that illuminates the surrounding pavement upon the key-holder's approach . . . there's a lot more, but you get the idea.
New amenities for 2020 include computer updates to the ProPilot Assist electronic safety nanny and infotainment goodies that bring along the latest-generation of Infiniti's InTouch system. InTouch can brag of twin center-stack displays that include an 8-inch upper screen, controlled by touch or a center-console knob, and 7-inch lower touchscreen. Needless to say, Apple CarPlay, Android Auto, Siri and Google Voice are included in the updates and information can be mixed or matched on the screens.
Wrapping all this finery is exterior styling that does what it can with this ute's massive bulk. Oh, sure, QX80, being big enough to be seen from space, is slab-sided, but the facial appearance is attractive thanks to slim headlights and a grille-grin that's more elegant and less fish-like than pre-2018 QX80s showed. Out back, a tasteful chrome strip links techy LED taillights, all on a sculpted -- if moving-van-esque -- rump. All in all, nicely done, in our opinion.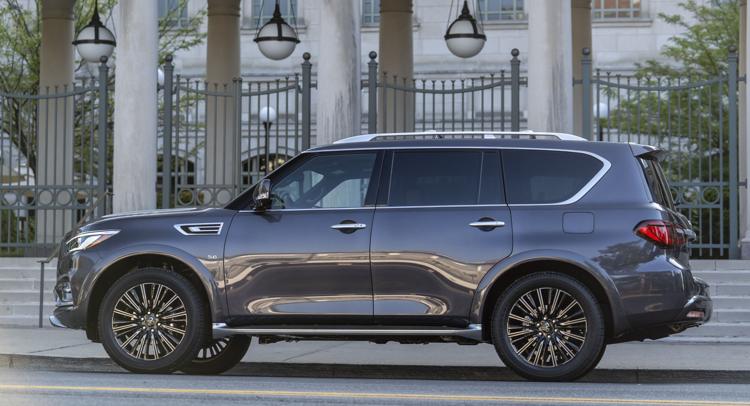 All that said, QX80, stretching more than 17 feet between its bumpers, remains big enough to earn a zoning permit. Under its hood, however, is an engine up to the task of hauling this land yacht.
Every QX80 is powered by a 5.6-liter V-8 that makes 400 hp and 413 lb.-ft. of torque, all managed by a seven-speed automatic transmission. Acceleration is impressive, given the size of the vehicle.
In roughly 100 miles of mixed city/hwy driving, we realized 14 miles per gallon in our 2020 Limited 4x4 -- exactly the same mileage figure we experienced two years ago when we drove 230 miles in a 2018 QX80 with the identical powertrain.
Once you get the hang of navigating this Queen Mary in urban traffic -- no mean feat -- the driving experience is civil. There's a lofty, top-heavy feel, for sure, but shifts from its seven-speed are seamless, the cabin hushed, and the ride, on a fully independent suspension, is generally smooth, although our Limited's 22-inch wheels telegraphed ragged-pavement encounters to the cabin.
Happily, keeping such unpleasantness to a minimum was our Limited's standard Hydraulic Body Motion Control, which is a techy substitute for anti-roll bars.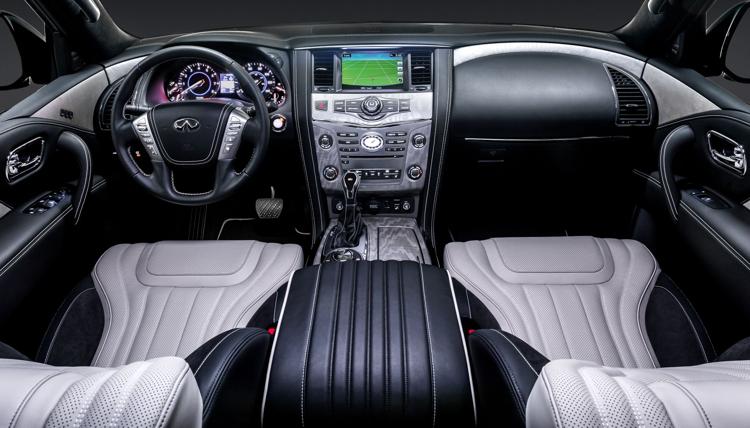 Interior room? Sensational in all rows.
Other endearing attributes in our loaded seven-passenger Limited included AWD and snow modes on the 4x4 transfer case, multi-angle exterior cameras, Bose audio and every safety alert you can imagine – blind spot, lane departure, forward collision and more.
If you don't need arena-size room and truck capability, you don't need a QX80. But if you need what it can do, it can do what you need -- in pampering luxury.
---
This content was produced by Brand Ave. Studios. The news and editorial departments of the St. Louis Post-Dispatch had no role in its creation or display. For more information about Brand Ave. Studios, contact tgriffin@stltoday.com.