You might be a bit confused if you saw this car coming up in your rearview mirror and then passing you. Your first reaction may be, "gee, that looks like a '59 Dodge front end on a '59 Plymouth Fury back end!" Well, guess what? You would be absolutely correct!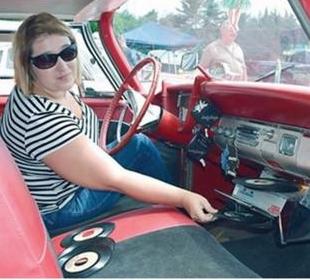 If you've never heard of the 1959 Dodge Viscount, don't feel like you're the odd man out. I, too had never heard of this very rare car until I was surfing the web for inspiration for today's column. As I stated in a recent story about a Canadian Ford, Chrysler also produced some unique vehicles just north of the border. Unlike Ford, however, who chose to change up trim on the front grilles, side sweep spears and rear taillights, and bright-work trim, Chrysler took an easier approach and literally bolted a Dodge front clip to a Plymouth Fury body (windshield to back bumper) and called it a day.
Chrysler Canada had been producing Canadian Dodges since 1951, all of which followed the established Dodge front clip/Plymouth from the firewall back approach. If you read the trivia questions first, you already know that the Regent was Canada's Dodge which debuted in 1951.That model continued right through the 1959 model year. Stateside, Plymouth made Fury a separate model of its own for 1959. In the early years (1956-1958), the Fury was a sub-model of the Belvedere line.
Canadian Dodge engines, both straight six and V-8 models, were manufactured in Canada and were very similar to their American counterparts, with slight differences in displacement. The TorqueFlite automatic transmissions used the pushbutton selector as did the American models. Three-speed manuals were standard, however.
Although Chrysler products of the fifties were known for their strong engines and rugged automatic transmissions, they were, unfortunately plagued by serious premature rusting. Add to this the fact that sales of Chrysler products during this period, typically fell behind those of GM and Ford and the result is that these automobiles are very rare 60 years later. That is but one more reason Mopar fans love their cars.
For a fascinating and thorough story on the Dodge Viscount from a lady who owns one, visit mystarcollectorcar.com and search for Venessa McClement's story along with many full-color photos including Venessa choosing which 45 rpm record she wants to put into her Highway Hi-Fi under dash record player!
---
This content was produced by Brand Ave. Studios. The news and editorial departments of the St. Louis Post-Dispatch had no role in its creation or display. For more information about Brand Ave. Studios, contact tgriffin@stltoday.com.
---