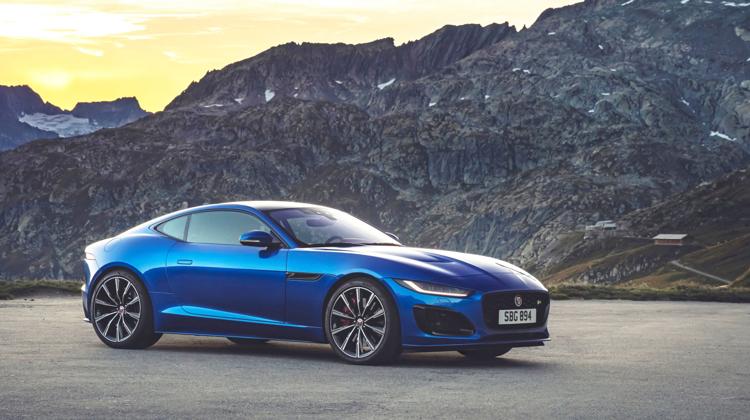 Despite already displaying a gorgeous mug, the Jaguar F-Type has apparently concluded it's time for a new makeup artist.
Significantly revised for the 2021 model year, the Jaguar F-Type, offered as a coupe or a roadster in Base, R-Dynamic and R trims, boasts a revised engine lineup, an upgraded chassis with a notably retuned suspension, serious interior enhancements and the requisite new-model technology upgrades.
But it's the alterations in its facial appearance, including a unique grille presentation for each trim level, that are most striking. Gone are the first-generation F-Type's peeled back headlights, which stretched from near the grille to seemingly a third of the way along the top of the front fenders. The new model opts for super-slim, horizontal LED headlamps that wrap around from the grille to near the wheel wells. Add a larger, though familiar, front grille treatment, a new hood and a new bumper design, and it's the face -- still undeniably beautiful -- that signals this 2021 F-Type is, indeed, significantly revised.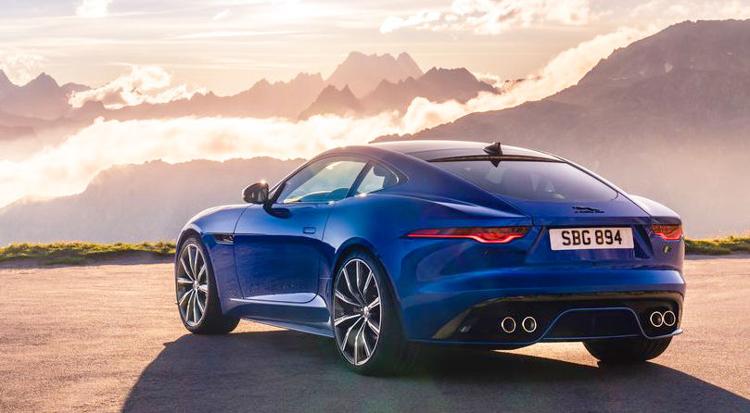 Other styling alterations, all more subtle than those of the front end, include slim-line LED taillights and an updated rear bumper.
Happily, the overall impression -- flowing forms, flaring rear haunches and a road-snuffling stance -- still recalls the look of its handsome predecessor while continuing a respectful tip-of-the-hat to its classic E-Type granddaddy.
Under the hood, F-Type's 2.0-liter, 296-hp turbo four remains the entry-level engine while last year's 380-hp, supercharged V-6, standard in R-Dynamic, is the only six-pack choice. The lesser, 340-hp V-6 of last year has been shelved. Finally, the supercharged V-8, which powers the top-of-the-line R, has been massaged for enhanced muscle.
Now making 575 hp and 516 lb.-ft. of torque, those specs represent increases of 25 hp and 14 lb.-ft. of twist compared to the 2020 model.
The four-banger can be had with rear- or all-wheel drive while V-6 and V-8 models get four-corner traction standard, an all-wheel grip system that's engineered to retain the historically classic rear-drive feel of Jaguar.
Regardless of engine or traction mode, the proceedings are managed by an eight-speed automatic. The manual gear box, alas, is no longer available to U.S. buyers.
While Jaguar did not venture an estimate of a zero-to-60 time for the V-6, the company figures the four-cylinder model will make the trip in 5.4 seconds while the R will make the same trip in 3.5 seconds.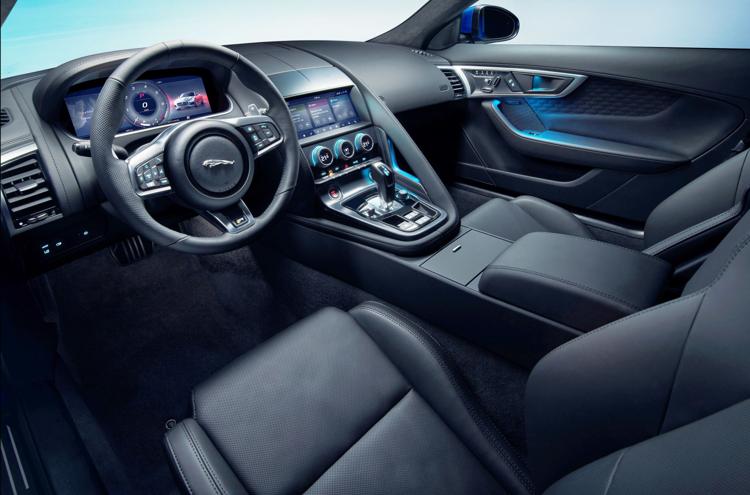 Inside, the cozy cabin confines of both the coupe and convertible will be familiar from a spatial point of view, but the 12.3-inch reconfigurable HD instrument cluster, complete with a choice of three display themes, is new. Also upgraded is the 10-inch Touch Pro infotainment set-up. Manipulated via three "tactile" rotary controllers, that center-stack display and the infotainment system to which it's connected is, of course, Apple CarPlay and Android Auto compatible.
The two seats in this two-seater can be had in one of two ways. The standard seating consists of a pair of Sport buckets, but a Performance set of seats, with more pronounced support at shoulder height, is standard in R, optionally available in the base and R-Dynamic models.
This new 2021 Jaguar F-Type had its formal coming-out party last week at the Chicago Auto Show. At press time, Jaguar had not revealed pricing.
For reference, the base price for the 2020 model is $62,625. We suspect the new version, though likely higher, will remain within shouting distance of that.
Look for the 2021 Jaguar F-Type to arrive in showrooms later this calendar year.
---
This content was produced by Brand Ave. Studios. The news and editorial departments of the St. Louis Post-Dispatch had no role in its creation or display. For more information about Brand Ave. Studios, contact tgriffin@stltoday.com.