Despite a comfortable interior, the all-electric Jaguar I-Pace took me out of my comfort zone.
It challenged my world view.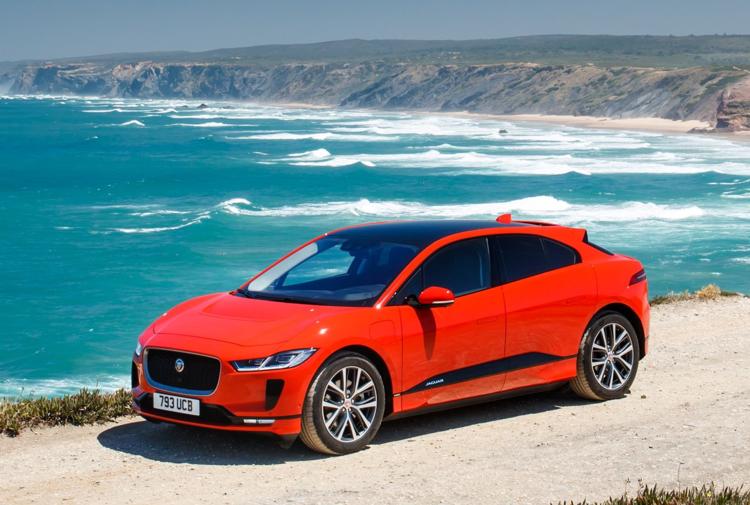 I've always thought of electric cars as, at best, urban carts -- OK as commuter vehicles for getting to and from work, but not much good for much else. A week with the all-new, all-electric, 2019 Jaguar I-Pace hatchback has not totally disabused me of my electric-car skepticism, but I'm now, admittedly, less cynical.
Oh, I still believe most electric-vehicle owners would do well to have a "real" car, too. After all, a public infrastructure allowing for convenient charging remains in its nascent state; and -- also true -- even with quick-charges (under the best of circumstances) now down to about 40 minutes for an 80-percent charge, the "refueling" of electric cars remains problematic. After all, who the heck wants to spend over half an hour at the "gas station" and then leave the "pump" with a "tank" only four-fifths full.
On the other hand, I-Pace, available in S, SE and HSE trim, is stylish, luxurious, peppy and practical while, at the same time, boasting standard all-wheel drive, a height-adjustable air suspension, palatial accommodations and a quite-usable EPA-estimated full-charge range of 234 miles. Oh, and, yeah, it's also fun to drive.
Progress is being made.
Thanks to a 90-kwh lithium-ion battery pack and two electric motors -- one powering the front wheels, the other the rear -- this guy generates 394 total-system horsepower and a pavement-rippling 512 lb.-ft. of total-system torque.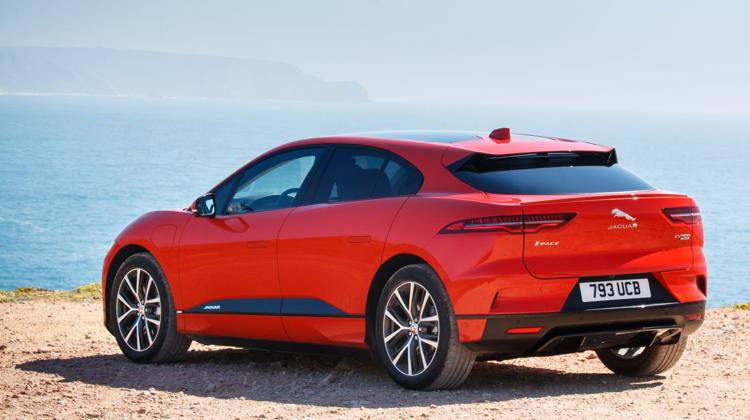 The result: lively off-line acceleration, impressive in-reserve power for passing, and the talent to greet 60 mph in under 5 seconds.
A full, at-home AC charge at a 240v outlet takes about 13 hours while an 80-percent charge at that same outlet can be achieved in about 10 hours. At a 100-kW public DC "fast charger" an 80-percent charge can be achieved in about 40 minutes, but that charging time more than doubles to 85 minutes (still fast?) if the public charger is the more common 50-kW unit.
On the road, I-Pace's oddest trait is its aggressive regenerative-braking in the higher of that system's two settings. Lift off the throttle in high-regen mode and I-Pace brakes so hard and fast you can drive around town and rarely touch the brake pedal.
Other eccentricities include its in-reverse beeping, a courtesy to passersby who may be unaware this silent electric car is backing up, and its twin trunks -- one where you'd expect it under the rear hatch, a second small cargo hold under the hood where a gasoline engine isn't.
Which speaks to the car's practicality, a characteristic that includes roomy accommodations both front and rear and a 60/40-split folding rear seat for up to 51 cu. ft. of trunk space.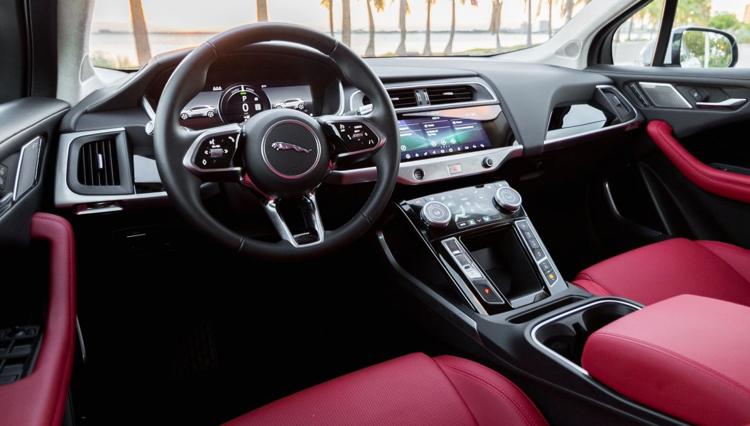 Regarding range, our I-Pace, in its gauge display, promised upon its arrival that it had a 99-percent charge and 256 miles worth of motoring in its battery. We didn't do quite that well, but we still achieved more than 200 miles before a charge loomed.
In the cabin, no sacrifices are made for this guy's green credentials. Our top-of-the-line HSE included a fixed, smoke-glass panoramic roof, creamy leather, heated and cooled front seats, heated outboard rear seats, dual-zone climate, and an infotainment system with a 10-inch touch screen, navigation, 825-watt Meridian audio, Apple CarPlay and Android Auto compatibility and WiFi hot-spot talent.
Of course, all the modern safety nannies are here -- lane-keep assist, rear camera, park assist, adaptive cruise and more -- while the I-Pace styling is a knockout: wide stance, robust fenders, ovoid Jaguar grille, 20-inch wheels on our HSE, swoopy beltline, fast backlight, high deck lid.
I'm still not sure I'd trade my '97 Jeep for an electric car, but I-Pace makes a strong case for fossil-fuel-free transportation.
We drove a 2019, but the 2020 model is said to be identical.
---
This content was produced by Brand Ave. Studios. The news and editorial departments of the St. Louis Post-Dispatch had no role in its creation or display. For more information about Brand Ave. Studios, contact tgriffin@stltoday.com.