As playwright George Bernard Shaw said, the British and Americans are two peoples separated by a common language.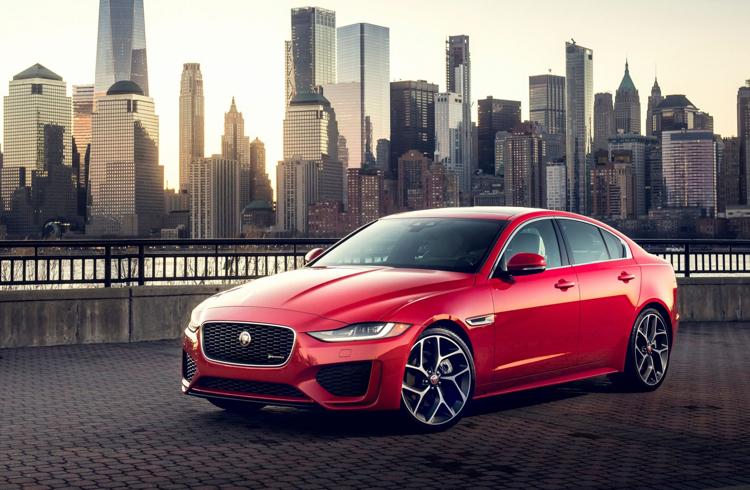 For example, talk to a British engineer about Jaguar's lightweight automotive bodies, and he or she will enthusiastically extol the virtues of aluminum body panels -- panels the Brit engineer will likely pronounce "al-u-MIN-ee-um."
Even the brand moniker is a point of verbal contention. It may be JAG-war to us Yanks, but the Brits prefer JAG-yoo-war.
The notably updated 2020 Jaguar XE, however, has its own bone to pick with the speech patterns of American car buyers: in XE's view, way too many Americans pronounce the name of their new European compact sport sedan "Mercedes-Benz C-Class."
During the first three quarters of 2019, Mercedes's C outsold Jaguar's XE to the tune of 13-1. To add insult to injury, BMW's 3 Series, too, has handily outsold the Jag, in the Bimmer's case 11-1.
Enough, already! Jaguar figures.
XE's 2020 changes -- the first major alterations since its 2017 debut -- are designed to help rectify the situation. These include intriguing drivetrain alterations, impressive cabin improvements, and understandably modest styling updates. (Hey, XE already was beautiful; it is a Jaguar, after all.)
Regarding styling, look closely to note horizontally slimmer LED headlights supported by "hockey-stick" running lights, a bolder grille that retains the now-classic Jaguar look introduced, lo, those many years ago by the 2011 XJ, and a new aft end with redrawn bumpers and split twin exhaust tips.
The trim levels -- S and R-Dynamic S -- highlight the drivetrain changes. Gone, alas, is XE's V-6 option. Instead, S, internally dubbed P250, boasts a 2.0-liter, turbo I-4 that makes 247 hp and 269 lb.-ft. of torque. R-Dynamic S, known to its friends as P300, takes that same blown four but massages it to 296 hp and 295 lb.-ft. of grunt. The S can be had with rear- or all-wheel drive; R-Dynamic boasts four-corner grip standard.
Regardless, every XE is managed by an eight-speed automatic.
We drove the entry-level XE S RWD, which proved gorgeous to behold, athletic to drive and comfortable to occupy -- up front.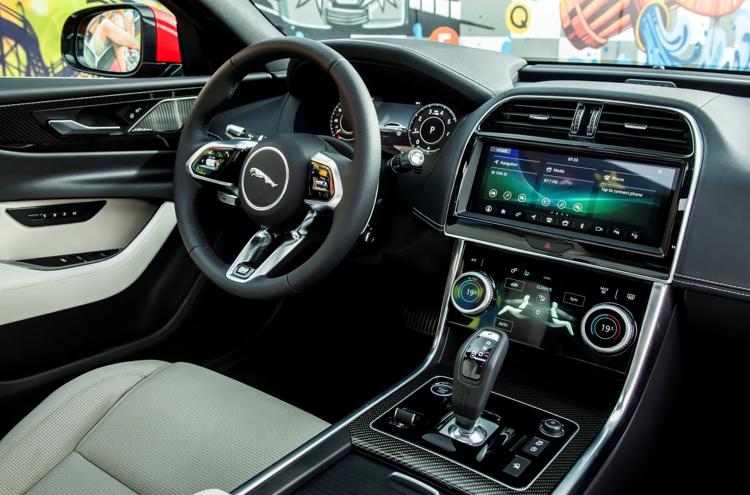 We had occasion during our week with XE to transport in front a pair of plus-six-foot men and, at the same time in back, two just-over-5-foot women. The guys, seats slid back, did great up front, thank you very much. The women in back, who were kind enough to cede the more spacious front seats to the guys, squawked the whole time. In other words, the XE aft seat, unsurprisingly in a compact sedan, is cozy. This is really a personal luxury-sport sedan.
And, for the driver, it's a joy to get up close and personal.
In the around-town stoplight derby, XE is lively -- peppy off the line while exhibiting sharp handling, a quiet cabin and, when provoked, pleasing upshifts from the eight-speed, all accompanied by a gratifying exhaust note when the skinny pedal is hammered. Our only driving complaint: the auto engine shutoff at stoplights vibrates the whole car when the engine kicks back on. Happily, that function can be disabled.
Throw in drive modes of Dynamic, Comfort, Eco and Rain/Ice/Snow, and we enjoyed a gratifying 120-mile drive, mostly in town, while realizing 23 mpg.
Regarding infotainment, XE, in its beautifully appointed cabin, now boasts Jaguar Land Rover's cutting-edge InControl Touch Pro Duo interface, which consists of three screens: a reconfigurable gauge pack and twin center-stack screens.
Regarding the latter two, everything from navigation, media, phone, climate, audio and more can be mixed and matched. We found that the system was sometimes slow to respond to touch-screen commands, but the graphics are lovely and the interface is logical. All in all, a nice way to control the must-have 21st-century electronics.
This one is athletic, techy and shapely. Buyers who love to drive who are shopping the Mercedes C, BMW 3 or Audi A4 would do well to check out this new Jaguar XE.
---
This content was produced by Brand Ave. Studios. The news and editorial departments of the St. Louis Post-Dispatch had no role in its creation or display. For more information about Brand Ave. Studios, contact tgriffin@stltoday.com.