Classic rocker Huey Lewis and the 2020 Jeep Cherokee are at loggerheads.
As he confessed in his 1986 tune, Huey, along with his pals in The News, figures it's hip to be square. Cherokee, on the other hand, has concluded it's chic to be sleek.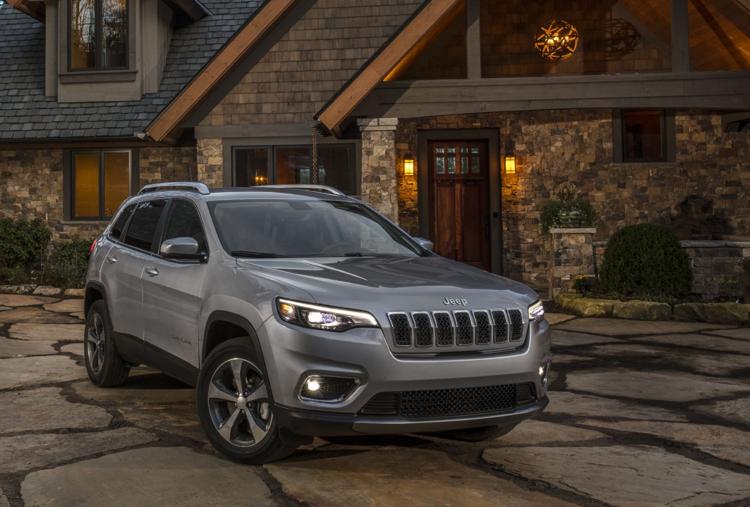 Well, sleek by SUV standards, anyway. Cherokee leaves the squared-off Jeep look to Wrangler, Gladiator and Renegade. Cherokee, instead, goes the sleek-Jeep route, trailblazed by Grand Cherokee and, these days, also embraced by Compass.
In fact, Cherokee doubled down on that elegance last year in its 2019 mid-cycle refresh by toning down the horizontal kink in its seven-slot grille and, among other cues, shedding LED light on its contemporary comportment via less squinty headlights.
In view of all the changes wrought last year, both in demeanor and in drivetrains (a new turbo four debuted last year, too), the current edition can be forgiven for going easy on the alterations. There's really only one of significance: in 2020, the news (apologies to Huey for the lower case) is a newly available Advanced Safety Group, which bundles together the safety nannies of Lane Departure Warning-Plus, Forward Collision Warning-Plus and rain-sensing wipers into a single, $595 package.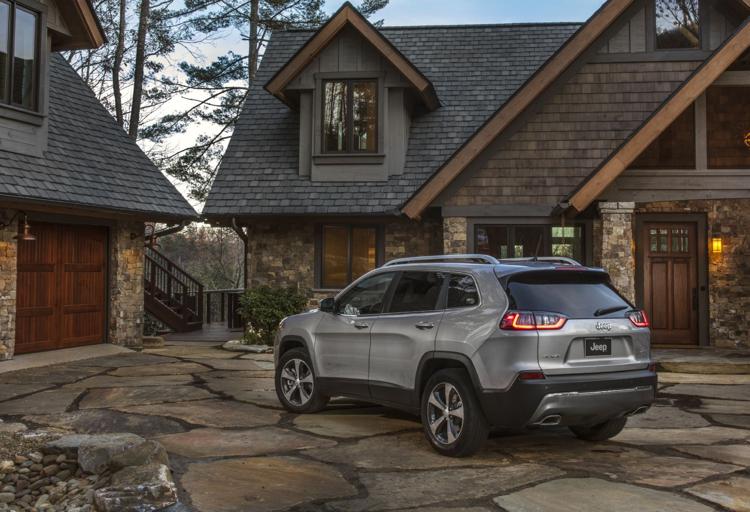 Available in Latitude, Latitude Plus, Limited, Overland and Trailhawk togs, the 2020 Cherokee, depending on trim, can be had with one of three engines and with front-wheel drive or one of three 4WD systems.
Those engines, all managed by a standard nine-speed automatic, include a 2.4-liter, 180-hp I-4; a turbocharged 2.0-liter, 270-hp I-4; and -- a rarity in the compact crossover segment -- a V-6, here displacing 3.2 liters and generating 271 hp.
Traction choices include standard front-wheel drive on everything but Trailhawk, or a triple dose of four-corner-grip choices: Active Drive I, which is a stunt double for all-wheel drive; Active Drive II, which adds trail-competence via a low-range setting; and the boulder-crawling Active Drive Lock, which is available only on Trailhawk, where it's standard.
We drove the elegant Limited powered by the 2.0-liter turbo four sending traction to all four corners via Active Drive II 4WD.
In 125 miles, more on surface streets than highway, we registered 22 mpg.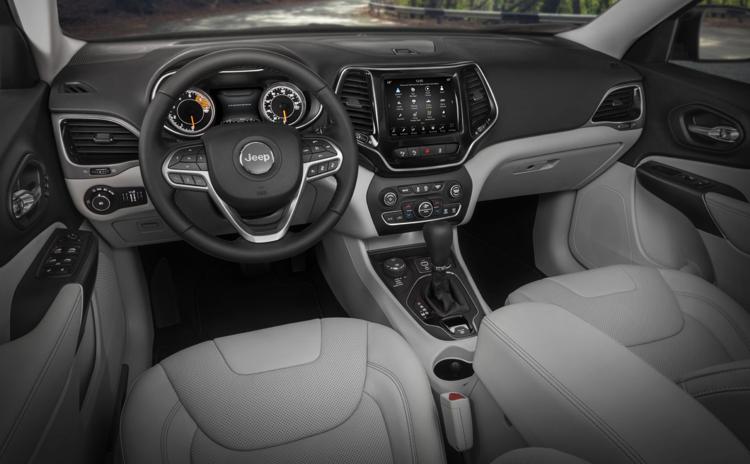 On the road, the cabin is comfortable and the ambience surprisingly quiet given this guy's off-road capability. The ride is firm but not harsh and the demeanor is solid and confident. Under provocation, I found the blown engine's exhaust note appealingly growly, although, from the passenger seat, the wife considered the aural experience "coarse." (I gotta have a talk with her!)
A real plus was our Limited's park-assist talent. Just push a button on the center console, cruise slowly down the boulevard and the system will find a suitable parking space. Then simply feather the pedals and select forward/reverse as needed and the Cherokee steers itself into the space. It's effortless and works flawlessly.
Inside, Cherokee Limited boasts upscale appointments, along with a choice of 7.0- or 8.4-inch Uconnect infotainment screens, the latter with or without navigation and both with Apple CarPlay and Android Auto compatibility. We had the bigger screen, part of our Limited's $895 Uconnect 4C NAV infotainment upgrade. As always in FCA products, the system was intuitive and easy to use.
Regarding room, the front seats, nicely bolstered in Limited, are spacious and comfy. In back, leg room can be close be- hind tall driver and head room to a tall passenger might feel a tad snug under the fancy -- and optional -- full-roof sunroof we had. But average-stature folks won't squawk back there in the cheap seats.
In the final analysis, the 2020 Jeep Cherokee is an outlier in the compact crossover segment -- a vehicle that answers the bell for daily-living convenience while also boasting genuine off-pavement chops for the buyer who wants it.
---
This content was produced by Brand Ave. Studios. The news and editorial departments of the St. Louis Post-Dispatch had no role in its creation or display. For more information about Brand Ave. Studios, contact tgriffin@stltoday.com.