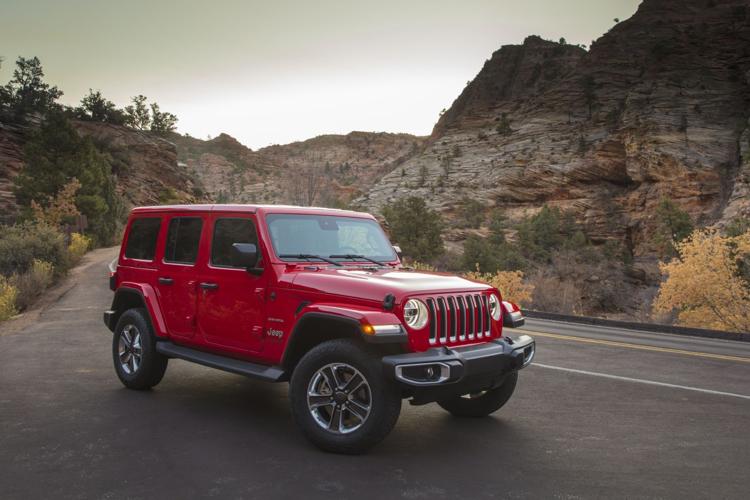 An open-top Jeep used to be a niche vehicle -- a loud, raucous roughneck whose appeal was pretty much limited to hardcore fans. So rare were Jeep CJs and Wranglers back in the day that their drivers would routinely acknowledge a fellow Jeeper passing on the street with a friendly wave.
Then, in 2007, Jeep introduced the four-door Wrangler -- and sales skyrocketed. Wranglers are so common these days that a driver who consistently delivers the "Jeep Wave" to a passing Wrangler risks repetitive-motion injury.
And now, Wrangler is expanding its appeal farther. Already available with a mild-hybrid I-4 and a naturally aspirated V-6, the 2020 Wrangler is, at last, offering a long-awaited engine option: a turbo diesel.
Available only in four-door models, which constitute roughly 80 percent of all Wrangler sales, the Wrangler EcoDiesel can be had in Sport, Sahara and Rubicon trim.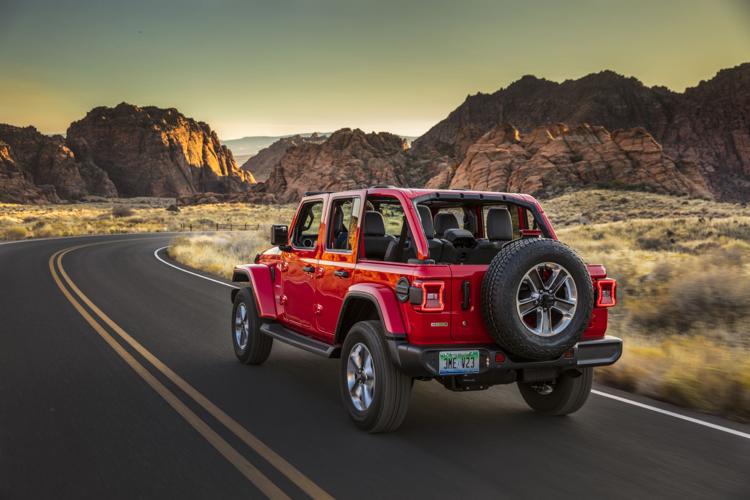 The engine is a 3.0-liter, turbocharged V-6 borrowed from the Ram 1500. Modified slightly for use in Wrangler -- alternator and engine pump have been relocated to higher ground to allow this Jeep to ford water to a depth of 2.5 feet -- the diesel is compatible only with an eight-speed automatic. That means the total cost for the diesel option is a whopping $6,000: $4,000 for the engine and $2,000 for the automatic transmission, which -- in a comical oxymoron -- is a "mandatory option."
What buyers get in return, however, is enhanced fuel economy and additional capability in a vehicle that already has no peers in off-pavement talent.
We drove a Sahara and, alas, remained urban-bound during our week with the EcoDiesel. However, having driven many miles of mountain trails in the current-generation Wrangler JL, we can testify to its off-road capability. This torquey diesel, which generates 260 hp and a trail-taming 442 lb.-ft. of torque, can only enhance that talent. Meanwhile, on pavement we greeted 60 mph in less than 7 seconds while enjoying, thanks to gobs of torque, robust acceleration at-speed.
At press time, the EPA had yet to officially certify the diesel for fuel economy. During our week with the EcoDiesel, which included 140 miles of mixed city/hwy driving, we realized 26 mpg. That compares to an EPA rating of 21 combined for the hybrid four-door and 20 for the V-6.
Otherwise, this diesel is a modern JL Wrangler -- loud and raucous by modern-car standards, to be sure, but Lexus-like in civility by historic open-top Jeep standards.
On the road, our Sahara, which featured Wrangler's great new Premium Sunrider Soft Top -- just flip it back and the sun shines in -- provided the firm ride we expected, along with somewhat numb steering at highway speeds. That latter trait, a characteristic inherent in this Jeep's truck-tough recirculating-ball steering setup, ensured that vigilance was required to keep the vehicle centered in its interstate lane.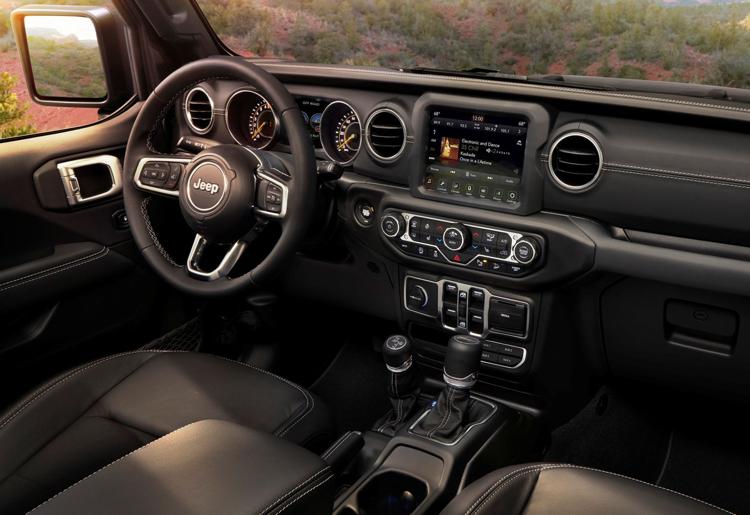 The qualities that make this generation Wrangler acceptable in polite society, however, are evident in Sahara. Here is a vehicle that, despite robust off-road talent, boasts such standard perks as power windows, locks and (heated) outside mirrors, automatic headlamps, dual-zone auto climate control, push-button start, cruise control, 7.0- inch infotainment touch screen, satellite radio receiver, rear-view camera and more. In a rag-top Jeep!
Our loaded 2020 Sahara diesel added, among other things, such optional goodies as leather seating, heated front seats, heated steering wheel, Blind-Spot and Rear-Cross-Traffic alerts, Intelligent Cruise Control, an 8.4-inch infotainment touch screen and keyless entry and push-button start.
You can see how the liveried class might start to like this thing, despite its credentials as a truck-tough vehicle with standard 4WD, solid axles at both ends, heavy-duty steering and body-on-frame truck construction.
With sales of more than 176,000 units through the first three quarters of calendar-year 2019, Wrangler is a hugely popular SUV -- not to mention America's only four-door convertible.
This diesel will only enhance its appeal.
Slated to arrive "before the end of the year," Wrangler diesel is either in your nearest Jeep dealer's showroom now, or will be in about 15 minutes.
---
This content was produced by Brand Ave. Studios. The news and editorial departments of the St. Louis Post-Dispatch had no role in its creation or display. For more information about Brand Ave. Studios, contact tgriffin@stltoday.com.