When it comes to styling, the third-generation Kia Soul obviously concluded that no soul searching was necessary.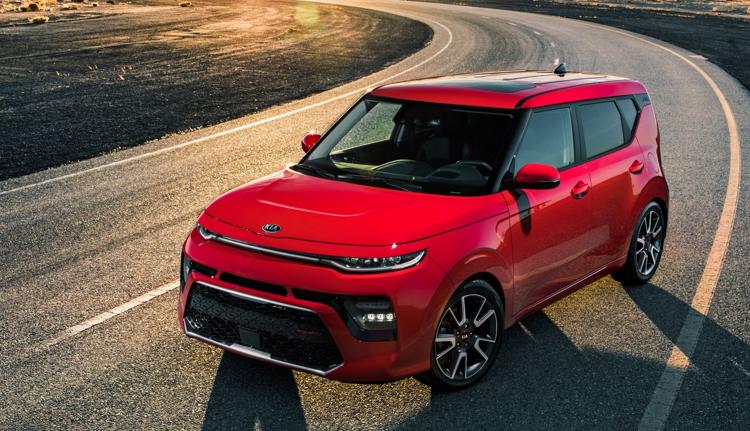 For a decade, Soul's box-it-came-in exterior motif has worked just fine, thank you very much -- since its 2009 introduction, Kia has sold more than a million Souls -- so the redesigned body of this gen-three 2020 edition continues to boast more corners than the long way home.
Now, that's not to say no changes have been made. As Kia says, this latest Soul is "completely new yet familiar."
The "familiar" is the overall cubist approach to its wardrobe. The "new," as far as appearance is concerned, includes slimmer and techier headlights, a razor-thin horizontal slot linking those headlights, a more-agape grille, taillights shaped like hockey-stick blades, a reshaping of the tailgate's trademark body-color "island," and a blacked-out panel on the D-pillar.
It all works.
Inside, interior room really doesn't increase, even though this little guy is 2.2 inches longer while riding a wheelbase that stretches 1.2 inches farther. The only significant gain in room is provided to the cargo bay, which grows by 5 cu. ft.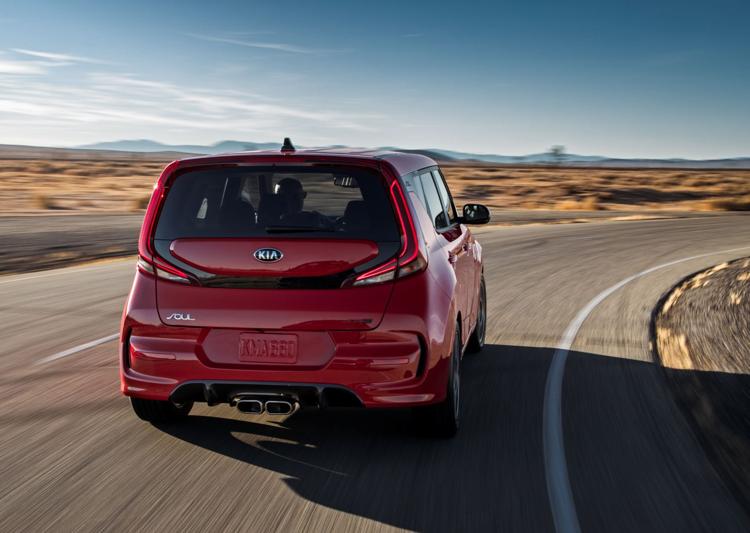 Regarding people room, Soul already boasted -- and still does, by small-wagon standards -- copious head room throughout, thanks to its lofty and horizontally level roof, while leg room for rear passengers also is accommodating. Even behind a tall driver, you won't hear any squawking.
The 2020 Soul is offered in five trims: LX, S, X-Line, EX and GT-Line. All come standard with a 2.0-liter, 147-hp I-4 that makes 132 lb.-ft. of torque through either a six-speed manual, which is standard on S, or a CVT automatic, which is standard with the 2.0L engine on everything except S, where it's optional. That CVT nicely mimics the feel of a step-gear automatic when the engine is provoked.
The GT-Line is the sole Soul that can be optioned up to a 1.6-liter turbo four that makes 201 hp and a robust 195 lb.-ft. of torque through a standard seven-speed dual-clutch automatic.
We sampled both the X-Line 2.0L and the turbocharged GT-Line 1.6T.
In our view, the primary reason to upgrade to the turbo is to shorten your trip to 60 mph. In the GT-Line 1.6T, we greeted 60 mph in about six-and-a-half seconds. It took us 8 seconds to make the same trip in the 2.0-liter X-Line.
Otherwise, both Souls we drove offer similar fuel economy and felt confident at speed, athletic in handling, satisfyingly peppy in the urban stoplight grand prix, comfortable in on-road demeanor and, despite the inevitable bit of highway wind and road noise in this boxy little guy, civilized in comportment.
This really is a neat little wagon. And we use the word "wagon" deliberately.
Kia likes to market Soul as a small crossover SUV. However, every Soul is pulled around by the front wheels. No all-wheel drive option is offered. Consequently, we think of it as a small, albeit tall, wagon.
But it's a wagon with real personality.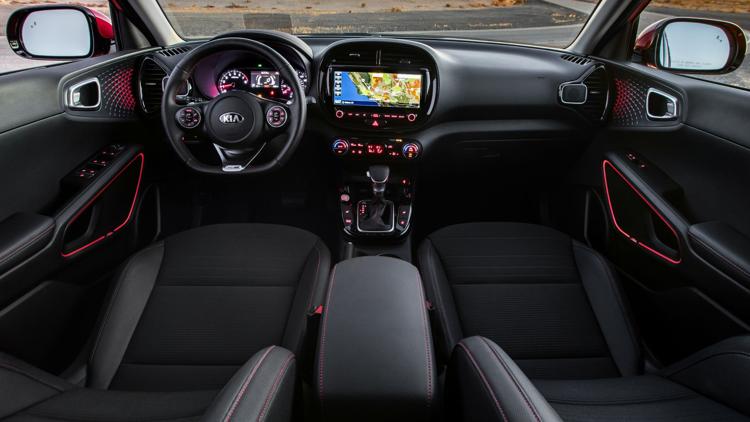 The infotainment stuff is packaged in sort of a double-bubble gauge/center-stack-screen housing. The touch screen is intuitive, knobs are provided for radio tuning and volume, and hard buttons are plentiful. Also, the steering wheel provides easy-to-find thumb toggles for the gauge pod's reconfigurable screen and for audio volume. Nicely done.
Among the system's endearingly wacky available perks is Mood Lighting. In a nutshell, Mood Lighting illuminates door panels in a glow that pulses to the music coming from the speakers -- a lightshow that can be tailored via six motifs: Party Time, Cafe, Traveling, Romance, Midnight City and (we're not kidding about this) Hey! Yo!
Soul is roomy, fun to drive and easy to handle in urban situations. Small on the outside, it's big on the inside and charming in its idiosyncrasies.
No wonder Kia sells so many.
---
This content was produced by Brand Ave. Studios. The news and editorial departments of the St. Louis Post-Dispatch had no role in its creation or display. For more information about Brand Ave. Studios, contact tgriffin@stltoday.com.