Steppenwolf told me to turn off the radio. Well, not in so many words, but the message seemed clear.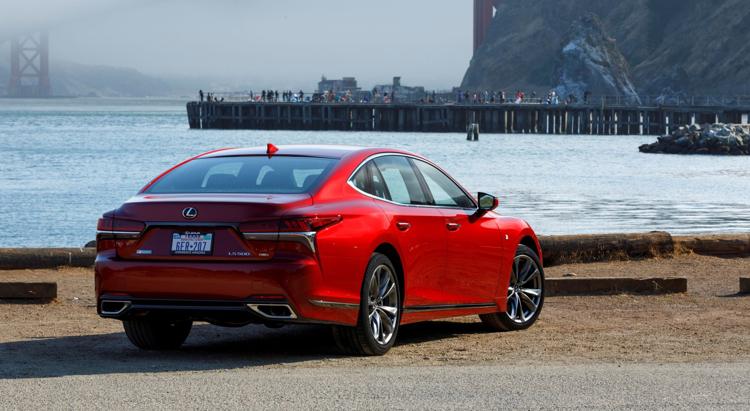 We were cruising down I-44 at 70 mph, ensconced in the preternaturally smooth, utterly hushed cabin of the 2019 Lexus LS500 on our way to visit friends in Steelville, Mo. Suddenly, Steppenwolf's "Magic Carpet Ride" came on the radio.
". . . Goes far, flies near, to the stars, away from here. You don't know what we can find, why don't you come with me . . .  on a magic carpet ride."
I thought, Hey, Stepp, I am! I mean, motoring down the highway in this utterly serene Lexus could seem like a magic carpet ride -- if only I'd let it.
So I turned off the '60s head-banger and settled in to enjoy the cosseted comfort of this humongous Lexus flagship sedan.
Thanks for the tip, 'Wolffie! (And don't even get me started on how creepy it is that Steppenwolf lyrics are starting to make sense to me.)
Excepting the hybrid model, which is a different animal all together, the 2019 LS500 is available in two versions: the standard car and F Sport. Each is available with rear or all-wheel drive and each is powered by a twin-turbo, 3.5-liter V-6.
We sampled an AWD F Sport, whose upgrades, compared to the standard LS, include 20-inch wheels hugged by performance tires, beefier brakes, sport-tuned suspension, unique exterior trim, exclusive cabin fabrics and multi-way power-adjustable sport seats.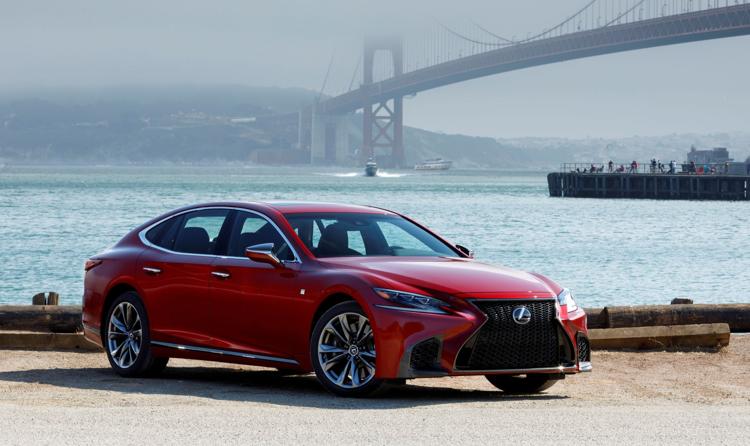 Our tester added what, in our view, was one needless option and one superb add-on.
Unnecessary was the $1,220 Head Up Display, with its sprawling 24-inch windshield-reflected image. We found it distracting and turned it off.
Much appreciated was the $1,940 Mark Levinson, 23-speaker audio system. We returned to Mr. Levinson later, after giving Mr. Steppenwolf the silent treatment.
On the road, in addition to its inherent peace and comfort, this big Lexus exhibits an impressive performance pedigree -- talent carried over from last year when the big guy went all PC on us and dropped its eight-cylinder engine. Until the arrival of this fifth-generation LS in 2018, every LS since 1990 had housed a V-8.
Then gen-five arrived with a twin-turbo six, managed by a techy 10-speed automatic.
Two fewer combustion cans? No worries. The twice-blown six, at 416 hp and 442 lb.-ft. of torque -- 30 and 75 more, respectively, than LS's last V-8 -- beats the old eight in both performance and fuel economy. Meanwhile, adding to the driving experience are selectable chassis modes of Snow, Comfort,  Eco, Normal, Custom, Sport and Sport Plus.
In our 180-mile highway trip, we realized 25 mpg on this guy's diet of premium -- not quite the 27 the EPA expected, but still impressive considering this car's size, power, room and amenities.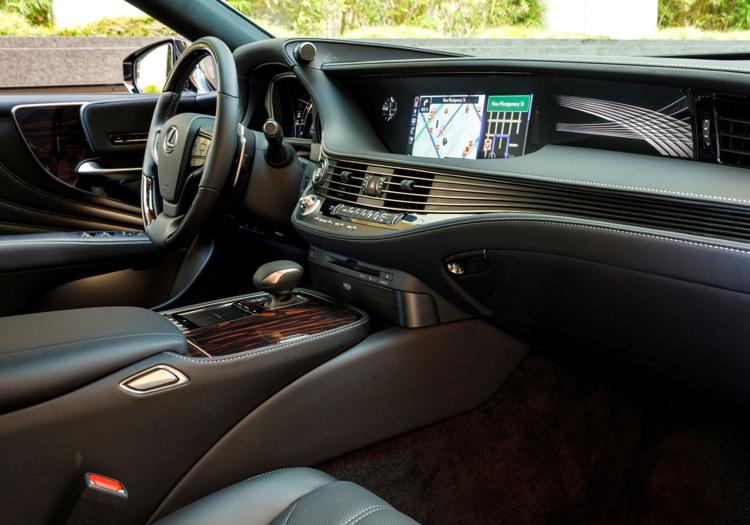 Speaking of which, interior space is spectacular front and rear, while comfort in F Sport's seats is aces. Bolstered out to there, the leather/suede sport buckets are 28-way adjustable. Believe me, if you can't get comfortable, you ain't tryin'! Meanwhile, the rear seat's outboard positions are bolstered almost as well as the fronts -- almost.
The infotainment interface, on the other hand, can be vexing.
The center-stack display is controlled by a few hard buttons and a finger-slide pad on the center console. Via that pad, an indicator on the screen is moved using finger movements and taps. Mmmmm.
It takes some getting-used-to.
Happily, an old-school idea is retained: a knob is provided for radio volume, and surrounding that knob is an easy-to-use ring for tuning.
We really think this angular, beautifully styled car is amazing in its palatial luxury, techy equipment, copious room, impressive power and commendable athleticism.
I started thinking, gee, I bet I could dig in my pocket and come up with 88 grand for this thing -- at which point Steppenwolf spoke to me again: ". . . tell your dreams to me, fantasy will set you free."
---
This content was produced by Brand Ave. Studios. The news and editorial departments of the St. Louis Post-Dispatch had no role in its creation or display. For more information about Brand Ave. Studios, contact tgriffin@stltoday.com.