The good news is that the all-new A220 compact sedan, in every way, is a real Mercedes-Benz. The bad news is that the all-new A220 compact sedan, in every way, is a real Mercedes-Benz.
Regarding the good news, this little sedan rides, drives, handles, pampers, protects and performs like the Mercedes it is while providing all the cutting-edge tech you'd expect from this luxury marque.
A220 may be small, but it's impressive.
The bad news is that, despite its affordable, mid-30s entry-luxury base price, the bottom-line of an A220 can, in a manner typical of Mercedes, balloon quickly into, well, the realm of Mercedes-Benz pricing.
To the chagrin of new-to-the-brand buyers who are hoping the A-Class is their entry into the rarified world of Mercedes-Benz, getting the thing equipped the way you really want may require a deep dive into its lengthy options list. And that, of course, bloats the doable base price pretty fast.
For 2019, this new A-Class sedan is available in two versions -- the front-drive A220, which starts at $33,495, and the all-wheel drive A220 4MATIC, which has a starting price of $35,495.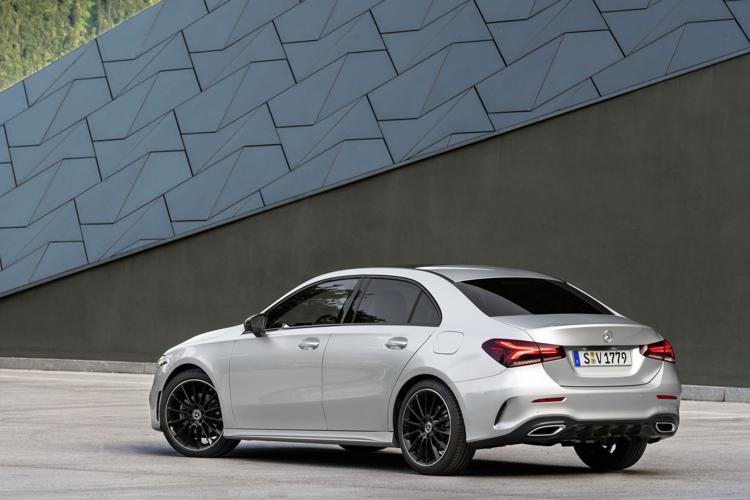 We drove the latter, but not for any measly 35 grand. After our tester added $15,185 in options -- have mercy! -- we realized a bottom line of (wait for it) $50,680. Ouch!
But, hey, the A220, small though it may be, is a real Mercedes that requires no apologies. (And, obviously, Mercedes doesn't make any.)
Every 2019 A220 is powered by a 188-hp turbo four that lays down a satisfying 221 lb.-ft. of torque through its standard seven-speed, dual-clutch automatic.
While power may seem just adequate on paper, it becomes impressively potent on pavement, thanks in large part to the auto shifter, which is marvelous at choosing just the right ratio at just the right time, and the fact that the engine's full complement of torque is fully online at a mere 1,250 rpm. It's ready when you are.
Our AWD A220 greeted 60 mph in a blink over 6 seconds while returning 27 mpg in 120 miles of mixed city/hwy motoring.
And during that motoring the driving experience was sublime -- quiet, solid, assured, athletic. All good.
Inside, room is fine up front and surprisingly good in back. Head room in the aft seat is remarkably accommodating, but rear-seat riders -- no surprise in a compact -- will have to catch a break from front passengers for decent knee room.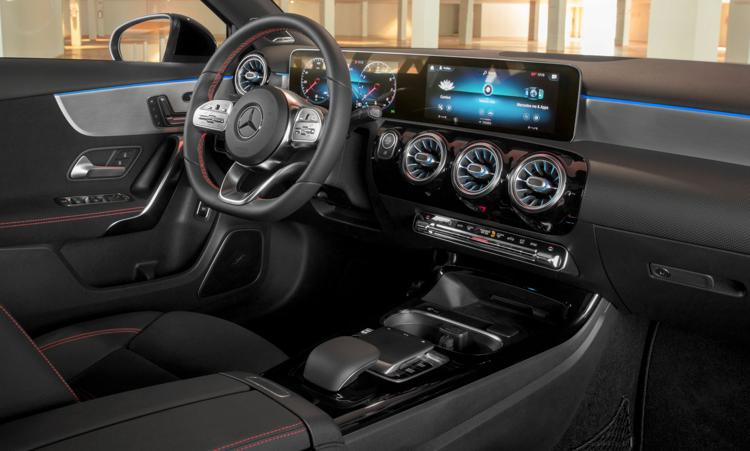 Regarding cabin appointments, it's obvious this compact is no budget-materials economy car. The bolstered sport buckets are comfortable and supportive, the cabin's fit and finish is impeccable, and the dazzling twin infotainment displays announce this car's dedication to technology.
Those dual screens share a common frame perched atop the dashboard. Ahead of the driver is the reconfigurable gauge display. Atop the center stack is the infotainment screen. The latter provides touch controls, but it's a pretty good stretch for average-stature drivers. That said, we found it preferable to the pad controller on the floor console.
Those screens, by the way, are part of A220's optional Premium Pkg., a $2,100 upgrade. Which brings us to pricing.
Well-heeled Mercedes fans who simply want a smaller, more urban-friendly Benz that remains a Benz in every way can load this guy up past 50 grand without working too hard.
On the other hand, monetarily challenged shoppers who simply want to enter the rarified world of Mercedes can opt for a front-drive A220 and, cautiously navigating the options list, limit upgrades to such gotta-have items as the Premium Pkg., Driver Assistance safety-nanny pack and, say, the boffo Burmester Surround Sound audio upgrade. So equipped, the A220 goes out the door for under 39 large.
And you'll still have a real Mercedes-Benz.
---
This content was produced by Brand Ave. Studios. The news and editorial departments of the St. Louis Post-Dispatch had no role in its creation or display. For more information about Brand Ave. Studios, contact tgriffin@stltoday.com.