The roster of Mercedes-Benz vehicles is delineated by a dizzying array of alphabet-soup designations -- A, C, CLA, CLS, E, GLA, GLB, GLE, GLS, S, SL... there's more, but you get the idea.
Though all the above represent a vehicle or a vehicle class within the Mercedes family, none seems to be an actual acronym that stands for a phrase.
We did an internet search of the acronym "GLC" -- hey, if it's on the internet, it must be true, right? -- to find a corresponding three-word phrase that might apply to this small Mercedes crossover. In our search, we came across everything from "Great Lakes Commission" to "gas-liquid chromatography" (huh?!!), but nary a mention of the Mercedes model in question.
So we've applied our own phrase to "GLC": Great Little Crossover. And apparently a lot of folks agree. Since its introduction in 2016, GLC has become Mercedes's best-selling model in the U.S.
Enjoying its first significant updates since it debuted four years ago, the 2020 GLC SUV is available as the GLC300, GLC300 4MATIC, GLC350e plug-in hybrid, AMG GLC43 and AMG GLC63. And that doesn't even count the GLC "Coupe" and its four iterations! Have mercy.
We drove a GLC300 4MATIC SUV -- 4MATIC being Mercedes-speak for all-wheel-drive -- so we'll concentrate on that.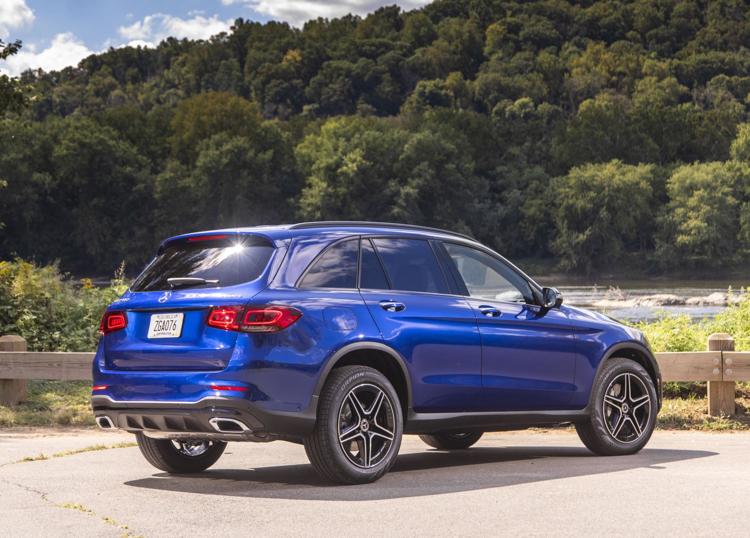 Other than the price skyrockets as an enthusiastic buyer delves into the lengthy options list -- our $45,495 GLC300 4MATIC managed to blossom to a bottom line of $60,575 -- this really is a Great Little Crossover. Vault quiet, it rides, drives, handles, pampers and performs like the Mercedes-Benz it is.
Among changes for 2020 are styling updates that included new LED headlights and taillights, a revised rear bumper, and a grille that now incorporates that disco-ball motif (officially a "diamond lattice" look) of which Mercedes has become so fond.
Inside the opulent cabin, optionally swathed in genuine leather in our tester, is the latest Mercedes-Benz User Experience (MBUX) infotainment interface. Plan some quality time with your owner's manual.
More complicated than radar until you get the hang of it, the system provides a reconfigurable gauge package and center-stack touchscreen. Both are malleable enough to, among other things, provide, at the driver's whim, different screen appearances that are dubbed Progressive, Classic and Sport. There also are tiny finger-slide pads on the steering wheel to manipulate both screens' information, along with hard buttons, touchscreen talent for the center-stack display and voice-command response.
In fact, at least three times during our week with the GLC300, a disembodied female voice, out of the blue, asked, "What would you like to do?" I responded, "Hey, lady, I hardly know you!" (Seriously, I have no idea what I did to make that voice appear. But I just said "cancel" and she went away.)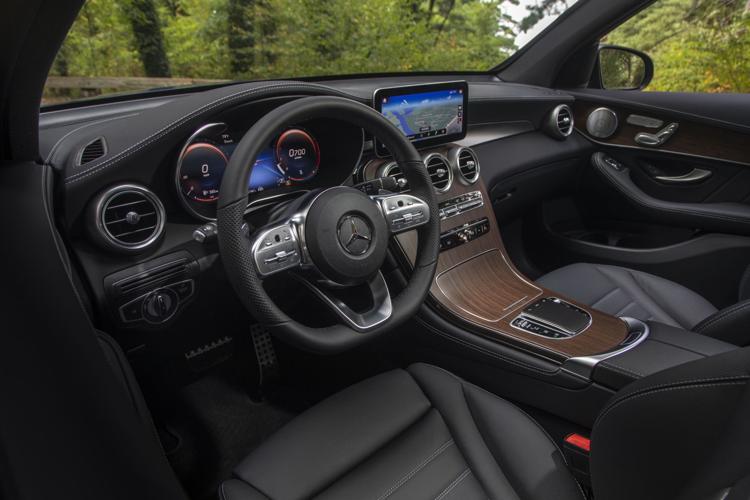 In 2020, GLC300 gets a new, 2.0-liter, I-4 turbo, managed by a nine-speed automatic, that makes 255 hp and 273 lb.-ft. of torque. That power was joined in our 4MATIC by drive modes of Eco, Comfort, Sport, Sport Plus, Off Road and Off Road Plus. Remaining, alas, in civilization, we never got to sample the Off Road modes, but we did greet 60 mph in a blink over 6 seconds while realizing 25 mpg in 180 miles of mixed city/hwy motoring.
Room is fine up front in well-bolstered, comfortable buckets. And, happily, the back seat is unexpectedly roomy.
Finally, all the expected safety nannies are available, although most demand the buyer to dig deeper into the wallet. (See: $1,700 Driver Assistance Pkg. and $1,290 Parking Assistance Pkg.)
But those with a few bucks to spend who are seeking a luxurious small crossover with athletic driving instincts and more people and cargo room than expected need look no further.
In fact, I'd like a keepsake of this one. Does that chromatography thing take pictures?
---
This content was produced by Brand Ave. Studios. The news and editorial departments of the St. Louis Post-Dispatch had no role in its creation or display. For more information about Brand Ave. Studios, contact tgriffin@stltoday.com.
Auto reviews, driving trends and up-to-date news about life on the road.