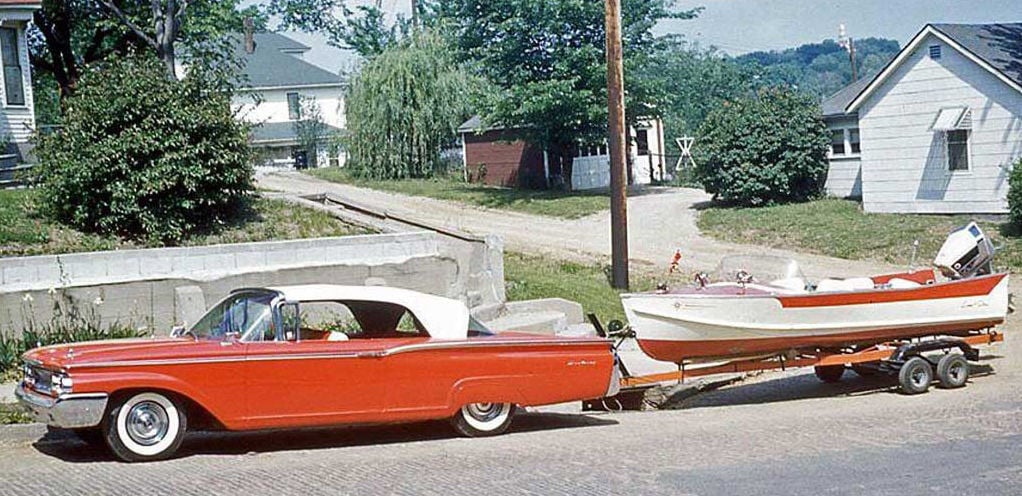 What a classy looking rig – "dressed to the nines" as they would have said back in the day! I bet the owner turned plenty of heads as he carefully backed that 16-foot, Lone Star runabout down the launch ramp at the river or lake!
That red hue was named Signal Red, one of 19 hues on the generous Mercury palette for 1960. And what better color to accent a bright red than a snow white. Mercury marketers didn't give a thought to creatively naming the white for 1960, calling it simply "white" as is often done with car color names.
The Monterey, being the entry-level model in 1960, had a standard overhead valve V-8 of 312 cubic-inch displacement and producing 205 horsepower fed by a Holley 2300, 2-barrel carburetor. Adequate, but if the buyer was so inclined, he or she could have chosen one of two larger V-8 engines.
It would be hard to argue that the 1960 Mercury was not a handsome car with pleasing lines. A page out of the 1960 sales brochure stated, "You'll be glad you bought a Mercury every time you look at it", which I'm sure was on this owner's mind as he aimed his Kodak Brownie Starmite at his rig for this photo.
A couple of noteworthy features seen in this photo are for one, the wide, whitewall tires. Two model years later, factory whitewalls would be trimmed down a few inches for the new, "narrow whitewalls" which came into style with the 1962 models. Another styling cue on this model was the wraparound convertible rear window. This large, soft plastic window definitely set the higher level Mercury convertibles apart from run-of-the-mill rag tops.
The original buyer of this 1960 Mercury Monterey convertible would have paid $3,077 for the privilege of ownership, before options, delivery and destination charges. Popular options for the day included power steering ($102); power brakes ($43); tinted glass ($43); electric clock ($17); heater/defroster ($79); padded instrument panel ($21); two-tone paint ($17); rear fender shields ($12); push-button AM radio ($86); rear seat radio speaker ($11); full wheel covers ($19); five rayon whitewall tires ($43) and a "visual aid group" ($57).
Four-way power seats at $79 and power windows at $106, were available, however, less than eight percent of new Mercury buyers ordered them.
UPCOMING EVENTS:
We are starting our season off early this year on Saturday, April 13 at the Meridian Village assisted living facility in Glen Carbon, Illinois. Registration is from 8:00 a.m. until noon. Proceeds from car entries goes to Lutheran Senior Services. For details e-mail tammy.williams@LSSLiving.org.
Following that, are the big Easter Shows on, what else, Easter Sunday. On the upper lot, the HCCM's Concours "d'Elegance", a very large showing of cars from the early 1900s up to 1994, the 25-year old standard for "historic automobiles". Walk down the hill to visit "The Real" Easter Show as the St. Louis Street Rodder's Association likes to call it. Here you will see hundreds of customs, hot rods, street machines and all sort of interesting rides! This is a FIN MAN don't miss day
TAKE A KID TO A CAR SHOW DONATION:
If you would like to support my Take a Kid to a Car Show program, send your donations to The FIN MAN, c/o St. Louis Post-Dispatch, 900 N. Tucker, St. Louis, MO 63101.
---
This content was produced by Brand Ave. Studios. The news and editorial departments of the St. Louis Post-Dispatch had no role in its creation or display. For more information about Brand Ave. Studios, contact tgriffin@stltoday.com.