What can you say about the 1961 full-size Mercury? Well, it has clean lines and conservative trim compared to cars of the 50s. Not a particularly exciting car in the looks department, but one that no one could really criticize... it didn't polarize prospective buyers as the Edsel did just three years earlier. It was perhaps a quintessential middle of the road American car for Ford lovers and it was just that, solidly placed between Ford and Lincoln. My aunt Dorothy would have loved this car. Nice enough to take anywhere, but a roomy car to haul the groceries and a few kids.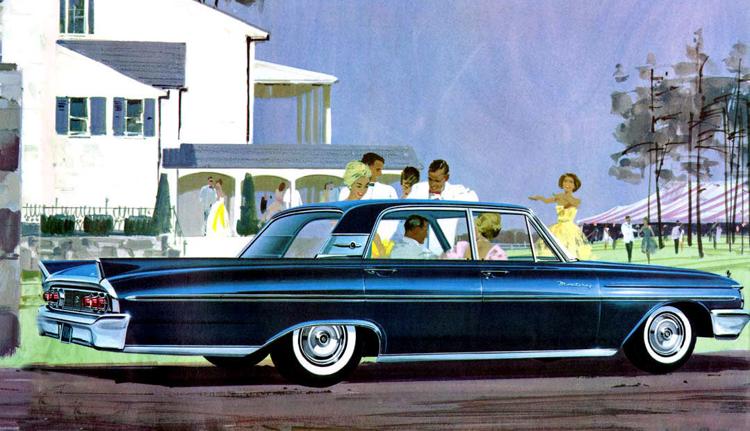 FoMoCo ad men (and I'm pretty sure they were mostly men back in the day) promised that Mercury for 1961 was going to make automotive history by introducing a full line of new and better low-priced cars. They tried to pull the competition's loyalists into their camp by proclaiming, on the first inside page of the '61 sales brochure, that the entry level Meteor 600 was "Priced right in the middle of the low-price field, with such cars as Chevrolet Bel Air and Plymouth Belvedere" and that the Meteor 800 was "Priced with the top series in the low-price field, with such cars as Chevrolet Impala and Plymouth Fury".
The previous generation's Montclair and Park Lane model were dropped and the Meteors (600 and 800) were slipped in the line under the now top-of-the-line Monterey.
The Monterey name dates back to 1950 when it was used to designate a high-end, 2-door "hardtop" coupe. Nineteen sixty-one was the first year of the fifth-generation Montereys (1961-1964), and a complete cosmetic makeover from the previous year was carried through all three full-sized Mercury models.
Power was supplied by the standard, 223 cubic-inch "Mileage Maker 6" or a choice of four V-8 engines in displacements of 292, 352, 390 and 406 cubic-inches. Shifting was done by a three or four speed manual, or the 3-speed "Merc-O-Matic" automatic transmission. Body styles were two- and four-door sedans and hardtops, a two-door convertible and a station wagon.
---
This content was produced by Brand Ave. Studios. The news and editorial departments of the St. Louis Post-Dispatch had no role in its creation or display. For more information about Brand Ave. Studios, contact tgriffin@stltoday.com.