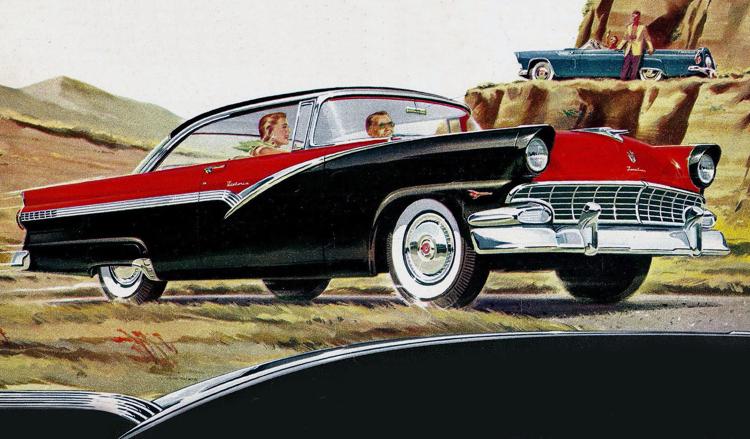 Ahhh... those were the good ol' days when cars were offered in a plethora of vivid colors and two-tone paint schemes were the all the rage. One of my favorite combos was black and red. Although my parents never owned a car with this combination, the ones I saw on the street certainly made my head snap their way!
I suppose the ones that comes to mind most are the Buicks of the mid-50s. What the best examples have in common, however, is a brand-unique, bright body molding separating the two (and sometimes three) colors.
The wrap-around windshield was still a relatively new feature, terminating nicely at rectangular 'vent windows.' (You may have to explain that term to the generation X and Y kids at your next family gathering.)
Fairlanes for '56 were offered with both six- and eight-cylinder power plants and in 2-door, 4-door and convertible body styles. The 'Victoria' moniker designated a 'pillar-less' (hardtop) coupé or sedan. The sporty coupé shown here, is decked out in Fiesta Red and Raven Black and carried a factory base price of just $2,194 with a six cylinder engine, and $2,294 with a V-8. Checking a handful of tempting options from the generous list offered, could bump the bottom line up to a nicely rounded out three grand... or about $28,807 in 2019 dollars. One like the red and black gem shown here, in number one condition, could fetch close to $50k in today's collector market.
This was the first year for a 12-volt electrical system. Fairlane Victoria coupé production (both six-cylinder and V-8 models), totalled 177,735 units for the model year, accounting for 13 percent of Ford's total of 1.39 million units for the year.
FIN MAN FACTOID: Since October of 2003, The FIN MAN has written over 800 weekly Old Car Column stories.
Another great read or Christmas present for the car nut in your family: Those of you from the St. Louis area surely remember the première drag racing venue, Alton Dragway. Local author Mike Storey has written a terrific book, "Sunday, Sunday, Sunday," telling about the history of the track, including hundreds of photos of cars, events, racers, newspaper ads and even dated lists of drivers and cars. This is a book that will provide hours of entertainment and memories of the good ol' days of drag racing! To get your personal copy or gift for a friend, send $25 to Mike Storey, P.O. Box 112, Cottage Hills, IL 62018.
---
This content was produced by Brand Ave. Studios. The news and editorial departments of the St. Louis Post-Dispatch had no role in its creation or display. For more information about Brand Ave. Studios, contact tgriffin@stltoday.com.