As a lover of the outdoors, I have long enjoyed exploring nature around me via foot, bicycle or kayak. But one outdoor hobby has captured my attention more than all others in the past few years — mushroom hunting.
This combination of hiking, investigating, foraging and biology make for an ideal adult scavenger hunt in the woods. Fungi is a near infinite kingdom of organisms, but the ability to find, locate and accurately identify just one of the more than 2 million species in the world is an addictive feeling of self reliance. To find your dinner in the woods and be able to clean and cook it can make for a stronger connection with nature and an appreciation of our modern comforts.
Now, before I gush anymore about this prized field of study, I must make two things clear: First, you do not need to consume mushrooms for finding and identifying them to be an enjoyable sport. Plenty of people love to study nature, be it trees, wildflowers or fungi, without the intention of ever putting them on a plate. Second, you should NEVER, and I truly mean never with all possible underscores, consume anything you cannot with 100-percent-certainty identify.
While many poisonous mushrooms grow throughout Missouri, there are also common, choice edibles, which can be accurately identified with thoroughness and practice.
Like many people in Missouri, I grew up hunting morels in the spring. Morels are prized not just for their delicious flavor but their ease in identification. It has only one near lookalike, the hotly debated but decidedly poisonous Gyromitra. Telling the difference between the two is easy with a few steps, which is partly why morels remain one of the most popular mushrooms in the world.
But it is far from the only edible mushroom species commonly found in Missouri. One day browsing the book section of REI, I stumbled upon a copy of "Missouri's Wild Mushrooms" by Maxine Stone. Having always been fascinated by fungi, I picked up and was enthralled with the diversity in categories of species growing in our own backyard and shocked how many common edibles there were. And like anyone who has ever read Jon Krakauer's infamous account of Chris McCandless, "Into the Wild," and [Spoiler Alert!] learned about the tragic fate he met by poisoning, I was also a bit skeptical.
Since it was July, I went out in search of chanterelles (without much hope of actually finding them, since my years of experience with morels proved them to be more often than not illusive.) So I was shocked when ten minutes
into the hike, I stumbled upon a forest floor full of little golden vases. I gathered a few and brought them home to inspect. And through research (beyond just one book) discovered how easily they could be separated from th eir only lookalike, the jack-o-lantern. The next day, I went back to the same spot and gathered more.
Since then I have found oysters, blewits, milkies, chicken of the woods and many more species. Sometimes I pick several to eat and sometimes I just bring one home to make a spore print. The print can be made by putting the cap or bracket on a piece of paper and waiting for it to drop spores, sometimes a telling form of identification, as well as an interesting and natural piece of art.
For those wanting to give wild foraging a try, it is recommended to start with what are commonly referred to as "The Foolproof Four": morels, chanterelles, chicken of the woods and giant puffballs. They are named for their easily identifiable characteristics, making them a relatively safe mushroom for beginning foragers. In the fall, oysters, chicken of the woods, hen of the woods and giant puffballs will all be in season.
Inspecting gills, pores, growing patterns and habitats are all important for properly identifying a mushroom. Joining groups like the Missouri Mycological Society can help you learn more about mushrooms. There are also entire Facebook and Meet Up groups dedicated to mushroom hunting. (Note: Be sure to never rely only on identification via forums.)
Once you start noticing the fungi around you, it is hard to stop. Not just in the woods, but in the park, in your neighborhood and perhaps even your yard. Mycelium are believed to be the largest organism on earth and our state includes a wealth of diversity of its fruiting bodies. This fall, when you go for a hike, slow down and see what just might be growing around you.
Missouri Mushrooms
The Foolproof Four
What are commonly referred to as "The Foolproof Four" are known for being both easy to identify for beginners, as well as delicious mushrooms that are commonly found.
While there are many species of wild, edible mushrooms in Missouri, these four are a great place to start. Keep an eye out for these species on the trail.
Photos provided by Aubrey Byron and Getty Images.
MORELS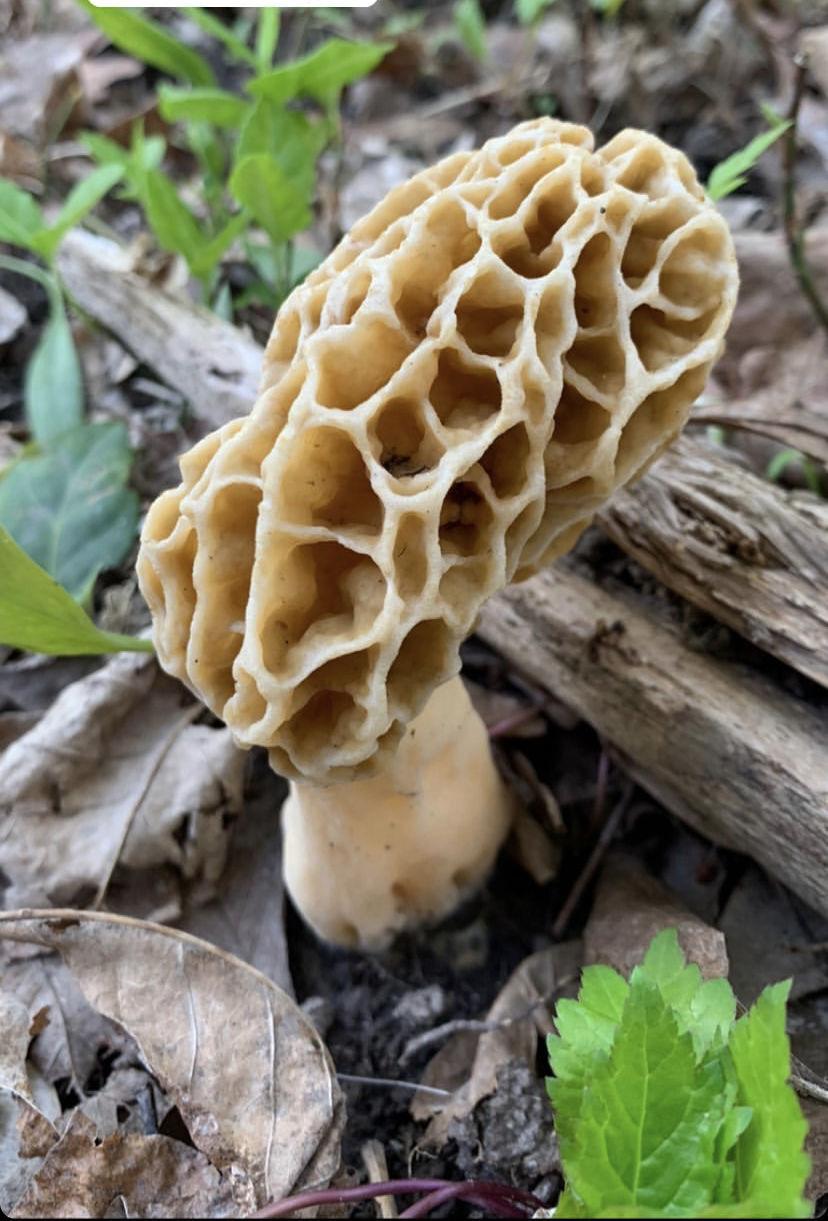 Morel (Morchella spp.) season spans form late March to early May. While this distinctive club-shaped, ridged mushroom is easy to distinguish, it does not mean it is always easy to find. Their colors tend to blend in with leaf litter on the forest floor. They can be found in a variety of habitats and are distributed throughout Missouri.
Lookalikes to watch out for: Not to be confused with the big red false morel (Gyromitra spp.)
GIANT PUFFBALLS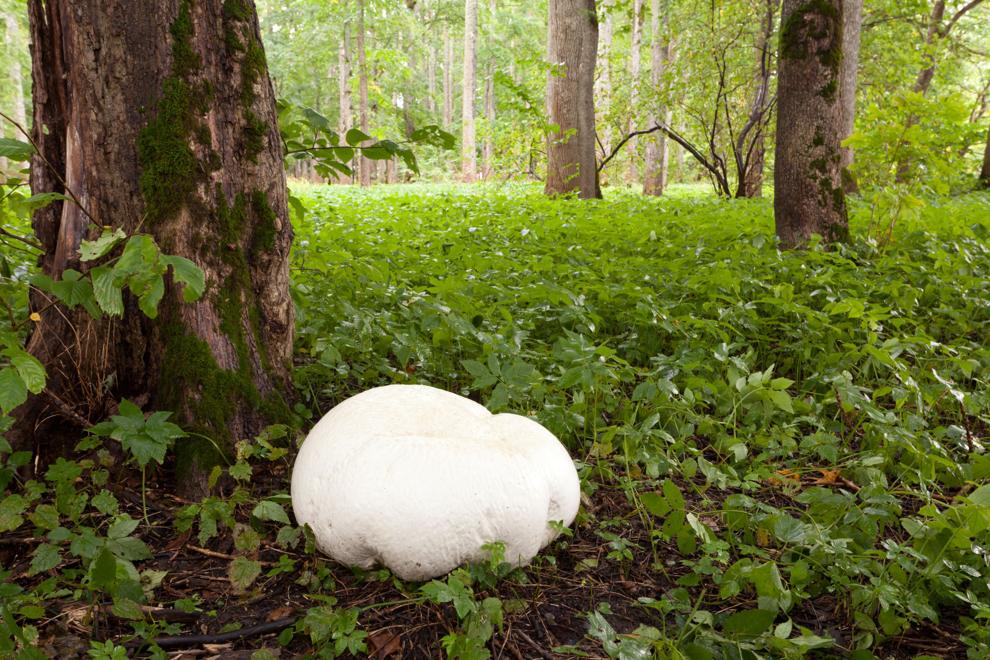 Giant Puffballs (Calvatia gigantea) are one of the odder mushrooms you may come across and look exactly as it sounds like. These pure white balls can grow up to 20 inches (about the size of a soccer ball). They grow from May until October in Misssouri.
Lookalikes to watch out for: Some deadly Amanita species can look like a puffball at stages, as well as the poisonous pigskin puffballs (Scleroderma citrinum). To be sure it is a giant puffball, cut open the inside to observe.
CHICKEN OF THE WOODS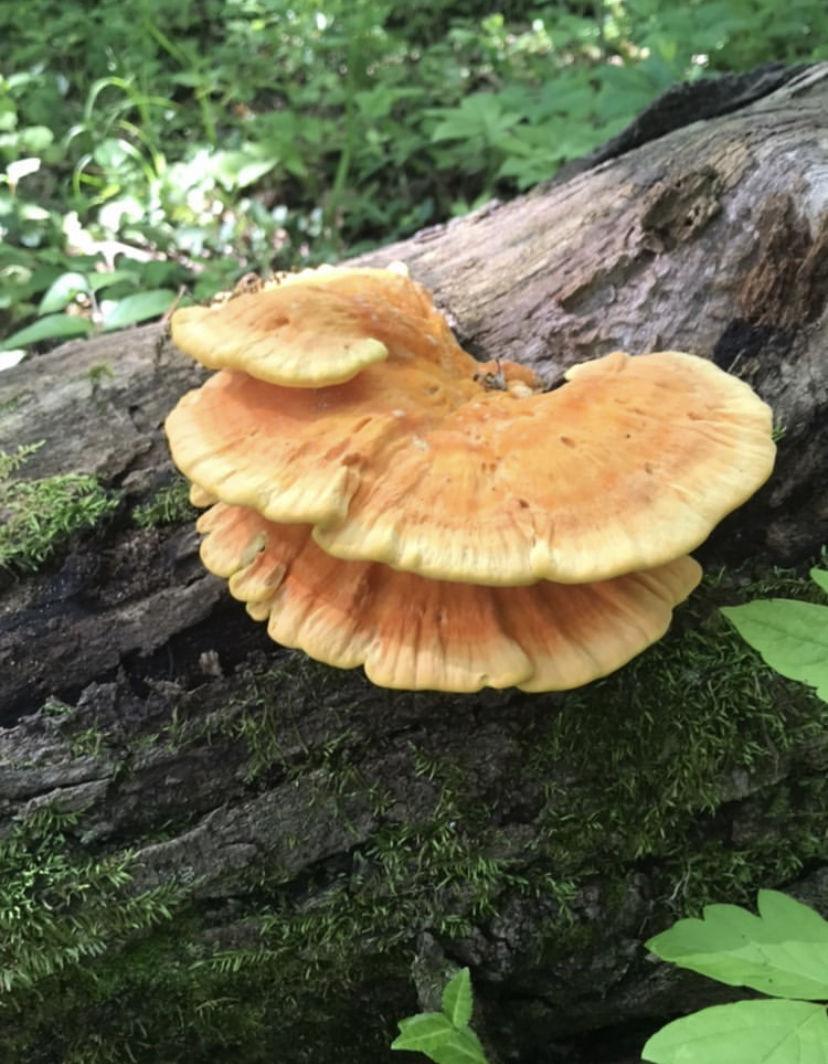 The chicken of the woods (Laetiporus spp.) are so named for their meaty and fleshy texture. While it is sometimes difficult to gather enough morels or chanterelles to make a meal, chicken of the woods make for a hearty find. There are two species in Missouri: sulfur-colored and pale, and the season lasts from May-November. Keep an eye out for these growing on deciduous trees.
There are no lookalikes in Missouri.
CHANTERELLES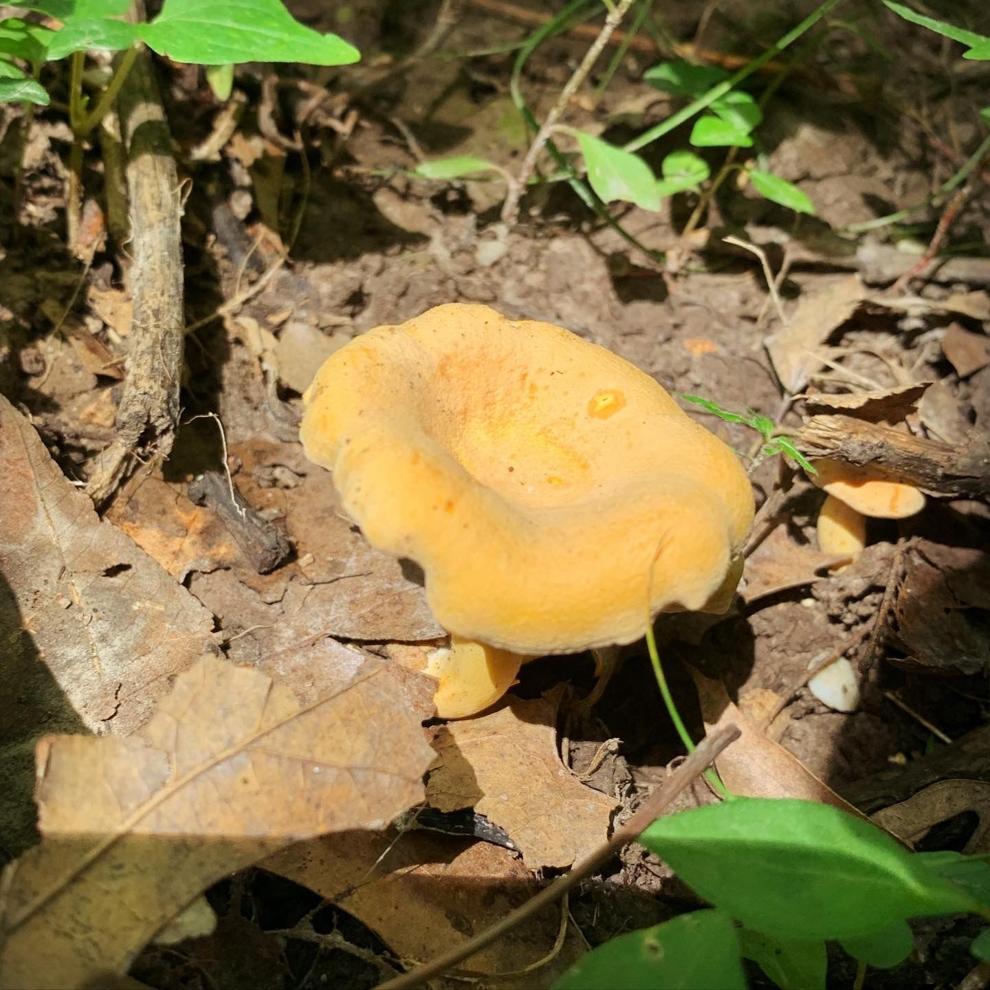 Chanterelles (Cantharellus spp.) grow from late June to early August in Missouri. There are three common species including the golden chanterelle (known for its ridged underside instead of "true gills") and smooth chanterelle (known for its smooth underside). Chanterelles grow on forest floors and are abundant in late summer. They are also easier to spot than morels but arguably just as delicious.
Lookalikes to watch out for: the poisonous Jack-o-Lantern (Omphalotus illudens) can be confused with the chanterelle, but it has true gills, is orange all the way through and is found growing in clusters on wood.
This content was produced by Brand Ave. Studios. The news and editorial departments of the St. Louis Post-Dispatch had no role in its creation or display. For more information about Brand Ave. Studios, contact tgriffin@brandavestudios.com.