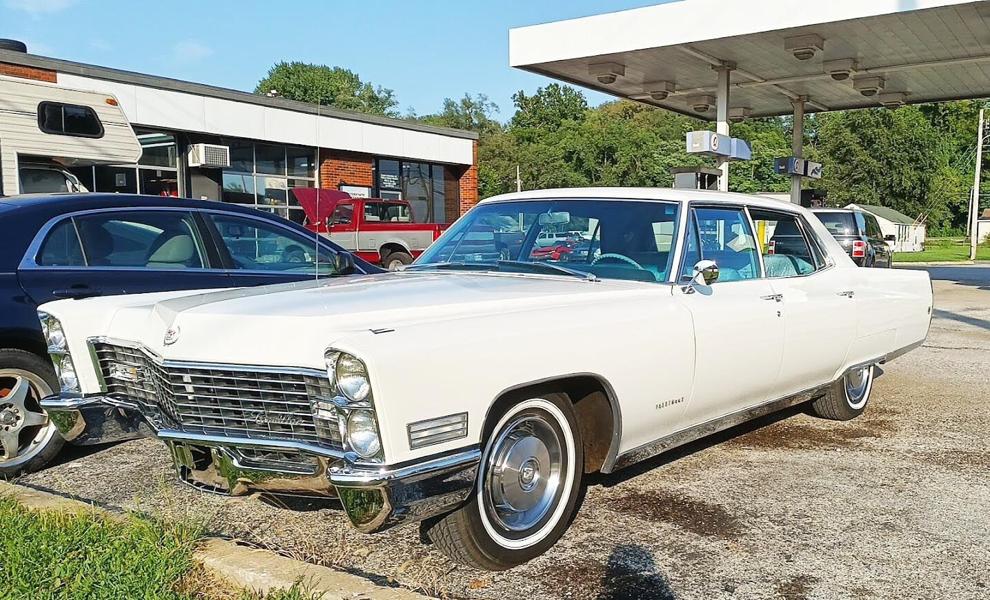 Heading home on a recent hot and very sunny day, the 1967 Cadillac Fleetwood Sixty Special Sedan stood out like a gem among its modest surroundings.
Long before SUVs, minivans and crossovers proliferated city streets and suburbs, the family cars were, for the most part, large, extra-large and 2XL sedans. The massive trunk space of the latter filled many functions, hauling sporting equipment, fishing and hunting gear, garden supplies, yes, groceries and occasionally a few extra friends on the way to the local drive in theater!
My uncle Eugene, a successful mechanical engineer and graduate of the University of Illinois at Urbana-Champaign, always made sure my Aunt Dorothy had a big, safe and comfortable six-passenger sedan to drive hither and yon in style. Many, in later years, were Cadillacs. I'm not sure if any of Aunt Dot's were Fleetwoods – Cadillac's flagship sedans like the one featured here.
Cadillac models for the year included the entry level Calais, the upscale DeVille, Fleetwood Sixty Special, Fleetwood Sixty Special Brougham, Fleetwood Seventy Five limo and Fleetwood Eldorado. All were powered by a Cadillac 429 cubic-inch, cast iron V-8 with a 10.5:1 compression ratio. Brake horsepower was 340 and a Rochester Quadrajet four-barrel did the fueling.
1967 was a banner year for Cadillac. It was the third successive record year for production, due primarily to the popularity of the front-wheel drive Fleetwood Eldorados. Cadillac sales for one month passed the 20,000 mark for the first time in the company's history, setting an all-time high of 22,072 cars in October of 1966.
FIN MAN FACTOID: Cadillac also made a factory limousine, the Fleetwood Brougham, with a wider sail panel, fold down rear seat foot rests, leather interior surfaces, fold down trays behind front seat backrests and more!
If you love Cadillacs like I do, you'll want to attend the Cadillac LaSalle Club of St. Louis' Annual Fall Car Show at MOT now teamed with HCCMO, on Sunday, October 17. Contact the club to confirm before going. E-mail at support@cadillaclasalleclubstl.org. No computer? Have a teen do it for you!
UPCOMING EVENTS you won't want to miss: Wednesday, September 8 through Sunday, September 12 it's the Buick Club of America, Heartland Regional Meet sponsored by the St. Louis Buick Dealers Association and the St. Louis Gateway Chapter of the Buick Club of America. For more info call 636-443-5686 and be sure to tell them you heard about it right here from The FIN MAN!
ROLLIN' WITH THE FIN MAN V: See the magnificent 30-plus car collection of Charles Gallagher during Rollin' With The FIN MAN V on Friday, September 17. Look for the big, yellow school bus at the park & ride lot on the South West corner of Gravois and I-270 at 9* a.m., or at Lilac Avenue and I-270 at 10* a.m. From there we will travel to a yet-to-be-confirmed lunch destination. After lunch, we will move on to the main event – a tour of the fascinating and diverse collection of vehicles at the Charles Gallagher Museum which includes a significant collection of Russian Orthodox Christian icons. The price for this tour is $45 per person including transportation and lunch. Call me at 314-327-FINS (3467) to place your ticket orders by credit/debit card. Checks should be mailed to The FIN MAN, PO BOX 24241, 5731 Mt Pleasant Ln, Belleville, IL 62223. Checks must be received no later than September 10. This is an exclusive Rollin' With The FIN MAN event and attendance will be limited to 40 guests. We are expecting a sellout, so please reserve your seats ASAP. At this printing we have about 12 seats left! NOTE: The pickup times listed herein are not likely to change, however, due to the un-finalized breakfast/lunch destination, may change slightly.
Tri-Power Trivia will return Sunday, September 19.
---
This content was produced by Brand Ave. Studios. The news and editorial departments had no role in its creation or display. Brand Ave. Studios connects advertisers with a targeted audience through compelling content programs, from concept to production and distribution. For more information contact sales@brandavestudios.com.