Post-war Nash automobiles were of the "bathtub" school of design – and that was intentional. Charles W. Nash, company founder and former GM executive, was a firm believer in aerodynamics. Nash was one of the first to utilize wind tunnel testing in the design of automobiles.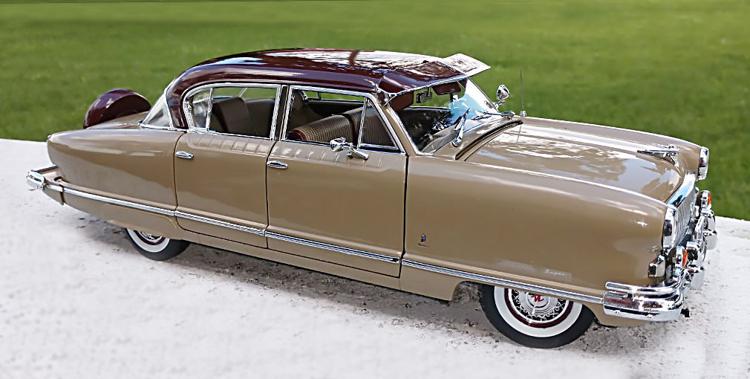 Early post-war Nash designs were conceived by Nils Erik Wahlberg, a design engineer who Nash held in high regard. But for the new 1952 models, Nash turned to famed Italian auto designer Pinin Farina to add dashing new flair to the car which, heretofore, had born a somewhat stodgy image.  The result was the Golden Airflyte you see in the illustration above.
While the 1952 models were a breakthrough design, aerodynamics still played a significant role in the finished product. One wind defying feature was the fully enclosed wheel wells. While this type of wheelhouse was fairly common at the aft end of many automobiles, bow application was just as uncommon. Typical low rise rear wheel cutouts are possible because of the use of fender "skirts" at the rear which allow accessibility for tire changing, etc. The difference being that rear wheels are not responsible for steering the car and therefore remain on a straight forward plane. 
Up front, however, it's a different story.  With an enclosed front wheel well, left to right turning is severely limited and the resulting turning radius is much wider than the vast majority of cars on the road. This caused a great deal of exasperation for drivers when parking the sizable Airflyte Ambassador.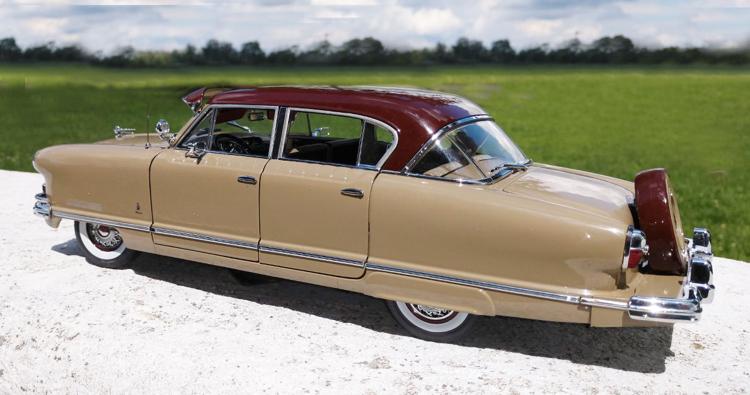 Another distinct feature of Airflyte for 1952 was the fold down front and rear seats and cargo layout.  Similar to modern-day station wagons in a way, it allowed flexible use of rear cargo space, while at the same time offering conventional sedan styling. "Airliner" reclining seats up front, adjusted to five positions, including fully reclined, allowing you to, as Nash stated in their sales brochure, "Sleep the miles away while others drive."
Due to the lackluster interest in cars of this type in today's collector market, you can get a very cool car in excellent condition for a relative bargain. According to a recent copy of the Old Cars Report Price Guide, a number one 1952 Nash Ambassador four-door sedan like the one featured here, can be had for a skoche under $20k. Die-hard Nash aficionados, however, may respond by saying "What do they know?!" You may find a number one Nash Ambassador Airflyte, but you will have to look far and wide, for only 19,585 of these models were produced. When and if you do find one, the owner may just laugh at you if you offer him the Price Guide value!
Original purchasers paid $2,716 for the privilege of ownership. That was the base, factory price before optional equipment, for which Nash provided a lengthy list.
---
This content was produced by Brand Ave. Studios. The news and editorial departments of the St. Louis Post-Dispatch had no role in its creation or display. For more information about Brand Ave. Studios, contact tgriffin@stltoday.com.