Twenty-seven years of taking and issuing orders in the military influenced Bernard W. "Skip" Mann, a Washington University oncology and infusion staff nurse at Siteman Cancer Center in South County.
Mann not only gained valuable medical experience during his time spent in various roles with the Navy and both the Army and Air Force Reserves, he also learned to be a direct communicator – a trait that serves him well with oncology patients. "Cancer patients are easy to connect with because they have resolved that the small stuff doesn't matter. You can be very direct and open with these patients," says Mann.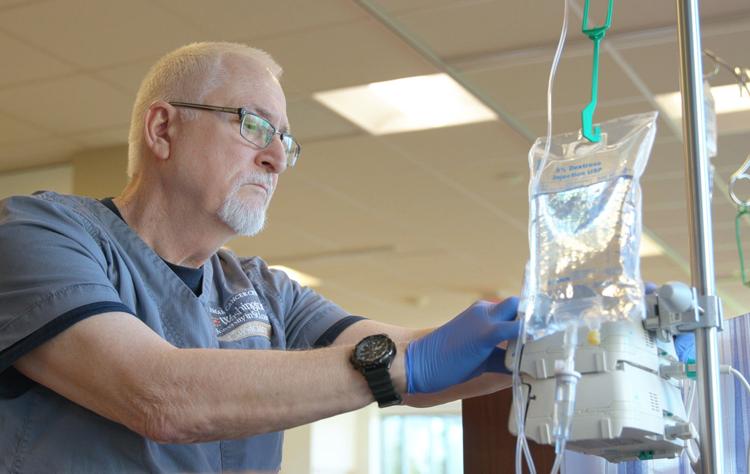 In oncology for 10-plus years, Mann recognizes that most of his patients have a limited amount of life left, so he makes the best of it. "I can't cure cancer. What I can do, is for the 2-3 hours that I have somebody here, (or 6 or 7 hours), I can do the best that I can do. And I can make them smile, make them laugh or tell some corny jokes," he says.
His supervisor, Kelly Sedlak, concurs: "Skip is like no other nurse I've ever met. Not only does he take great care of his patients, he connects with them on another level. I will never forget what he said during his interview, 'I have been a nurse in the air, land and sea.' I just thought that was the coolest! With all of his experiences and traveling the world, he can find something to talk to our patients about, and that really bonds him with them. He makes the patients forget they are sitting in the treatment chairs receiving chemotherapy and just for a few minutes can laugh and forget all of their worries."
Mann was destined to be a helper at an early age. As a child, his own experiences helped him to connect and empathize with those in pain. His path to nursing was not immediate, however. In the Navy he met a male nurse who planted the seed, but it took several years after leaving the Navy before he acted on it. Finally, with his purpose firmly in hand, Mann walked into the Federal Reserve Center and signed on with the civilian contract program through the Army Reserves. This assignment led directly to the formal start of his nursing career and the gaining of his LPN licensure.
After achieving his BSN degree, Mann was working at Cardinal Glennon Hospital when he learned from a member of a flying squadron at Scott Air Force Base that they were looking for flight nurses. Mann wasted no time signing up and was commissioned as an Air Force 2nd Lt. Following flight school, he was quickly deployed to Germany in support of Operation Desert Storm. He also served in Kosovo, Operation Enduring Freedom in Okinawa, Japan, the Pentagon 9/11 Rescue-Recovery, Afghanistan and Iraq.
He retired from the Air Force in 2005 as a Major and has been where he belongs – at the bedside of patients – ever since. Mann explains, "Every time I've tried to move into a management position, the farther away from a patient I get, the less I like it, the less I feel like a nurse. I want to be next to my patients."
Hope is one of the most powerful remedies in the medical tool belt. Hope keeps Mann and his patients working on the future. He says, "Every oncology patient has been told by a doctor that they have a finite life left…Maybe we can beat it, and that 'maybe' means hope – and we are a very hopeful place."
Hope is bolstered by real-life miracles and Mann has seen them – more than likely he was instrumental in creating them. "In this career, I have been involved in miracles. I have seen amazing things. It's a perfect career. I never chose it – I believe that I was guided here."
---
This content was produced by Brand Ave. Studios. The news and editorial departments of the St. Louis Post-Dispatch had no role in its creation or display. For more information about Brand Ave. Studios, contact tgriffin@stltoday.com.