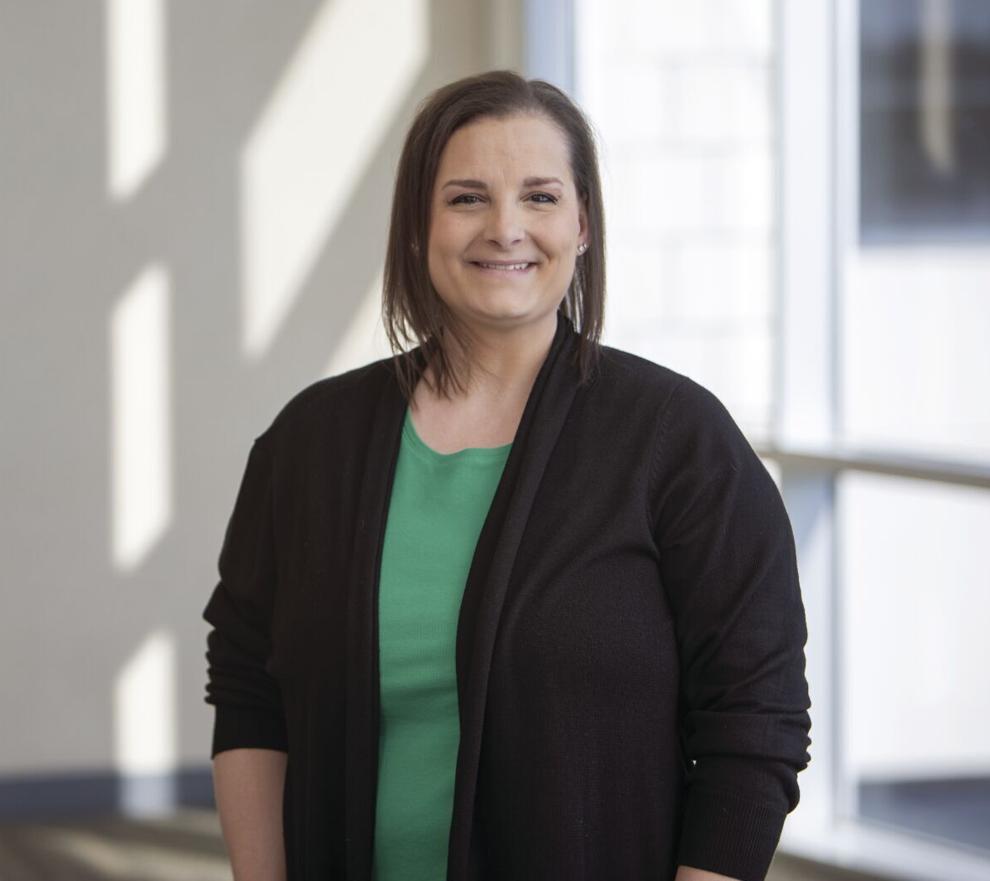 From patient to nurse, Alex Duly has experienced both sides of the health care system.
In college, engaged to be married and employed in the jewelry business, the 22-year-old St. Louisan's happy life was dramatically upended when a hearing issue turned out to be a brain tumor.
A personal journey
"I was at the peak of my life, on a great pathway — I had everything to look forward to. In that moment when the doctor told me, I felt it all just kind of went into the trash," says Duly. "Of course, I was so angry that this was happening to me, but the care and support I received during the next year and a half throughout my surgery, radiation and chemotherapy saved me both physically and emotionally. My nurses were there for me every single day. Talking, listening and helping me work through my feelings and pain, encouraging me along."
Her final day of treatment, Duly walked through the hospital hallway for the last time as a patient with the doctors and nurses lined up on either side cheering her on. She says she knew at that moment she wanted to become a nurse.
Role reversal
After completing her nursing degree in 2021 — "just in time to work through the pandemic" — Duly was ecstatic with her job and new take on life. In a complete role reversal, Duly now works as an oncology nurse at Mercy, demonstrating the same support and care for her patients that was once provided to her.
Overcoming challenges
In fact, her partial hearing loss — a permanent by-product of her cancer — often serves as a conversation starter when initiating and navigating difficult talks with her own patients who are experiencing the ravages of the disease. Patients sometimes inquire about the button she wears on her uniform that encourages them to speak to her while she is facing them, so she can better hear them. Duly says the masks worn during the past three pandemic years muffled sounds even more, making hearing that much more challenging.
"People will ask me sometimes why I wear the button and I'll tell them I'm a cancer survivor and that my hearing was damaged as a result," she says. "I think a lot of times though, if I talk about my experience, it's usually in the context when a patient is feeling that something is wrong with them and don't necessarily feel like the doctors understand. Then I will tell them my story about how I advocated for myself, going to multiple doctors and insisting on many tests on my ears because I knew something was wrong with me before I received my own diagnosis. People know their bodies and usually know when something is wrong. It's just intuition sometimes." 
Camaraderie, support and community
Duly says the best part of her job is the camaraderie among her colleagues and Mercy's incredible support for its employees throughout the system.
"I just love what I do and wouldn't want to do it anywhere else," Duly says. "The whole reason I started working here is because of Mercy's reputation among the employees and throughout the community. Throughout my entire life, my whole family has used Mercy doctors."
Duly says she likes to tell her co-workers that she goes way back with Mercy because she was born there. In fact, the OB-GYN nurse who was in the delivery room at her birth 35 years ago, is one of Duly's co-workers.
"Mercy is just a part of me. Always has been, always will be," she says.
---
This content was produced by Brand Ave. Studios. The news and editorial departments had no role in its creation or display. Brand Ave. Studios connects advertisers with a targeted audience through compelling content programs, from concept to production and distribution. For more information contact sales@brandavestudios.com.