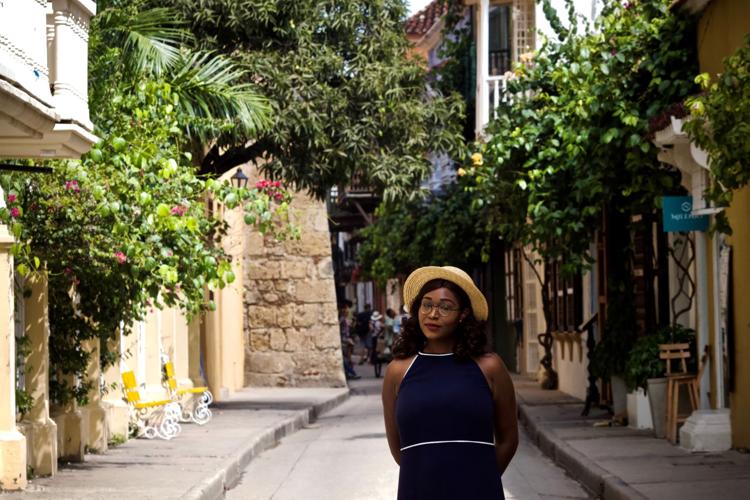 E'Lisa Moss is a believer in the healing power of the arts. With a background in psychology and a clinical nursing degree, her broad knowledge of the human mind and body are complementary assets in her current position as a Float Pool Nurse at SSM Health St. Louis University Hospital.
Float pool is a fancy way of saying "wherever she is needed." For Moss, every day is different. She floats from cardiac to neuro to transplant wings. Her job allows her to learn a myriad of cultures and disease practices.
Her wide array of experiences, duo-degrees and her career have led her to this conclusion: Art therapy isn't just for the cognitive patient. Art therapy is an essential part of healing for every patient. "I am an artist at heart," she said. "Combining health care and the arts is a discipline."
A DREAM REALIZED
Moss always dreamed of becoming a nurse. But when she learned that her mother had cancer, her dream became a passion.
She began the application process to nursing schools while living in her hometown of Austin, Texas. It would be a year before she was accepted into Blessing-Rieman College of Nursing & Health Sciences in Quincy, Illinois. "I had never even heard of Quincy. I honestly don't even remember applying there," she laughed. Although different from her initial plans, Moss believes the gap of time between her mother's diagnosis and nursing school was a gift from God to spend uninterrupted time with her mother. Just four weeks after starting classes, her mother passed away.
Blessing-Rieman became just that to Moss: a blessing. The teachers and staff took her under their wings and guided her through nursing school in her mother's absence. Even still, it was her mother's words that became her guiding light. "My mom left me jewels and words of wisdom," Moss said.
Since graduating from nursing school, Moss made it her mission to be a change agent wherever she was serving. In fact, that desire led her to St. Louis after hearing of the Ferguson riots, hoping to put this mission into action. She then started her career at St. Louis University hospital and has resided in St. Louis for four years.
LIVING OUT HER MISSION
By incorporating the arts — including coloring, writing, positive communicating and music — into her care plans, Moss not only inspires her patients but her coworkers as well. She encourages them to see the arts as a positive activity in their own lives. "I don't believe that nursing is one-dimensional," she stated. She often tells her coworkers to tap into their own skill sets and use them beyond the bedside.
One such skill that Moss herself practices outside of nursing is gardening. She and her husband have their own farm, GroFarm and Gro Health Center, where they turn their love for horticulture into healthy food choices for their community. Her husband covers the hydroponics and she covers the agricultural side.
Their vision is to start a healthy food initiative that will offer workshops to community members to learn about farming and gardening with the goal of eliminating obesity. "Preventative care is extremely important," she said. "Being healthy starts with your source of food." As much as she loves treating her patients at the hospital, if she can prevent them from a hospital stay by teaching healthy eating habits, that's a win in her book.
In her free time, she and her husband open their home to a five-year-in-the-making collection of art called "the Carrington Collection" to display contemporary art and share warm conversations with the community.
---
Be the first to know
Get local news delivered to your inbox!