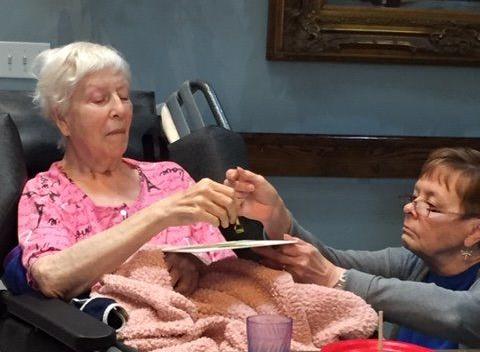 Compassionate care. Treating the body, mind and the soul. Family inclusion. Involving patients in their own care and helping them make decisions even though in the outside world, they are unable to do so. Respect.
These traits embody Debbie Schweiss, RN Manager in a group home setting for Dolan Memory Care at Lourdes Manor.
Schweiss began pondering a career in nursing after spending countless hours (and years) observing nurses at SSM Health Cardinal Glennon Children's Hospital with her young daughter who was experiencing seizures. "They taught me to look for signs and symptoms of seizures, never made me feel that I was incompetent to care for my child and encouraged me to ask questions. That was when I decided that I was going to be a nurse," she said.
Once both of her children were in school, Schweiss attended the nursing program at St. Louis Community College-Meramec. A working student, it took Schweiss five years to receive her degree. Her first job after graduation was on the Med/Surg floor to gain clinical experience. She then made the jump to home health where she discovered her passion for the geriatric population with a specialty towards dementia patients.
SPEAKING DEMENTIA
Among her many talents, Schweiss "speaks dementia."
Since 2016, Nurse Schweiss has been a house manager for one of Dolan's dementia-specific homes. Each home has 10 bedrooms, all with community spaces. Schweiss is the leader of this community, where family members are actively involved with their loved ones. What's even more important is the residents' "age in place," which means once they are admitted to a home they won't have to leave — even if their care becomes more intense.
Schweiss practices compassionate care by ensuring that her residents feel respected and valued. The methods are simple, yet effective. One method she uses is giving choices. She said she asks, "'Do you want a bath, a shower or just wash up today? What time would you like to do this?' They may not remember the conversation, but they have been given a choice. I usually come back later to remind them and they will choose one."
Schweiss' patience and work ethic are important for staff members to model. "'Lead by example' is my motto. If my staff sees me comforting a resident or dancing to music, they are more likely to do it too. This is also the best motivator for resident care. They also need to see me willing to toilet, bathe, dress and care for my residents. I'm not afraid of working hard and my staff sees that," said Schweiss.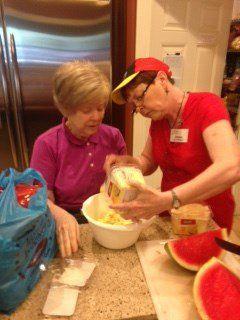 Her ability to respect and value staff and residents alike conveys acceptance as well as the feeling of "being normal" — to enjoy activities that are no longer possible in the world outside of Dolan. Schweiss sings and dances, plays games and cooks alongside her patients. She comforts them when they are feeling anxious and depressed. "This is truly the Dolan Mission, and Debbie carries that out that extremely well," said supervisor Toni Dewhirst.
An example of Nurse Schweiss' work in action was sent in by her nominator: "In one instance, a resident in Debbie's care was very anxious and exit-seeking as the house was preparing for a block party. Debbie comforted her resident by including her in the preparations. She and the resident spent the afternoon chopping watermelon and making salads together. This purposeful activity eased the distress her resident was experiencing."
Progressive neurological diseases such as Alzheimer's and dementia rob our loved ones of their personality, memory and life skills. RN Debbie Schweiss makes sure it doesn't steal their dignity.
---
This content was produced by Brand Ave. Studios. The news and editorial departments of the St. Louis Post-Dispatch had no role in its creation or display. For more information about Brand Ave. Studios, contact tgriffin@stltoday.com.
Be the first to know
Get local news delivered to your inbox!