Denise Shinabery, clinical supervisor of Trauma-Neuro ICU and Medical-Surgical ICU at Mercy, St. Louis, was shocked by the recognition. No one else was.
Coworkers described her as a supervisor who takes the role to a new level – managing patient and staff needs while still being an incredible bedside nurse. "By watching Denise in her role as supervisor, I hope to carry her calm and attentive characteristics into my own work practices," explained colleague Susan Madden.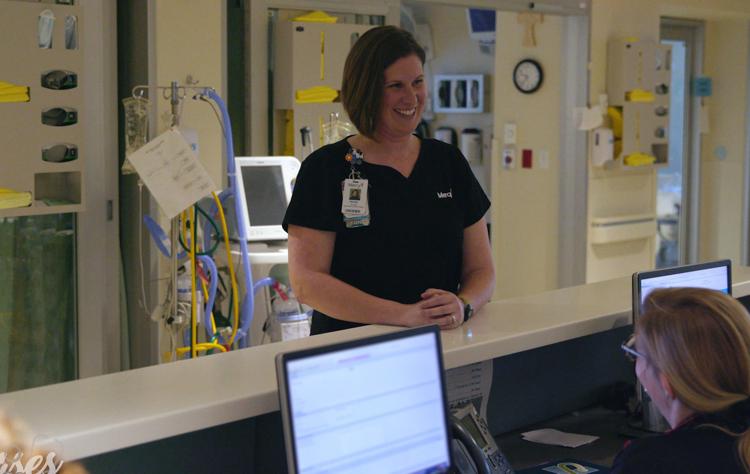 As an ICU nurse for the past 18 years, Shinabery cares for the most critical patients that enter the hospital at Mercy on a daily basis. "When I was in nursing school, I loved the critical care class I took and was pretty certain it is where I wanted to end up," she said. "But I didn't pass my nursing boards the first time...or the second time."
She credits much of her success to both of these setbacks. "I asked myself, 'So I failed my boards, what am I supposed to do next?' I decided to work as a critical care tech so I wouldn't lose my skills," she said. This tech role not only kept her skills sharp but helped her gain hands-on, bedside experience.
She took her boards for the third time, passed – and has worked in critical care ever since.
The spectrum of patients in critical care varies every day – from postpartum complication patients to car crash victims. An ICU stay is a high-stress situation for patients as well as their families. "Nobody approaches their day thinking, 'I'm going to be in the ICU today and it's going to be great,'" she said. "We as ICU nurses have to make their stay as positive as we can. We don't just take care of patients, we comfort their families as well. That's our job."
Shinabery remembers a specific instance where she cared for an elderly cancer patient who was having a difficult time communicating her decision to discontinue treatment to family members. "I sat with her family to explain her wishes, comforted them and was ultimately able to make that process easier for the patient," she said.
It's moments like these that reaffirm Shinabery's purpose.
As a clinical supervisor, Shinabery's role involves guiding her fellow ICU nurses on a daily basis. Her philosophy in leadership is to practice what she preaches. "If I go in and expect my nurses to do something, I better be doing the same thing," she said. "If I institute a new policy, I need to back that up. I also make sure and support them as much as possible. Whether that means letting them take a break or just recognizing that they're having a bad day, I make sure they know I'm there to help."
You would be hard-pressed to find a coworker that disagrees.
Shinaberry regularly shares her multiple board failures with nursing students as a testament that the path to success isn't always linear. What comes in between can solidify your purpose and build character along the way.
"I love nursing and I wouldn't want to be doing anything else. It is the best job ever," she said.
---
This content was produced by Brand Ave. Studios. The news and editorial departments of the St. Louis Post-Dispatch had no role in its creation or display. For more information about Brand Ave. Studios, contact tgriffin@stltoday.com.