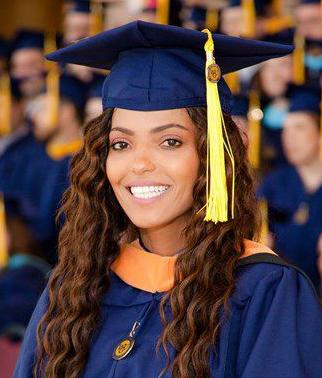 Once a refugee, Eritrea Habtemariam has faced many obstacles in her journey to becoming a telemetry nurse at St. Mary's Hospital. Those hardships have helped shape the type of nurse she is today; one full of compassion, understanding and patience. She constantly has a smile on her face, and despite the many adversities in life, she chooses to focus on the good in everything. Habtemariam is humble, compassionate and a true servant.
As a fifth-grader in America, she did not know any English and could not communicate with her teachers or classmates; however, she gained strength from watching her parents overcome their struggles and eventually became fluent in English and learned so much more. Her parents taught her that with hard work and dedication, there was nothing they couldn't obtain in life, and this mentality guided her as she adjusted to her new life.
Habtemariam is very vocal about treating one another with respect, dignity and quality. She often does this through small acts that can make a positive difference in people's lives, whether it be through a simple smile, a listening heart or even a soft touch or hug.
This nurse is a nominee for the St. Louis Post-Dispatch's Nurses: The Heart of Health Care program. Look for the winners in print and online on May 12.