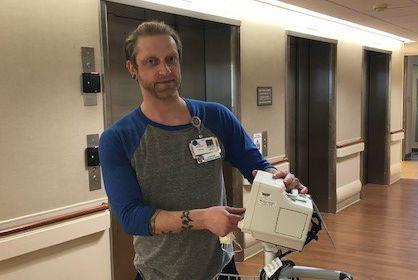 Caring for others' needs above their own is a hardwired characteristic of nurses. The same can be said of those who serve in the United States Marine Corps. Constantin Pelts, RN, BSN, CEN, has done both.
He took to this way of living at the ripe age of 18 when enlisting in the Marine Corps. Soon thereafter, he was deployed to Iraq in 2003. His love for medicine developed while overseas when training to be a combat aidesman. Using his fast-paced, combat-driven skills, he pursued a paramedic degree upon his return to the states.
He served in St. Louis county and city for over 10 years as a paramedic. A preceptor in paramedic school, who was also an RN, inspired Pelts to pursue his career beyond the ambulance with a nursing degree. "Watching him and the other nurses come together to work a trauma or cardiac arrest without missing a beat, and the confidence they had in each other got me hooked," Pelts said.
Thanks to his background, Pelts knew that he would make an exceptional emergency nurse – and that's exactly where he ended up. Pelts has served on the Barnes-Jewish Trauma Care Team as a Certified Emergency Nurse for the past year, and recently accepted a position in the emergency department at SSM Health St. Louis University Hospital. He affirmed his calling by saying, "Emergency medicine has always been my backbone and where my heart is."
His Marine Corps and paramedic experience made for a smooth transition into constantly-evolving emergency situations. "I have [an] expanded toolset along with experience to provide the best care. Being able to notice the early signs in the change of a patient's condition, then being able to reverse the cause is why I love the ER," said Pelts.
SELFLESS COMPASSION AND CARE
There is no shortage of selfless compassion and care from Pelts in his position. For instance, he was caring for a 4-year-old patient who loved dinosaurs, so he decided the most comforting thing he could do for this young patient was to buy some dinosaurs from the store over his lunch break and bring them back to him to keep him company.
Another instance of Pelts' kindheartedness was when a patient was in distress over their hospital meals being incorrect that day. Pelts took it upon himself to personally buy this patient dinner to smooth over the rough day they had experienced. "We are here on the patient's worst day, and our attitude can make a difference in that patient's experience," he said.
Besides his constant desire to put the needs of others before his while going above and beyond to care for patients who enter the emergency room, Pelts wanted to continue sharpening his skillset. From Marine Corps aidesman to paramedic to RN to BSN, Pelts became a board certified emergency nurse (CEN), acquiring the skills and knowledge to be top-notch in his unit.
A calm demeanor is the key to success in emergency medicine, Pelts explained. "If I panic, my patient panics." His advice to combat this: "Don't sweat the little things."
---
Be the first to know
Get local news delivered to your inbox!