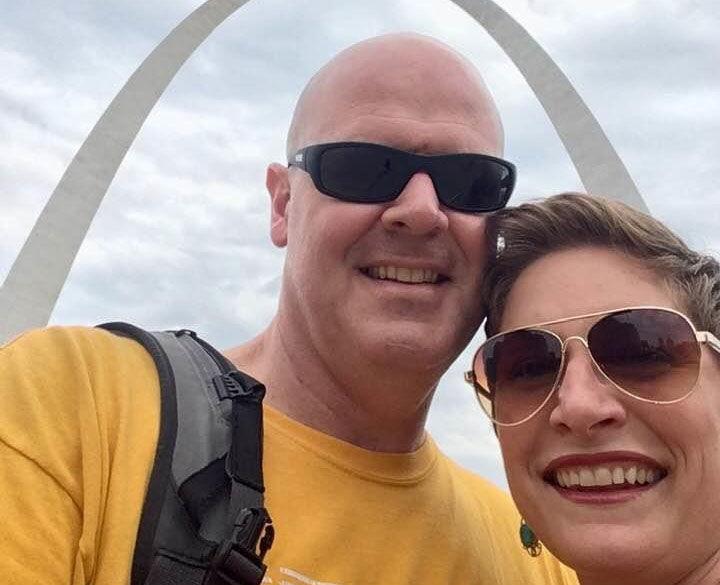 RN Aaron Stover says he likes to just "hang out in the background." He goes about his workday with focus and skill. He is an unassuming presence, yet leaves a big impact on his patients and their families.
Stover is a Level 1 Trauma-Neuro ICU nurse at Mercy Hospital St. Louis. His patients have critical needs and while the work is very fast-paced, he spends a significant amount time with his patients as many are there for weeks, even months. Stover takes this opportunity to get to know his patients and their families on a personal level. "People feel in control of very little in the ICU, so I try to make it as personable as possible. Anything we can do to make them not feel stressed is something I try to do on a daily basis," he said.
Personalized, yet acute care was a common theme among the nomination entries for Stover. One of Stover's more prominent patients was a 95-year-old WWII veteran who had suffered a stroke. The veteran was a proud, strong man who survived the Battle of the Bulge and didn't have a history of previous health issues. Having lost his own grandfather recently, Stover easily related to the patient and his visitors. A friend of the patient described, "I found Aaron to be very focused, strict in a good way and very skilled. He moved with an accuracy that was amazing. He asked about [my friend] and his life and took an interest in our stories of a man who had lived a good life."
Stover cares for his patients until their time in ICU ends, no matter the outcome. He has witnessed peaceful endings, as was the case with the forementioned patient, and he has also played a part in miraculous recoveries. He recounted, "Recently, I had a severe trauma patient who I cared for almost a month. I saw that patient go from a state where we were really unsure they were going to survive to a point where they were walking, talking and able to take care of themselves."
Another nominator described an ICU experience with Nurse Stover. "My nephew was in a horrific accident in December 2019. When Aaron became his nurse, our lives were forever changed. Aaron worked his 12-hour shifts working hard to help my nephew survive this accident. My nephew was lucky to make it through. He had multiple fractures and lost multiple internal organs. Aaron stood at his bedside and made sure he was well taken care of. He is truly a caring person and nurse."
DO WHAT YOU LOVE
Stover always knew he wanted a career in the health care field, and nursing seemed to fit his personality best. He attended the nursing program at Clark College in Vancouver, Washington, for his RN degree and went on to receive his BSN from Maryville University. After a phone interview with Mercy St. Louis while still living in the Pacific Northwest, he was hired for the Trauma-Neuro ICU where he has spent his entire four-year career. He said he chose this specialty because, "I like fast-paced environments and couldn't think of a faster-paced environment than the ICU in a Level 1 trauma center."
In high school, advice from a friend helped shape Stover's work ethic: "Do what you love, and you'll never work a day in your life." This mantra sums up the simple and effective way Stover goes about his job. There are no "tricks" to being a nurse and connecting with his patients — he simply loves what he does.
---
This content was produced by Brand Ave. Studios. The news and editorial departments of the St. Louis Post-Dispatch had no role in its creation or display. For more information about Brand Ave. Studios, contact tgriffin@stltoday.com.
Be the first to know
Get local news delivered to your inbox!