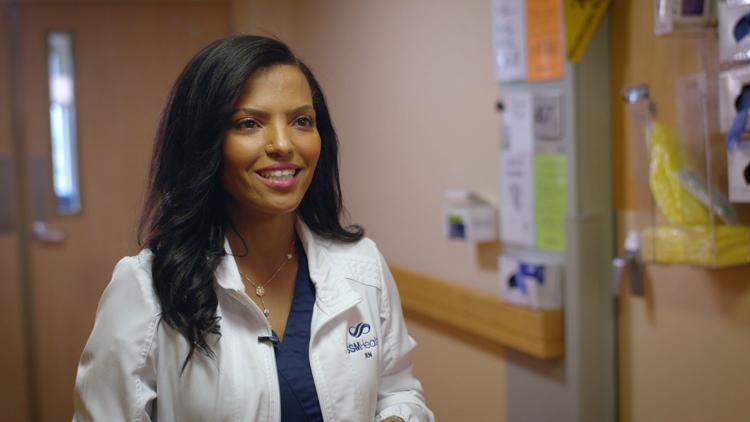 "Nursing is not the most glamorous career, but it's the most rewarding." This sentiment resonated in nearly every nomination received for the Nurses: The Heart of Health Care program — including Eritrea Habtemariam — a 2019 honoree.
It is long hours with little sleep interrupted by frantic moments of life and death. It is hugging a patient and comforting their family. It is changing dressings and explaining scary procedures. It requires a special person who will selflessly care for total strangers, often without recognition.
Traditionally, there is one week out of the year dedicated to nurses across the globe, but this year is different. The World Health Organization thought these selfless nurses and midwives deserved more than one week—we agree. In honor of Florence Nightingale's 200th birthday, 2020 has been deemed the year of the nurse.
The St. Louis Post-Dispatch is kicking off our annual Nurses: The Heart of Health Care contest in conjunction with this celebration.
Florence Nightingale changed the trajectory of the nursing profession in the 1800s and is now the pioneer of modern nursing. Her patients referred to her as "the Lady with the Lamp." Her light, both literally and metaphorically, shined on the many lives that she touched throughout her nursing career. The same could be said about our 2019 Nurses: The Heart of Health Care nominees.
Honorees in 2019 were CNMs, RNs and BSNs. Much like Nightingale, Eritrea and the other nine nurses honored in 2019 cared for patients while educating nurses and shaping the future of the profession.
Some wore funny glasses, others treated patients on a spectrum of land, air and sea. They worked in hospitals, schools, nursing homes, hospice centers and even oncology units. They treated patients from birth to the end phase of their life. Their work was rarely glamorous, but always impactful.
Honor your nurse
We all know a nurse. At some point, a nurse has cared for us, advocated for us or comforted us. Tell us your story about the nurse that impacted your life. Like Nightingale, we want to shine a light and honor the nurses who whose efforts never grow dim.
Nominations for St. Louis-area nurses begin on Jan. 12.
Once the 2020 nominations are in, independent judges narrow down the nominations to nine winners with a 10th winner chosen by readers. The final 10 nurses will be honored with a luncheon on May 7.
Honor nurses like Eritrea Habtemariam for their dedication to our community by visiting stltoday.com/contests.
---
This content was produced by Brand Ave. Studios. The news and editorial departments of the St. Louis Post-Dispatch had no role in its creation or display. For more information about Brand Ave. Studios, contact tgriffin@stltoday.com.