Jane Williams was only 15 years old when she dipped her toe in the health care field. During high school, she provided private duty care for a resident during the evenings and weekends. "I made $13 a shift, and thought I was making big money back then," said Jane Williams, registered nurse at Delmar Gardens of Creve Coeur.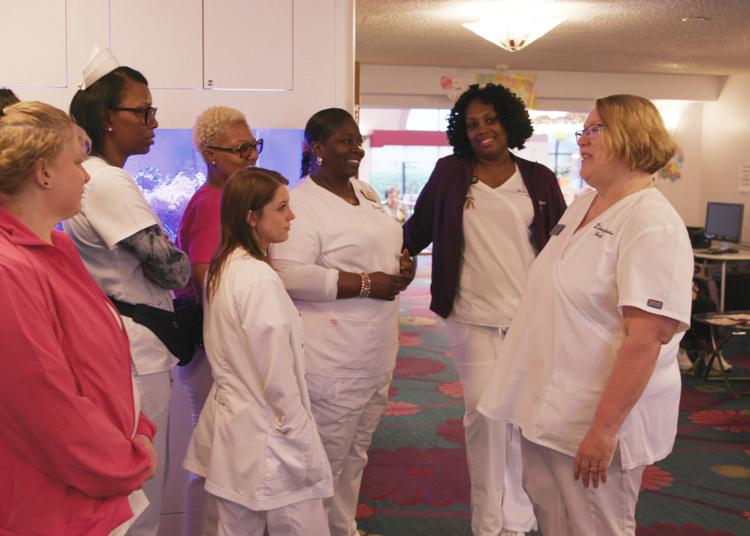 Williams continued with long-term care and moved around from various departments including, dietary, housekeeping and laundry. She later became a certified nursing assistant, followed by a certified medication technician (CMT). It was during her time as a CMT where she encountered a nurse not fulfilling the needs of one of her patients. The next day she made the decision to enroll in nursing school.
When asked about her greatest accomplishment, Williams didn't hesitate with the answer of becoming a nurse. She was single, working full-time and attending nursing school. "Nursing school was hard, but well worth it," she said. "I spent all of my time studying to be a nurse."
An employee of Delmar Gardens since 1981, Williams is a RN, board certified in gerontology (RN-BC). She is the director of nursing and is making a difference in the lives of her residents each day. Working in geriatrics, long-term nurses often have to do everything for the patient. They care for the elderly by holding their hands, providing encouragement, sharing stories and making the residents laugh, all while providing dedicated hands-on nursing care.
"Not only am I their nurse, but I am their friend, confidante and social worker," she said. "I am the person they can count on when they need help or don't know how to do something."
Williams explains procedures and outcomes with preciseness, but also empathy. She shares personal experiences to help guide and comfort family members during tough times. Sharing hugs and tears is a special way she relates with employees, residents and the family members. "I also help residents transition from life to death," she said. "Those are moments I will never forget."
This amazing bedside manner along with strong clinical and managerial skills makes Williams one of a kind.
Besides her nursing duties, Williams participates in staff and resident events. She rides the bus with the residents to the Cardinals game, fries fish during the Father's Day fish fry and cooks pancakes at the resident breakfast buffets. Williams also strives to make the health care community in St. Louis stronger and more efficient. She takes an active role speaking within the Long-Term Care Emergency Network in St. Louis County and for the Missouri Department of Health. Being ready for any situation is one of her strong suits.
The Delmar Gardens Family is guided by a tradition of providing the highest quality care with sensitivity and dignity to the senior population. Williams exemplifies the philosophy of Delmar Gardens: Caring for Seniors with Love, Care and Understanding. "Never do anything that you wouldn't want done to yourself or to your loved ones," she said.