Nursing is all Laurie Hyde has ever known. From the age of 3 she tended to friends, family and every animal she came across. Although she pronounced it 'nuss' instead of nurse, she bandaged up and cared for each one just like Florence Nightingale.
As Hyde entered high school, she was deliberate in taking classes that would lead her into the nursing profession. Throughout college, she worked as a nurse's aide and became very comfortable working with patients and families. Her passion and determination evolved into a 40-year nursing career. Today, Hyde works full time as a registered nurse at Nurses for Newborns and also works part time as a telephone triage nurse at St. Louis Children's Hospital.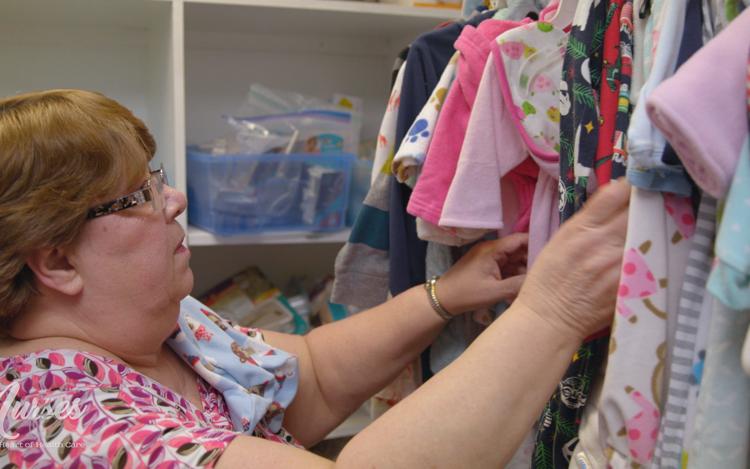 "Working as a nurse's aide throughout college gave me the skills to become a team player," Hyde said. "Later, as a new registered nurse (RN), I was assigned my own team of nurse's aides during my first couple of years in the medical-surgical unit. It was an honor to mentor and walk alongside them as RNs had once done for me when I was an aide."
Hyde discovered her love of working with mothers and babies in the nursery at Normandy Osteopathic Hospital South. Regional Hospital on Delmar is where she received labor and delivery and high-risk prenatal experience. She was also cross-trained in the neonatal intensive care unit and later, worked primarily on the antepartum floor there.
With her rich nursing background in tow, Hyde eventually interviewed at Nurses for Newborns. After her initial interview with one of the founders, Sharon Rohrbach, nurse Hyde left the interview with an infant scale, a stethoscope and 12 referrals. For the last 28 years, she has been making in-home health care visits, loving families unconditionally and promoting positive parenting skills.
"I wear many hats when I enter a home, but first and foremost I'm a nurse," Hyde said. "I perform health care assessments, weighing, measuring and taking vital signs. I screen for growth and development and teach about home safety and nutrition."
Clients are varied but may include high-risk babies, intellectually and developmentally disabled children, teenage mothers, families sometimes living with illness, drug abuse and almost always poverty. Hyde makes sure everyone is thriving, eating healthy and has enough food.
"I want to make a difference; one baby, one mom, one dad, one family at a time," Hyde said. "I think that's the greatest reward."
---
This content was produced by Brand Ave. Studios. The news and editorial departments of the St. Louis Post-Dispatch had no role in its creation or display. For more information about Brand Ave. Studios, contact tgriffin@stltoday.com.