Compassionate. Conscientious. Cautious. Thorough. Intelligent. Focused. These are the words that Lori Puzzo uses to describe her colleague and mentor of 31 years, Karen Fawcett, patient placement coordinator in bed management at Missouri Baptist Medical Center.
Fresh out of nursing school, Fawcett was the first nurse that Puzzo worked with and immediately became the model for Puzzo's career. "I realized that day that Karen was the nurse that I wanted to be," she said.
Fawcett worked on the medical-surgical floor at Missouri Baptist for 18 years, 15 of them as a manager. Today, she works in bed management, essentially the air traffic control of the entire hospital. When a patient needs a bed, whether they are coming from the emergency room, a different facility or the cardiac catheterization lab, she makes it happen.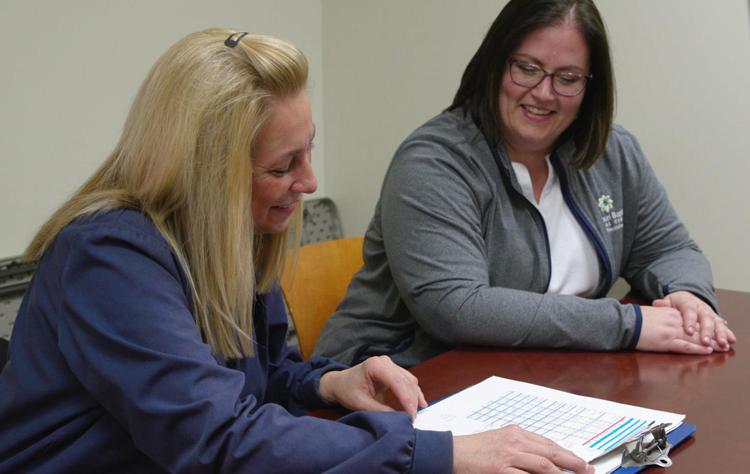 This role is a perfect fit for Fawcett, with 37 years of experience at Missouri Baptist under her belt. "I was pretty much doing bed management before bed management even existed," she said.
In her 15 years in management, Fawcett focused solely on empowering her staff and treating them with respect. "Management in nursing really is a trickle-down effect," she said. "If I was good to my staff, they'd be good to their patients." For example, her cardinal rule was that she never ate lunch or dinner before any of her nurses.
Hierarchies were never part of her management style and she made sure that her staff knew it. Puzzo witnessed this while working alongside Fawcett. No task was ever too menial for her. Bedpans and bedside commodes were never beneath her. "If there was a green light on in a patient room, she went," Puzzo said. "Although she's my boss, Karen never made me feel like a subordinate."
In her current role in bed management, she follows suit with excellent patient care, although indirectly now. "Even in this capacity [bed management], Karen is still the same motivator and leader," Puzzo said. "Our job is complex, and she is just as focused on providing good patient care."
Fawcett even adapted a protocol that her bed management nurses follow. It ensures that everyone is modeling the same practice, and there is a continuous standard of care to all patients they place in beds, Puzzo explained.
Fawcett's advice to nursing students, is simply to always follow through. "If you tell someone that you are going to get back to them with an answer, make sure you do it. It means a lot to people when you say you are going to do something and you actually do it."
This philosophy has made for a successful career.
"She is the backbone of what true nursing should be," Puzzo said. "If I can be one-tenth of the nurse that Karen is, I would be happy.
---
This content was produced by Brand Ave. Studios. The news and editorial departments of the St. Louis Post-Dispatch had no role in its creation or display. For more information about Brand Ave. Studios, contact tgriffin@stltoday.com.