More than 300 were nominated. Sixty-five were finalists. Nine were chosen by a panel of independent judges. One was voted by the readers. Introducing the 10 Winners of the Nurses: Heart of Health Care Contest.
Nakeisha Griffin, LPN – Dolan Memory Care Homes
Nakeisha Griffin had her first taste of medicine at the age of 15 when she was diagnosed with lupus. She came into contact with many nurses and doctors for her care. "Those experiences inspired me to be a good nurse and show compassion towards the people I care for," said Nakeisha Griffin, licensed practical nurse at Dolan Memory Care Homes.
She stumbled upon a nursing career while taking classes at St. Louis Community College - Meramec. She remembers listening to a group of girls talking about a certified nursing assistant program, but had no idea what it was.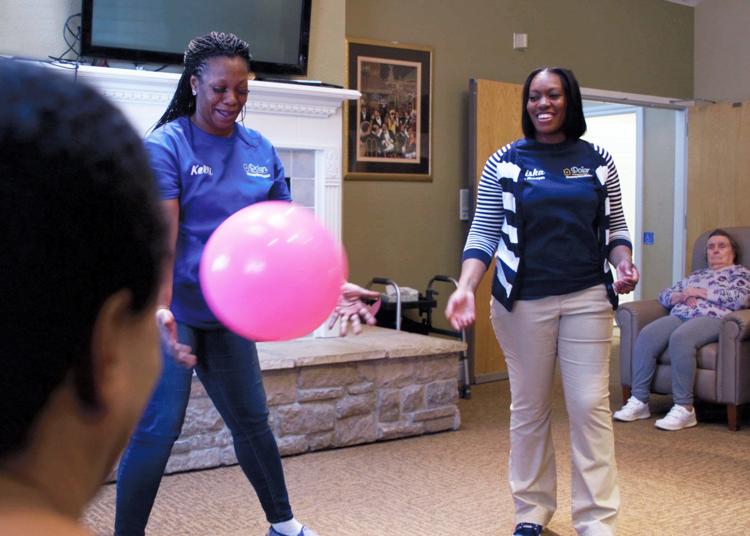 "I decided to apply and got hired into the program," she said. "That's where my love for geriatrics and memory care began."
Today, Griffin is an LPN at Dolan at Schuetz, one of several Dolan Memory Care Homes locations. Locally owned and operated, Dolan Memory Care Homes is dedicated to providing the highest quality of life for residents and their families affected by Alzheimer's disease and related dementias.
Dolan Memory Care is unique because they provide person-centered care. Griffin's responsibilities extend to the whole person. She engages each resident according to their interest and abilities. One of her residents loves animals and enjoys walking Griffin's dog. But there's one small problem. Her dog Minnie is a girl and this particular resident has an aversion to the color pink. To make this resident happy and to keep him engaged, she purchased all blue supplies for her female dog to make sure the resident was content.
"We seek creative ways to put our residents in a comfortable state," she said. "For example, I have one resident who doesn't like to take blood pressure medicine. The resident has low blood pressure instead of high blood pressure. We give her coffee, potato chips or bouillon soup — items that are in high in salt and will help naturally raise her blood pressure."
Although Griffin works Monday through Friday, each day is different. She medically assesses her residents which provides an intimate level of care for people who have difficulty expressing their needs. She also engages residents in activities that include helping with household chores, folding laundry, setting or clearing the table and gardening. This daily interaction makes her adept at noticing when something is different or when there is a problem with a resident.
"I get to know the residents and care for them as a whole because they are still a person," Griffin said. "I sit with them, hold their hand, give hugs and kisses and I love you's."
Not only does Griffin care for the residents, but she builds a relationship and a bond with the families. The families also need a lot of love, compassion and hugs. Memory care at any stage is not the easiest disease to battle. "Sometimes I'm meeting a resident who is still very young, maybe in their 50s or 60s and their life has been taken away from them," she said. "When their mom or dad leaves, they are entrusting me to take care of their loved ones — and that's an honor."
The residents are Griffin's extended family. In fact, when she goes on vacation, she still calls to check in on her residents. "We are all very connected," she said. "My girls come every day after school to sit with the residents. Some of the residents help them with their homework."
She has invested her love and time into her residents and feels rewarded by their appreciation each day. "When they say my name and tell me they love me — that is the best feeling," Griffin said.
Chantez Hopgood, LPN – Woodland and Kenneth C. Hanrahan Elementary Schools
Chantez Hopgood remembers vividly her high school nurse. She was a kind and gentle woman who encouraged and inspired her students. That nurse left an everlasting effect on Hopgood and was one of the reasons she was drawn to becoming a school nurse herself.
"I enjoy helping people," said Chantez Hopgood, licensed practical nurse at Woodland and Kenneth C. Hanrahan Elementary Schools. "The need is great for helping our youth, especially those with special needs."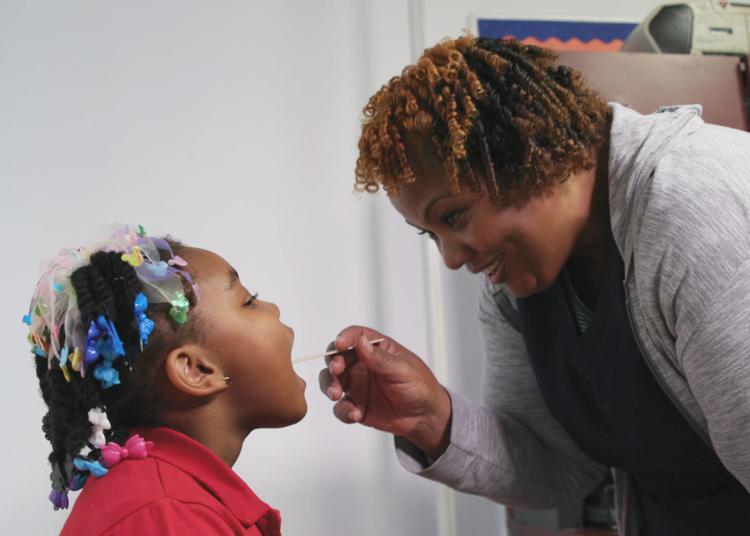 Hopgood recently adopted her nephew after his mother passed away. He is eight years old and is autistic. Their relationship has taught her quite a bit about caring for students with disabilities. "Having custody of my nephew has caused me to be more patient, and has given me a deeper appreciation and understanding of what children and families are going through," she said.
As school nurse, her door is always open. The students know they have the freedom to see Nurse Hopgood for a medical need or a simple hug. Colleagues and students remark that her smile lights up the whole room. "I always try to inspire the students and keep a smile on my face," she said. "I enjoy sharing life with them and the staff, just to let them know they are not alone."
Hopgood feels that the Jennings School District is one big family. Her parents would often use the phrase, 'one for all, all for one.' She uses that mantra in her daily life. "My parents raised me to listen, have good eye contact and to not be judgmental," she said. "We are all in this together — one team, one family."
Her care for others doesn't stop at Woodland and Kenneth C. Hanrahan Elementary Schools. While her primary role is school nurse, in 2016 she was promoted to lead nurse in the Jennings School District, providing training and support for the other district nurses. Under her leadership, she works with the two school-based health clinics at Fairview Elementary and Jennings Senior High School.
In addition to assisting with the health clinics, part of her role as lead nurse over the district is to make sure that asthma, dental, hearing and vision services are provided for students K-12. "We hold an annual health fair every year at all of the schools," she said. "The entire district is screened, and if a student fails a screening, I reach out to one of our many referral programs to find various resources for the student in need."
She advocates for children and has their best interest at heart. She tells the students to go be whatever they want to be in life — the sky is the limit. "Sometimes kids need encouragement," she said. "They need to just go for it. They will have obstacles in life, but they shouldn't let that stop them — they may be delayed, but not denied. Keep pressing!"
Jacob Kliethermes, RN, BSN, MBA – Mercy Hospital Lincoln
As executive director of nursing, Jacob Kliethermes focuses on leadership development for nursing and other ancillary areas. His main focus is helping those around him, allowing the leaders to grow in any way possible. From helping them develop plans or working through troubles, his place is to help them hit their excellence marks. He comes up with several different teaching strategies until it clicks, and he does it with patience and kindness. He also takes the chance to learn from others, always listening more than speaking.
"Sometimes I give them ideas or pull ideas out of them," said Jacob Kliethermes, executive director of nursing at Mercy Hospital Lincoln. "Other times, I'm encouraging them because inspired leaders motivate engaged nurses, who then drive outcomes that change nursing in the long run."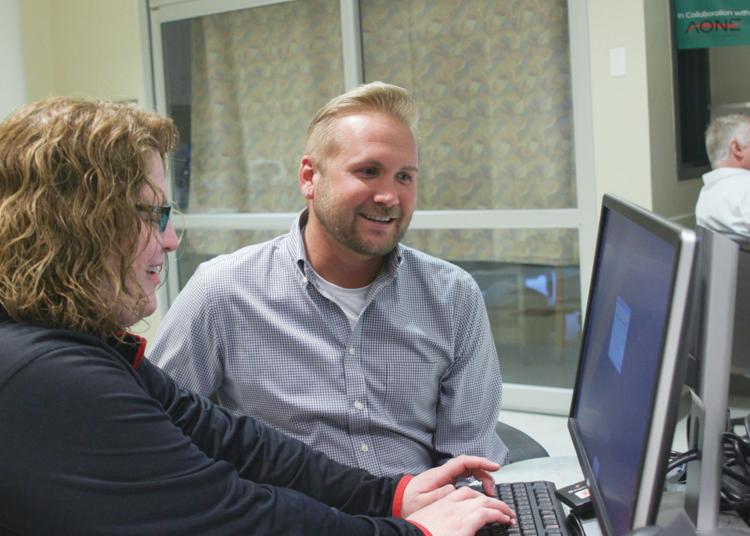 The impact of nursing touched Kliethermes when he was a patient at 18 years old. He had a procedure done and stayed in the hospital for one day. He describes having an enlightening moment where he realized he could make a difference, but he didn't act on it right away. He went off to college set to become a veterinarian, but something wasn't sitting right with him. He knew nursing was where he should be. He switched majors in the middle of college, and he says it's been the best decision.
"High school students ask me what they should pursue in college," he said. "I always tell them to become a nurse and help as many people as you possibly can. Nursing is the one career where you can work 36 hours a week, help people, feel great about your job and still receive full-time benefits. There's time to be a human and go out and do all of the things you enjoy — so mixing that with helping people is where I push most folks."
He has never said no to an educational opportunity. Not saying no took him from oncology to orthopedics to critical care to the heart hospital and now to critical access at Mercy Hospital Lincoln. "When something comes up I think I can do and there are educational opportunities involved, it might be really scary, but I commit and then figure it out," he said.
He heard this go-to phrase 'commit and then figure it out' a couple of years ago at a seminar. The speaker believed anything was possible. Kliethermes was inspired and has been using the adopted phrase for the last couple of years.
"If I'm scared or afraid of failure, that's the first thing I do — commit to the problem and then figure it out," he said. "Most people are afraid to fail, but I am not, because I actually learn something. I'll try gain and do something a little bit different next time."
Kliethermes relates to the foundation set by Catherine McAuley, the founder of Sisters of Mercy — 'to make sure that I resolve to be good today, but better tomorrow.' However, at the root everything is his grandma. "I want to make sure everybody here treats patients like they are my grandma," Kliethermes said. "That's my personal foundation. I want everybody to be as sweet as possible, helping them through whatever they can — that's important to me."
Laura Lofink, RN, BSN – St. Louis Children's Hospital
Laura Lofink can remember reading a newspaper article when she was 11 years old. The article was authored by a nurse who worked in a pediatric oncology unit. "The nurse said during her 12-hour day, if she could make a child smile for 10 of those minutes, and for one of those minutes, if she could help the child forget they had cancer — then her day was made," said Laura Lofink, registered nurse at St. Louis Children's Hospital. "Something about that touched my heart."
She also received inspiration from her mom who was a nurse. She can remember her mom sharing stories about her patients and admired the bond she had with each of them. "You put in all of this hard work and people actually see it," she said. "As I got older, it became quite clear what I wanted to do."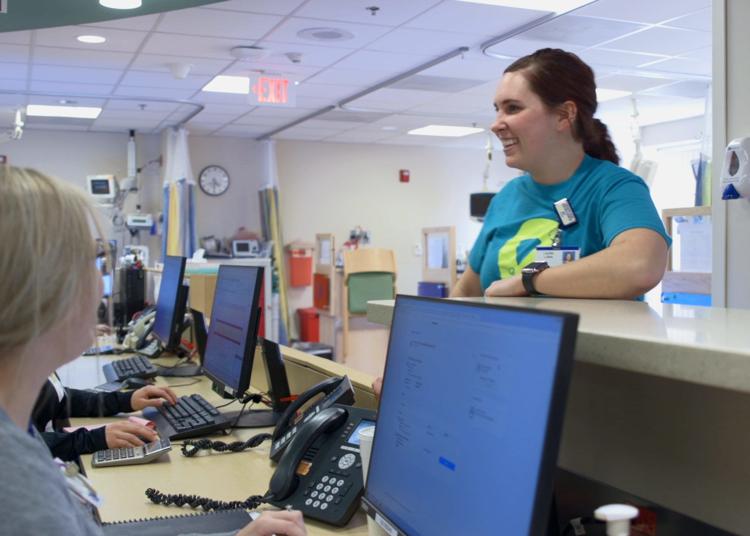 Lofink works on the ninth floor which is the hematology and oncology unit. Her day-to-day interactions vary widely. Tasks may include hanging chemotherapy to talking with a family through an initial diagnosis to watching a kid ring a bell, which marks the end of chemotherapy. "Once they are diagnosed, the patient usually spends about 30 days with us," she said. "After that, they come back for chemotherapy or visit us if they get ill during treatment."
The ninth floor nurses see kids at their worst. She describes the emotions as a large roller coaster. "We are human," Lofink said. "We are supposed to cry and laugh. The emotional highs and lows are always going to be there."
"When you have a patient who yells your name when you walk in the room or starts smiling and laughing, that's the best part," Lofink said. "I feel like I've touched their life in some way. There was a very young patient who would run around the halls wearing a T-shirt, diaper and cowboy boots. He became famous for his ensemble on the ninth floor. Those are definite highs and you can't help but smile."
There is a tradition of the patients making a loop around the nurse's station when they get to go home. "Whenever kids make the loop, it makes my day to know they are doing well and get to go home," she said.
Her strength and inspiration is often found in the resilience of her patients. Lofink's patients are going through the toughest time of their life, but they seemingly have no idea. "It's amazing to see them get up every morning and eat through the nausea," she said. "They continue their daily life — playing, going back
Andrea Markwardt, MSN, RN, CCTC – Barnes-Jewish Hospital
Andrea Markwardt remembers having her first inclination of a career in the medical field in childhood. She grew up with a friend whose parents were both employees at Barnes-Jewish Hospital; the father was a physician and the mother was a nurse. Markwardt remembers being fascinated that they drove off to work each day to a big hospital.
"Later on as a teenager, I was captivated with biology and how the body worked," said Andrea Markwardt, registered nurse at Barnes-Jewish Hospital. "I also love people, so nursing just seemed to fit."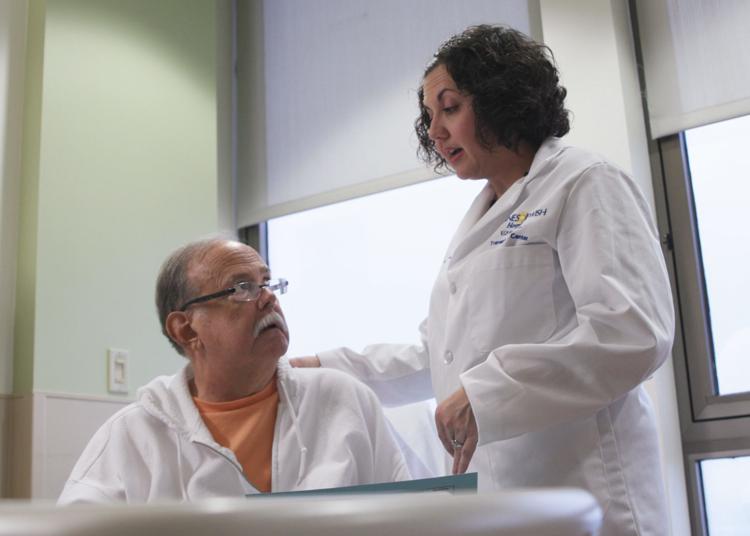 She started working at Barnes-Jewish Hospital in 1999 as a unit secretary when she was preparing to start nursing school. She was offered three choices: transplant, vascular and trauma. "I didn't know anything about transplants and it seemed very cutting edge and exciting," she said. "Nineteen years later, I'm still in the transplant field."
As a post-kidney and pancreas transplant coordinator, Markwardt manages the care for patients that either receive a kidney transplant, pancreas transplant or a combined transplant such as liver/kidney or heart/kidney.
"I spend half my time at the hospital where I see all new patients, making sure they understand their new regime and what they can expect after having a transplant," she said. "Once they are home, I'm like Sherlock Holmes. I'm the one looking at all their clinical data, making sure nothing is abnormal, and if so, intervening on their behalf in a timely manner before serious complications arise."
A transplant nurse is unique in that they manage the patient's care for the life of the transplant. "This is a life-long relationship that I have with my patients," she said. "I take the time to determine some sort of common ground so I can relate to my patient. It goes beyond medical — we talk about everything."
She sees her patients perhaps at their worse time, but also helps them through their best times. "The best thing about my job is that I get to see my patients from the time of transplant and forever after," she said. "I am able to see all the incredible things they do with their life and make sure they have the best possible outcomes. I'm helping a person receive a new lease on life, and that's an amazing feeling."
Markwardt's colleagues are a part of her family, too. She's always including others and ensures everybody has some place to go during the holidays. "We work in a facility where people are from everywhere in the country and many people don't have families nearby," she said.
When asked about her advice for up-and-coming nurses, she emphasizes not to take things personally. No matter the area, patients are dealing with many different health issues. "It's my role to help diffuse those situations and be empathetic," she said. "Make sure you are seeing it from the patient's side of things and not just what you feel like doing in the situation."
"My dad always told me to keep my feelings even and approach everyone with a smile."
Terica Meeks, RN, MSN, AGNP-C – VA St. Louis Health Care System
Terica Meeks knew she had the passion to be a nurse practitioner when she was standing bedside listening to the physicians dictate orders. She was always one step ahead already knowing their next move.
Her first exposure to the medical field occurred when she was a child. Meeks would often have the opportunity to see her mom working as a certified medical technician and witnessed the exposure her mom had to patients — that's when she knew.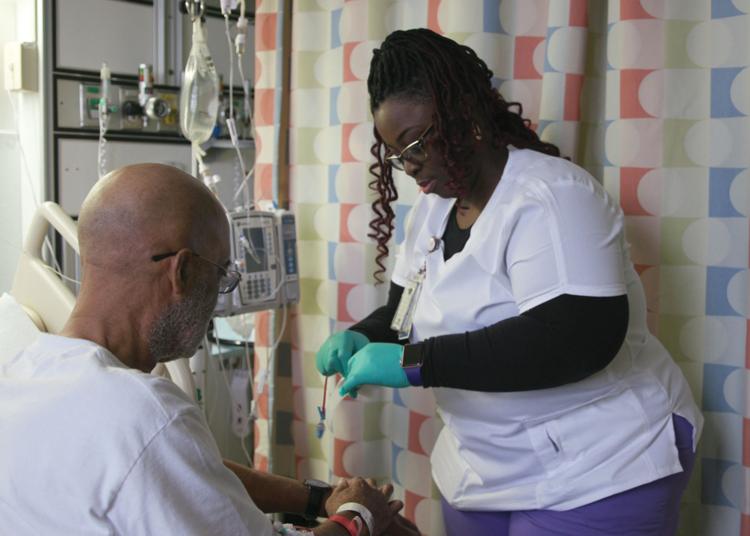 She began her nursing career as a certified nursing assistant at Barnes-Jewish Extended Care, now Bethesda Nursing Home. She went on to become a patient care technician at Barnes-Jewish Hospital and later a nurse at the VA.
Meeks is extremely dedicated to the veteran population. She comes to work with exuberance, always willing to serve, providing exceptional care. "The best part about my job is being able to educate patients to treat themselves better and to have an improved quality of life," said Terica Meeks, nurse practitioner at VA St. Louis Health Care System.
One of her first memories as a nurse was when a terminally ill patient thanked her. When people are terminal or when they receive a bad prognosis, they can become bitter or angry, but this patient was grateful. "Those two simple words, 'thank you' have lasted me 20 years," she said. "Not every patient says thank you."
Meeks has an infectious spirit and works extremely well with her peers. She is very compassionate towards her co-workers, always putting their needs before hers. She looks at the big picture, making her an asset to any division she works with. She wants everybody to get along and makes it a great environment.
She once heard someone say, 'teamwork makes the dream work' and it inspired her to put that to work. "I try to show others that if we are all working together, it can work," she said.
That environment extends into the halls. There are some patients in the VA that are put on hospice. To alert others, Meeks developed a creative and thoughtful way to identify those special patients. Peace lily signs are placed on the doors of those patients under hospice care. This lets everyone know those particular patients are under palliative care and to keep the noise down and to look out for the patient and their family members.
"Nursing is not just a job for me — it's a passion," Meeks said. "There's nothing on earth I find more passionate than the art of nursing — that's why I love what I do."
Tim Nienhaus, RN, CCRN, TNCC – Barnes-Jewish Hospital
Tim Nienhaus was a young man working as a nurse's assistant in the operating room when he realized he should become a nurse. He's been working at Barnes-Jewish Hospital since 1980 and has never looked back. He's worked in medicine, surgery, radiology, on the floors, the ICU and the OR.
His first memory as a nurse was on a medicine floor which was mostly clinic patients.
"Some of the fondest memories were taking care of two elderly patients that I remember quite vividly," said Tim Nienhaus, registered nurse at Barnes-Jewish Hospital. "Unfortunately, it was also one of my first experiences with death."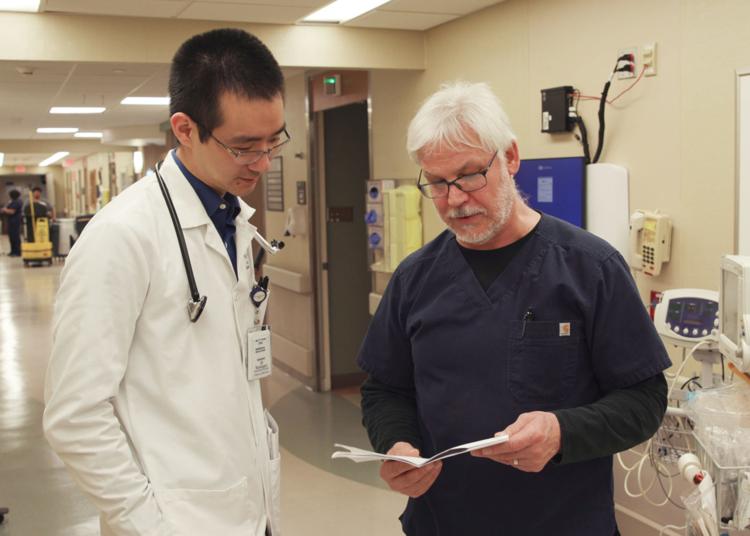 Today, Nienhaus works as an acute care team nurse, ACT. Some hospitals refer to the role as a rapid response nurse (RRN), but at Barnes-Jewish Hospital it's called ACT. Those earlier experiences during his career allowed him to focus and be prepared for any situation that arises.
"As a nurse on the acute care team, I help out with emergencies throughout the hospital outside of the ICU — no matter what the situation is, and it could even be with visitors," he said.
Regardless of the position, his goal is to make a difference in people's lives, whether it's the patient or the family. He enjoys doing the little things to brighten someone's day. "It could be I give a family member special time with their loved one before they pass away — it makes me feel good to help others," he said.
Nienhaus is helping others outside of work, too. His son, Alex, was born 14 years ago with Down syndrome. Within a few months of his birth, Nienhaus wanted to do something to educate people about those with Down syndrome and how special they are.
He founded an organization called Puttin for Down syndrome which has now joined a bigger national organization called D.A.D.S. — Dad's Appreciating Down Syndrome. D.A.D.S. is a committee or community group of fathers of children who have Down syndrome. The organization's three foundational pillars are support, action and fellowship.
This year marks the 14th year for the Puttin for Down syndrome charity golf tournament and silent auction. The annual event is held each September and all proceeds benefit Down syndrome organizations in St Louis.
Patients, colleagues, friends and family can't help but be drawn to Nienhaus. His positive attitude and calming effect not only inspires others, but makes him an asset in the time of an emergency. "People always tell me I'm calm, and I can tell they are happy to see me when I show up," he said. "I try to keep a positive attitude despite the circumstances."
He is quick to add that regardless of how bad our day is, somebody's having a worse day. "One of the things I always tell the nurses when we are having a hard day is that we are on the 'right side of the bed rail,'" he said.
He attributes much of his success to his parents. Besides the great people in his life and the nurses that have taught him along the way, it was his parents that laid the foundation of respect and attitude.
"My parents raised me to treat everybody like I want to be treated," he said. "I was raised to respect others, and that's who I've become."
Joseph Pilger, CSN, RN, BSN – SSM Health St. Clare Hospital
Joe Pilger has always been a fixer of sorts and he was used to working on machines as a mechanical engineer in the Navy. The first time he desired to become a nurse was when he became a civilian after his service ended. His mother had been a nurse for many years, and she reminded Pilger that his favorite subjects in high school were anatomy and physiology.
"I love working with people, and I'm a fixer," said Joe Pilger, clinical support nurse at SSM Health St. Clare Hospital. "After being encouraged by mom, I chose nursing and never looked back."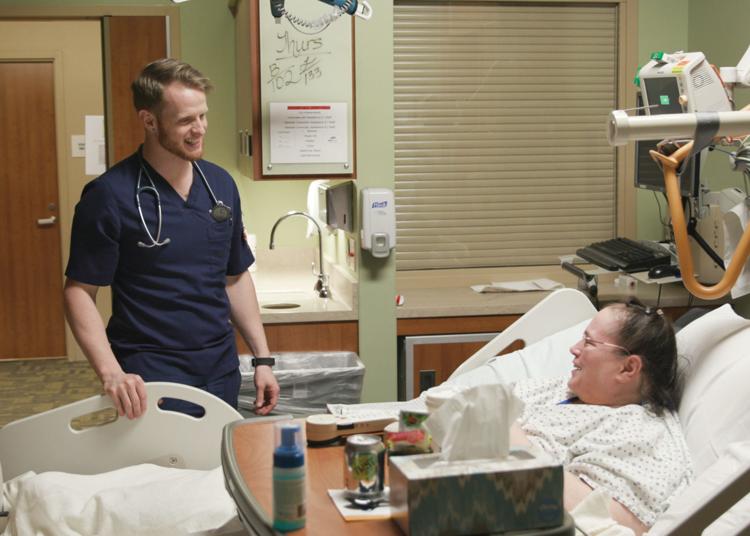 Pilger will always remember the first patient he cared for. It was during his first clinical assignment at Jefferson College in Hillsboro, Missouri. He visited a geriatric patient at a nursing home. "I originally thought anything I did to an elderly person would break them — I was very wrong," he said. "She was nice, but she wanted to make sure I knew that my eyes weren't the same size and that my smile was crooked. Eventually, I did develop a relationship with her, and I like to think I made an impact on her stay at the nursing home."
As a clinical support nurse, Pilger's main job is to assist and support the staff and physicians, ensuring safe and quality care. He is a patient advocate and makes sure they have everything they need, including during critical situations. Pilger goes above and beyond to help his team and the hospital. He leads by example and his positivity is infectious.
"I come in and work hard and expect the same from my team," he said. "If I'm working hard, I know they will work hard as well."
Besides his daily nursing responsibilities, Pilger is the chairperson of the Multidisciplinary Hospital Fall Team. The team includes staff from different departments throughout the hospital. "We talk about opportunities for keeping our patients safe and how we can improve on preventing falls in a multidisciplinary format," Pilger said.
He is also a research assistant for a new and inexpensive treatment for Alzheimer's patients. Doll therapy has been shown to decrease the psychological and behavioral symptoms of dementia. "When we give a doll to a dementia patient, they have decreased confusion and are more compliant in taking their medication or receiving treatments," he said. "They are often less restless and stop trying to go home or to the store. We've even seen the patient try to feed the doll and give them kisses."
The compassion he gives to his patients is the compassion he shows to everybody. Pilger comes into work each day with a smile on his face and a can-do attitude. "I like working with people, and if I can help just one person in one day, then I know I've done my job," he said. "The best part of my job is seeing the patients get better."
Mary Frances Wagner, RN, CNOR – St. Anthony's | Mercy
Francie Wagner always knew she was going to be a nurse. She was in grade school when her mom planted the seed. "I remember vividly one evening my mother talking to my older sisters and me," said Francie Wagner, registered nurse at St. Anthony's | Mercy. "I have a sister who's a teacher and my other sister was going to be a secretary — this was a long time ago. My mom said, 'All we need now is a nurse.'"
When high school came around, Wagner was still onboard with the idea and took four years of Latin because she knew many of the root words in nursing school were Latin.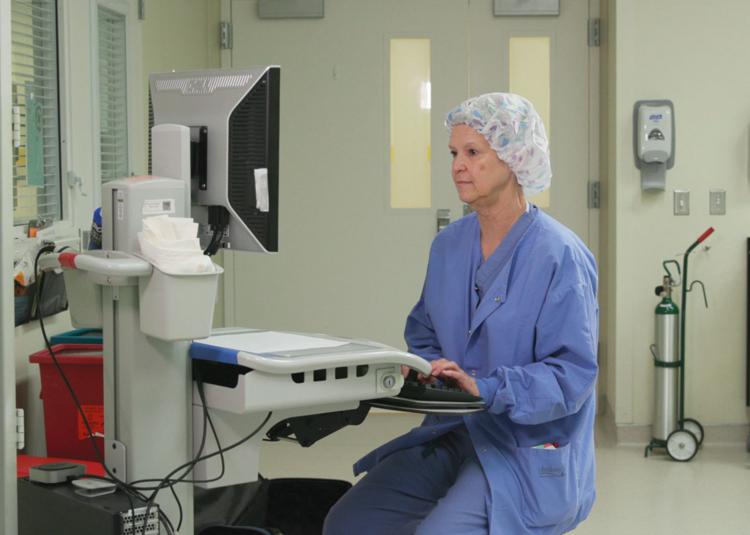 After high school, Wagner went directly to nursing school. She graduated from nursing school in 1977 and began her first job at Jefferson Memorial in Festus, Missouri working on the medical floor. A couple of years later, Wagner was interested in specializing, and there just happened to be openings in the operating room. Armed with her only knowledge from nursing school and with very little exposure to an OR, Wagner applied for a position and was hired.
Today, she works at St. Anthony's | Mercy as a RN, CNOR and is team lead for orthopedics and arthroscopy. According to the American Board of Nursing Specialties, all registered nurses should seek certification in their specialty area of practice. For more than 30 years, nurses have used the CNOR credential to gain credibility and recognition from colleagues and patients, achieve their personal and professional goals, and enhance their career development. CNOR means that you have demonstrated the knowledge and skills that denote competency in the specialized field of perioperative nursing.
Patients ultimately surrender control to a surgical nurse. Even as patients on the medical floor, there is a certain amount of dependency. Wagner said it's all about the opportunity. "The patients really count on us to take care of them. They are trusting me to be knowledgeable about what I'm doing so I can best take care of their needs."
Wagner played several sports when she was younger. She experienced many team concepts growing up and has found herself using those ideas in the operating room environment. "There are so many components in the operating room," she said. "From the scrub techs to the anesthesia team, to the entire nursing staff and doctors — there are several players involved."
Nursing provides the unique opportunity that allows nurses to change specialty areas. Much of it comes by way of on-the-job training. Regardless, Wagner said it is key to have a passion to be a good nurse — whatever area you are working in. "If you get into an area that you are feeling passionate about, you really need to immerse yourself in it and learn as much as you can," she said. "You have to be willing to receive advice from the experienced staff, and always be willing to learn."
There isn't much time to develop a relationship in the operating room. Most patients will likely never see the surgical nurse again, unless they have another surgery and get the same nurse. It's hard for Wagner to describe how she does it — relating to another human being and their vulnerability in such a short timeframe. "You have to make eye contact and show the patient you are truly interested in what's going on in their life," she said. "It's my passion. I try and make my patients feel safe and secure."
Day in, and day out, Wagner shows an immeasurable level of compassion and kindness to her patients. Her kind words and sense of humor are helpful and welcomed by patients and families. She is a woman of high morals, has a passion for excellence and promotes good teamwork.
Jane Williams, RN, C – Delmar Gardens of Creve Coeur
Jane Williams was only 15 years old when she dipped her toe in the health care field. During high school, she provided private duty care for a resident during the evenings and weekends. "I made $13 a shift, and thought I was making big money back then," said Jane Williams, registered nurse at Delmar Gardens of Creve Coeur.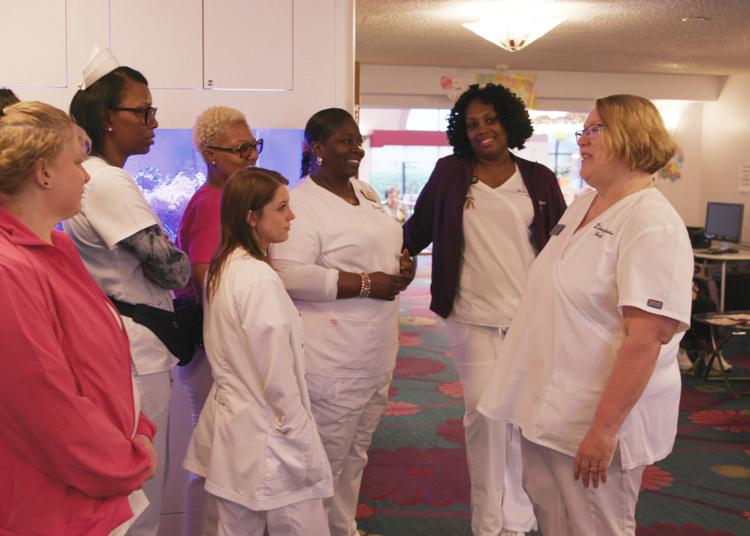 Williams continued with long-term care and moved around from various departments including, dietary, housekeeping and laundry. She later became a certified nursing assistant, followed by a certified medication technician (CMT). It was during her time as a CMT where she encountered a nurse not fulfilling the needs of one of her patients. The next day she made the decision to enroll in nursing school.
When asked about her greatest accomplishment, Williams didn't hesitate with the answer of becoming a nurse. She was single, working full-time and attending nursing school. "Nursing school was hard, but well worth it," she said. "I spent all of my time studying to be a nurse."
An employee of Delmar Gardens since 1981, Williams is a RN, board certified in gerontology (RN-BC). She is the director of nursing and is making a difference in the lives of her residents each day. Working in geriatrics, long-term nurses often have to do everything for the patient. They care for the elderly by holding their hands, providing encouragement, sharing stories and making the residents laugh, all while providing dedicated hands-on nursing care.
"Not only am I their nurse, but I am their friend, confidante and social worker," she said. "I am the person they can count on when they need help or don't know how to do something."
Williams explains procedures and outcomes with preciseness, but also empathy. She shares personal experiences to help guide and comfort family members during tough times. Sharing hugs and tears is a special way she relates with employees, residents and the family members. "I also help residents transition from life to death," she said. "Those are moments I will never forget."
This amazing bedside manner along with strong clinical and managerial skills makes Williams one of a kind.
Besides her nursing duties, Williams participates in staff and resident events. She rides the bus with the residents to the Cardinals game, fries fish during the Father's Day fish fry and cooks pancakes at the resident breakfast buffets. Williams also strives to make the health care community in St. Louis stronger and more efficient. She takes an active role speaking within the Long-Term Care Emergency Network in St. Louis County and for the Missouri Department of Health. Being ready for any situation is one of her strong suits.
The Delmar Gardens Family is guided by a tradition of providing the highest quality care with sensitivity and dignity to the senior population. Williams exemplifies the philosophy of Delmar Gardens: Caring for Seniors with Love, Care and Understanding. "Never do anything that you wouldn't want done to yourself or to your loved ones," she said.
See profiles of the 65 nurses who were finalists.
Meet all the nurses who were nominated.