To be a good nurse, clinical skills are crucial, but the ability to handle the emotional roller coaster is equally critical. Intensive care nurse Nikki Menichino, who works with some of the most critically ill patients at St. Luke's Hospital, handles the emotional aspect of her job with this mantra: "Always remember your 'why'."
Menichino was not yet a nurse when she realized her first 'why' sign during the birth of her daughter. "I still remember the nurse's face and name," she said. "I'll never forget the amazing care that she provided and I decided I wanted to provide that same care for someone else."
In the medical intensive care unit, Menichino treats patients with conditions such as sepsis, renal failure and respiratory failure. "I was drawn to the fact that in intensive care, the patients and families are 100 percent reliable on you. They are so vulnerable, and I wanted to be a light in their time of need," she said.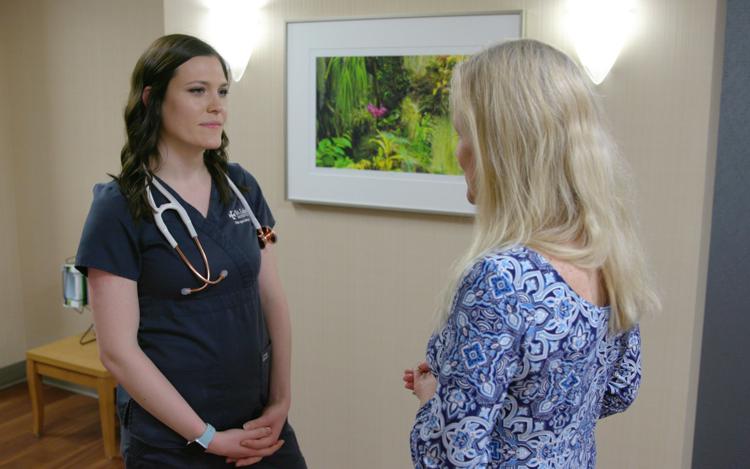 Her patients are often so critical that she is unable to communicate directly with them. As a result, she has a special task of forming relationships the patient's family. "It's so important to take time and ask the families questions about the patient," she said. "We treat them medically, but treating the whole patient is when you really develop a relationship with the families – then they can see that we aren't just here to do our job. We want to learn about who each patient is as a person."
Menichino said that each patient has left a profound impact on her, but there is one that embodies her 'why.'
Stephanie Ingberg, an 18-year old high school senior at Parkway West, contracted E. coli in St. Louis prior to a trip to Punta Cana. Shortly after arriving in the Dominican Republic, her kidneys began to fail. She was flown back to the U.S. and admitted to the intensive care unit at St. Luke's. After a harrowing three weeks in the hospital, Ingberg made a miraculous recovery and is now a student at Mizzou.
Many nurses cared for Ingberg during her stay, but one nurse made the biggest impact. "After waking up from my coma, Nikki was one of the first people I remember," she said. "I woke up confused, and her smile and overall positive energy always made me feel safe."
They formed such a special bond that Menichino thinks of Ingberg as a little sister and Ingberg sees Menichino as a mentor.
Ingberg is now pursuing a career in nursing and hopes to follow in Menichino's footsteps of caring for patients in the intensive care unit. "Nikki is so passionate about her job. She is a model for the type of nurse I aspire to be one day."
Just like that, Ingberg found her 'why.'
---
This content was produced by Brand Ave. Studios. The news and editorial departments of the St. Louis Post-Dispatch had no role in its creation or display. For more information about Brand Ave. Studios, contact tgriffin@stltoday.com.