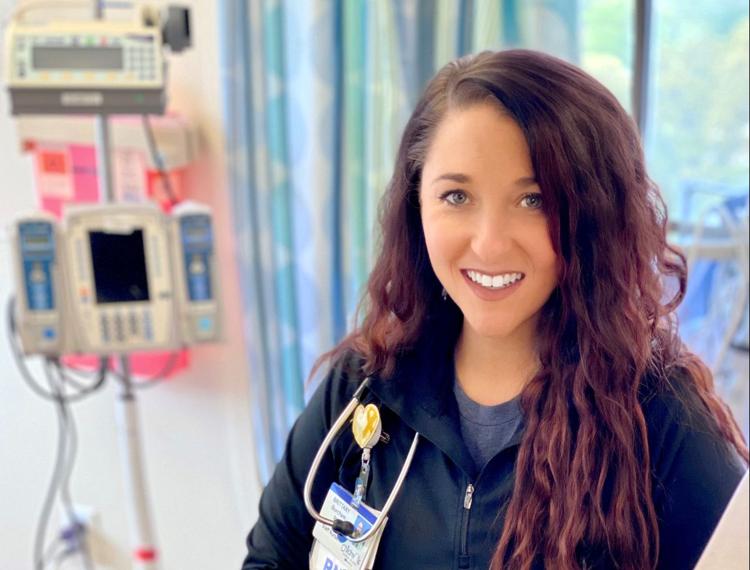 She was a nurse fresh out of orientation and had to deliver a devastating diagnosis to a pediatric patient on the oncology/hematology floor. She didn't know how she'd find to courage to do so.
The patient's lighthearted response, thinking the hospital was a hotel: "Where's the pool?"
Brittany Evans, RN, BSN and pediatric oncology/hematology nurse at St. Louis Children's Hospital, remembers this patient fondly. She explained that this blissful innocence is the essence of pediatric cancer patients.
DESTINED TO BE A NURSE
Evans initially pursued a career in speech pathology after studying communication disorders in undergrad. Her grandpa, who she cared for from a young age, prophesized her future calling. "You're going to be a nurse one day," he would tell her.
He was right. After realizing nursing was where she belonged, Evans enrolled at Chamberlain College of Nursing. She landed her first job at SSM St. Mary's Hospital ICU, but she felt a specific pull to work in pediatric oncology and hematology after falling in love with the specialty on a nursing rotation in college. She has been working alongside these young cancer patients for the last 2 ½ years.
RIDING THE WAVE
Children who battle cancer and hematology blood disorders day in and day out typically have a long-term treatment plan. Brittany called her nursing journey with the patients and their families "riding the wave." This "wave" her patients ride can be physically and mentally taxing, which is why Evans finds it important to help her patients and their families focus less on the diagnosis and more on the patient. "I get to fall in love with the child and their whole family. I want to know their life outside of cancer. Every patient has a story beyond their diagnosis. I want to really know them," she said.
Patients' families also benefit from Evans' style of nursing. One mother of an oncology patient referred to her as, "MY Brittany," emphasizing that Evans was one of the only nurses that her timid daughter would interact with in her yearlong stay at Children's.
Not only did she support the patient, she affirmed and comforted her parents, as well. "She [Evans] has seriously helped me through so many moments where I was breaking and felt I couldn't go on anymore. She's talked me through the bad times and the good times," the patient's mother said.
BEAUTY IN VULNERABILITY
Young children are often unaware of all the details of their diagnosis, which brings levity to their serious medical situation. "The kids are always up playing and laughing," she said. "They don't act like they're sick. There's beauty in that vulnerability. Knowing too much can be scary," she said.
Still, being a nurse on a pediatric oncology and hematology floor is not for the faint of heart. It takes a special nurse to endure this specialty. Evans emphasized that her faith in God is the foundation that guides her through. "Being able to pray and holding onto my faith plays an integral role in my job.
"People say all the time, 'I don't know how you do it.' And I don't have a good answer — other than my faith. I believe God put me in this field."
---
Be the first to know
Get local news delivered to your inbox!