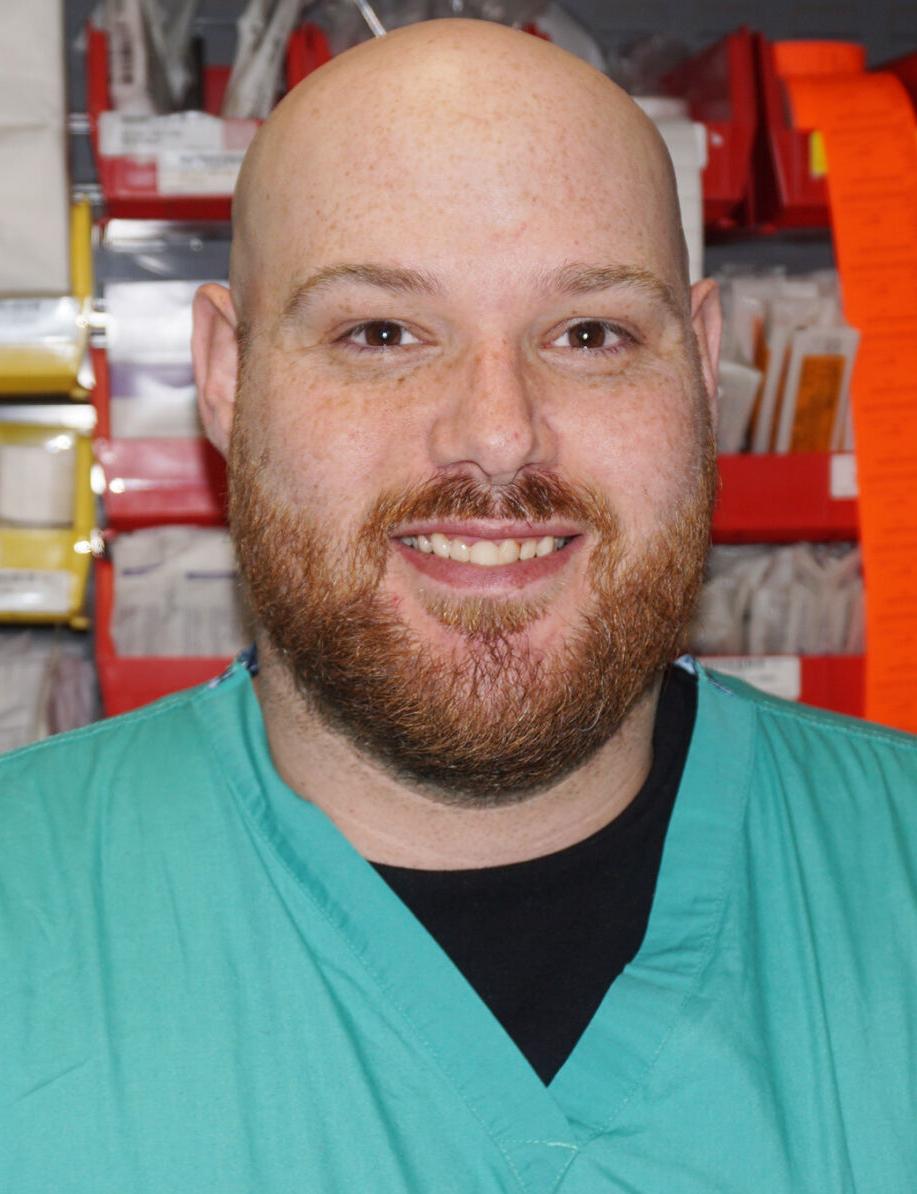 As a daredevil military brat, Kevin Woods spent a fair amount of his childhood in hospitals. "Have you ever heard of Kinder Eggs? They are a German chocolate candy with a toy in the center, banned in the United States because of choking hazards. Yeah, I am part of that statistic," he says. "I choked on the toy when I was around six, living in Germany, and had to have a bronchoscopy to remove it. All the times I spent in different hospitals made me comfortable in them."
Woods knows that most patients do not share that same level of comfort, and it informs the way he approaches his job as a charge nurse in Alton Memorial Hospital's intensive care unit. "Patients and their families are usually scared and worried, especially when someone is in the ICU, and a lot of that stems from not knowing exactly what is going on. I try my hardest to make sure the patient and family understands what is going on and what our plan is going to be continuing forward," he says. "This usually seems to help alleviate a lot of those fears and worries. I also try my hardest to be very upfront with people. I can't count the times I have been thanked for just being as honest as I could be in a given situation."
A hands-on approach
Woods has always loved science, critical thinking and being hands-on — characteristics that first led him to a career as an automotive technician. It was a drastic change when he started nursing school in his mid-twenties. In order to gain much-needed experience and to get his foot in the door, Woods was hired as a Patient Care Tech on the telemetry floor at Alton Memorial during his first semester of nursing school. It was there that he was introduced to the possibility of working in the ICU when he graduated. He got the job, and four years later, he remains an integral part of the team.
The decision to jump into the medical field, and specifically the ICU has proven to be a natural fit for this self-described adrenaline junkie. "There is a lot of autonomy in the ICU," he says. "Knowing when to take action and what to tell the physicians constantly keeps you thinking."
The quieter times are just as meaningful to him. "I feel like in the ICU I get to know my patients and their families better as well," he says. There is more one-on-one time with them, and I truly enjoy that."
Unprecedented challenges
Even for someone who thrives on the ICU's fast pace, Woods admits that the pandemic has brought unprecedented challenges. "I don't think anyone was prepared for how sick and how quickly COVID patients' status could change. Days that we once thought were 'busy' didn't seem so busy anymore, comparatively," he says. "I feel that in the last year I have had more of my patients pass away than in the three years before it. That takes a huge toll on everyone involved. Making sure we were checking in on each other and processing things in a healthy manner became very important."
Though challenging, the pandemic allowed for new learning experiences for both Woods and his ICU colleagues. One of these newly acquired skills is the process of proning, which involves turning patients who are on a ventilator from their back to their abdomen. "We would get the team together and manage all the IV lines, art lines, dialysis lines, ventilator tubing and whatever else they may need to help them oxygenate. This was a lot to learn and definitely was a step outside of [our] comfort zone," he says.
Woods was nominated by one of his colleagues as a BJC HealthCare Hero for going above and beyond during the pandemic. His nominator said, "Not everyone understands the feeling you have the first time you gown-up and walk into the room to care for a COVID patient, but you are every bit as much of a hero as the soldier gearing up for battle on the front lines."
Woods doesn't hesitate to reciprocate by acknowledging his colleagues, who he says have been "absolutely amazing" throughout the most difficult year they've ever had: "I can't say thank you enough to everyone. There are people I work with every day that deserve all the recognition in the world."
---
This content was produced by Brand Ave. Studios. The news and editorial departments of the St. Louis Post-Dispatch had no role in its creation or display. Brand Ave. Studios connects advertisers with a targeted audience through compelling content programs, from concept to production and distribution. For more information contact sales@brandavestudios.com.