Sporting silly glasses and wearing funny hats are the norm for Susie Kilian, school nurse at Iveland Elementary School. Her style is bubbly and approachable.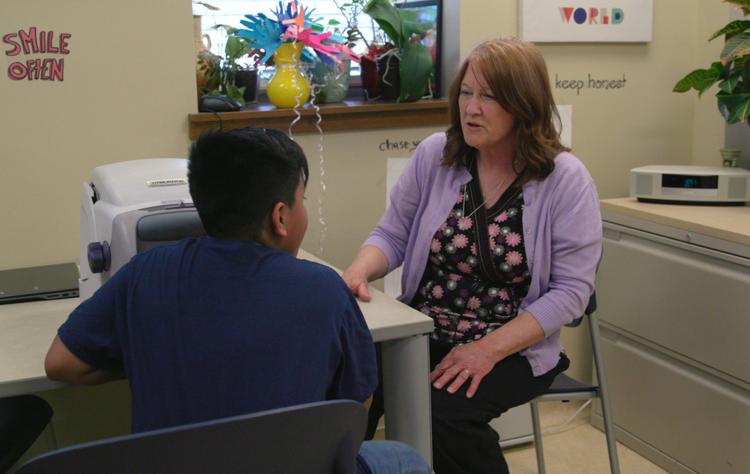 Working with kindergarten through fifth graders at an elementary school allows Nurse Susie (as her students call her) the opportunity to be creative with her care tactics. She uses these 'assessment tools' in order gauge the severity of student's symptoms. "If I put on a pair of funny glasses and can get them to smile or laugh, I know that they're fine."
Although her most frequent visits are from students complaining of upset stomachs and headaches, not all are illness-related, which led to the creation of her second unique idea – the 'payment system'. Upon leaving their visit, the student has the choice to give either a smile, hug or thank you. "I realized a lot of them just simply need hugs, but if you ask, they will often decline," she said. "So I thought, if I 'charged' them for visiting me, the student might end up with the hug they need."
For the record, nearly every student picks the hug.
Nurse Susie's warm and nurturing presence affects every person she comes in contact with, young and old. "She is absolutely amazing," said colleague Iris Elliot. "She has time, a smile and a heart for everyone in this building. Her demeanor has the ability to bring even the shyest students out of their shell."
Nurse Susie leaves a profound impact on her students, many of them second- generation patients. Her very first kindergarteners are now 35 years old. "A lot of them have stayed in the area and I now have their children. I'll get out the yearbook and show photos of their moms and dads when they were in first or second grade."
It is even an ongoing joke at Iveland that students come up with excuses to pay Nurse Susie a visit because she is so wonderful to be around, Elliot said.
Apparently, these visits don't stop after elementary school. Upon hearing of her recognition, a former student, now in college, brought in a poetry project about a person who had impacted his life. This person was Nurse Susie.
"When my kids come back and I realize that I've touched their lives like I did with this particular student, that's the best gift that I can receive at this job. I love being here."
---
This content was produced by Brand Ave. Studios. The news and editorial departments of the St. Louis Post-Dispatch had no role in its creation or display. For more information about Brand Ave. Studios, contact tgriffin@stltoday.com.
Be the first to know
Get local news delivered to your inbox!