Suzanne Ward can remember being in middle school when she visited her grandma's house. This particular visit left an imprint on Ward as her grandma was recovering from lung cancer.
"I was taking care of her, visiting, playing cards … doing whatever I could for her," said Ward, now a school nurse at Eureka High School. "I remember my grandma telling me that I took such good care of her, and she thought I would be a nurse one day."
Ward dabbled in various fields before becoming an elementary school nurse at Geggie Elementary. She worked at Jewish Hospital in the medical and coronary intensive care unit (ICU). Following her five years in the ICU, Ward moved into the pulmonary division at Washington University School of Medicine and worked alongside three physicians. As her children became older and were attending school, Ward found she was frequently subbing as a nurse and realized it was a great job for a mom.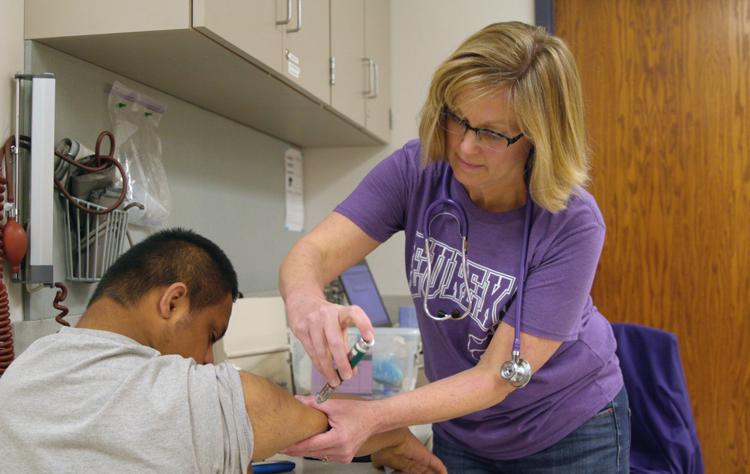 Ward was subbing in different buildings throughout the Rockwood District, and she desired her 'own building' –considering it a bonus if she could be a nurse where her children would attend school.
"I take care of somebody else's child the way I would want somebody to care for mine," Ward said. "I always remind myself this is someone else's 'baby' and they deserve the best. So, that's how I take care of 'my kids' when they come to the office needing my services."
She transferred to Eureka High School last fall where she provides care for more than 80 students each day; the highest average student ratio per day in the district.
"I was very comfortable with the little kids, but I love the older kids, too," she said. "The teenagers are great. They talk to you, carry on meaningful conversations, and I am able to build a rapport with them."
Nurse Ward is driven by her ethics, passion and positivity. Thirty-one years into her career, she finds working with students rewarding and enjoys the challenge of providing the best care possible.
She not only goes the extra mile with students but with faculty, too.
"The other day I cut the back of my head shaving, and I was still bleeding," said Charles Crouther, principal of Eureka High School. "I visited the nurse's office expecting a tissue and a Band-Aid – hardly. Nurse Ward went the whole nine yards. She made me sit down while she put on gloves and broke out everything official to clean me up. She is an excellent and caring nurse who goes the extra mile. We are thrilled to have her at Eureka."
When asked what her magic formula was, it was no surprise to hear Ward say she is simply being herself. She considers it a two-way street. The students embrace Ward in the hallways, seeking out a relationship.
"Those relationships are built and bonded with the trust and care I show for them," she said. "They know I have their back. They know they are important to me. I'm just being myself."
---
This content was produced by Brand Ave. Studios. The news and editorial departments of the St. Louis Post-Dispatch had no role in its creation or display. For more information about Brand Ave. Studios, contact tgriffin@stltoday.com.
Be the first to know
Get local news delivered to your inbox!