Heather Holdener – Mercy St. Louis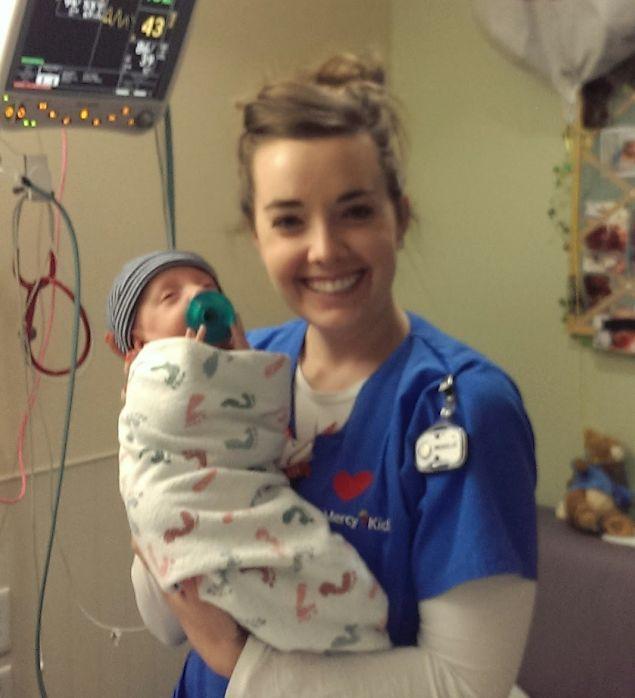 Nominator entry:
"My wife and I first met Heather Holdener at the Mercy NICU on February 4, 2015. It just so happened to be our daughters 2nd birthday and we had our whole day planned around her. My wife was expecting our new child on May 3, 2015 and the baby apparently didn't want to miss out on his sister's birthday because he decided to arrive a little early!
Our son graced us with his presence, three months early and weighed in at 2 lbs. - 15 oz. He was so tiny and looked like a little spider monkey. The very first nurse I met after he was born and transferred to the NICU was Heather. I remember her greeting me with a big smile, braces and all. She commented on how cute she thought our son was and how much she loved his name. She was so friendly and made the first hours in the NICU much more enjoyable than expected.
All of this occurred prior to me becoming a Mercy employee. As an outsider at the time, I was amazed at the way Mercy staff handled things. I never thought I would be a Mercy employee, and I couldn't be happier. Heather wasn't the only one that made our time in the NICU easier, it was the whole department."
This nurse is a nominee for the St. Louis Post-Dispatch's Nurses: The Heart of Health Care program. Look for the winners in print and online on May 6.
Jessica Schulte, RN, MSCN – Mercy St. Louis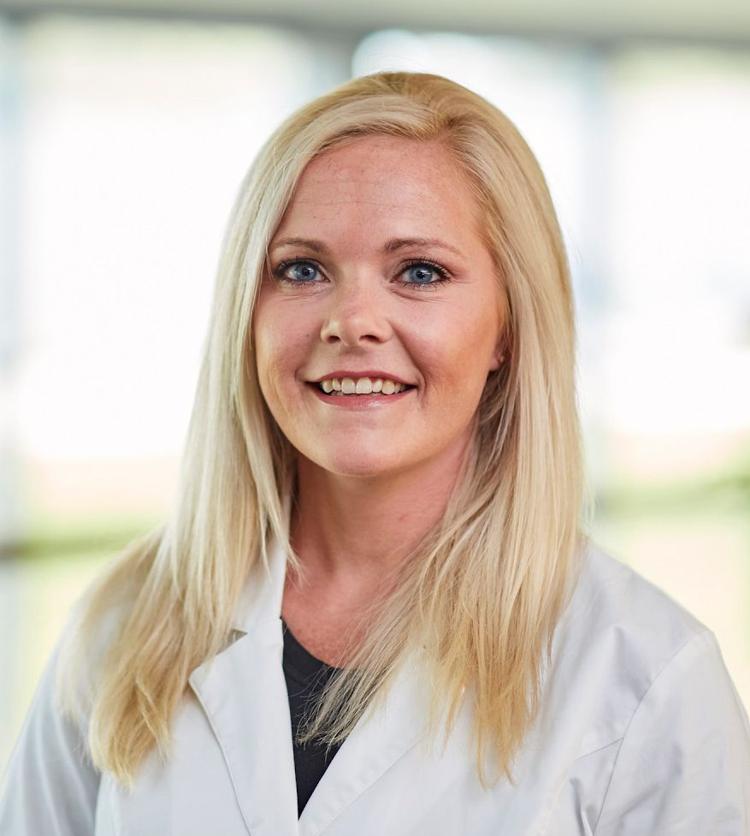 Nominator entry:
"Jessica has been with Mercy for over fourteen years. She started working in Mercy's neurology clinic in high school, receiving encouragement from the physicians to begin working in research. While working as a research coordinator, she studied to become a nurse and later, a Certified Multiple Sclerosis (MS) nurse, which enables her to provide the highest level of care to her MS patients.
With the recent retirement of a principal research investigator and major mentor in her life, Jessica evaluated all ongoing MS research studies and worked with the research study sponsors to manage that change. Jessica's thoughtful, comprehensive approach and detailed communication ensured all of the patients and research sponsor needs and requirements were met. Overall, Jessica rose to the occasion and with professionalism, completed a very complicated task, ensuring the continued success of the research studies and commitment of her patients to these important research studies.
Jessica's going above and beyond was also evident when another Mercy Research location had urgent staffing needs during their move to a new location. Jessica quickly volunteered in that office multiple times a week, assisting with filing, unpacking, and organizing, all in addition to managing her own research studies. Jessica's enthusiastic presence was a welcome addition to during a very challenging time, contributing to a positive environment.
As a certified clinical research coordinator (CCRC), she regularly receives high praise from research sponsors; specifically, she has been complimented on pristine regulatory documentation and record keeping and attention to excellent detail and high quality work. Just recently, Jessica created and co-presented a poster on an MS research study at a Mercy Senior Leadership Team meeting focused on Innovation.
Jessica's individualized service is remarkable; one of her patients recently commented: "the kindness [Jessica] has shown me over the past couple of years really did play a big part in my participation in the study." Jessica is a fresh breath of positivity and happiness in all interactions. That, together with the sense of warmth and welcome created by her energy and commitment, enable her to build great relationships with her patients, other departments, leaders, co-workers, physicians and research trial partners."
This nurse is a nominee for the St. Louis Post-Dispatch's Nurses: The Heart of Health Care program. Look for the winners in print and online on May 6.
Dianna Hueneburg – UnitedHealthcare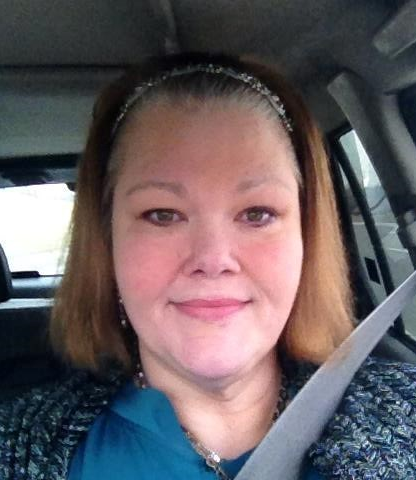 Nominator entry:
"Dianna Hueneburg is one of the most talented nurses in her field. She is extremely smart and her intuition, coupled with many years of experience, make her an excellent nurse. She is able to take basic facts and analyze them to see the big picture. Dianna doesn't stop at taking things at face value. While the foundation is important, she digs deeper to make sure she (or a doctor) is given everything they need to know.
Her compassion is obvious and she is always willing to hold a patient's hand if they are scared or anxious. She stays with a patient from the very beginning to ensure every need is met and every possible solution is given. She wants the very best for her patients and whatever it takes to get this for them, she is willing to go above and beyond to make it happen.
Dianna is highly respected by doctors, who often seek out her medical knowledge, especially in cardiac issues and pediatric matters. She is a voracious learner and is constantly working to stay ahead of technology and innovations. She is the kind of nurse everyone should have on their side and in their life, even after recovery."
This nurse is a nominee for the St. Louis Post-Dispatch's Nurses: The Heart of Health Care program. Look for the winners in print and online on May 6.
Laura Salivar – Parkway South High School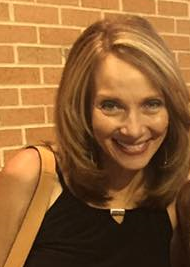 Laura Salivar is the school nurse at Parkway South High School. Salivar started her career working in Lutheran and St. Anthony's Medical Centers. She worked various shifts, mainly in the Cardiac Intensive Care and ICU where she helped many patients with critical conditions. After having children, she decided to change her work schedule to better meet the needs of her family and started working as the school nurse in 1998.
Salivar is very passionate about her job and has always found it to be rewarding, interesting and at times, challenging. She has the ability to connect with people and provide excellent care at the same time. She has a gift when it comes to addressing student's medical needs, both physical and emotional. Students and staff alike adore her and consider her a person they can always come to, one they can trust and feel comfortable around.
This nurse is a nominee for the St. Louis Post-Dispatch's Nurses: The Heart of Health Care program. Look for the winners in print and online on May 6.
Tiffany Taylor – SSM Health Cardinal Glennon Children's Hospital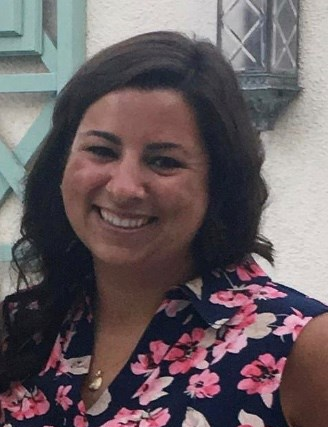 Nominator entry:
"Tiffany Taylor started at Cardinal Glennon Children's Hospital Emergency Department as a new graduate nurse five years ago. I was one of her primary clinical coach's at the time, and completely enjoyed her sense of humor, dedication and excellence, as she learned the ropes of being an emergency nurse. Tiffany was a standout from the beginning, never afraid to try something new or take on a more difficult assignment. She was a quick learner and cared for her patients and families with skill, intelligence and compassion. It was clear from the beginning that Tiffany was a team player, offering to help others when she was available to do so.
She soon became a member of the Employee Engagement Committee, attempting to build community and collaboration within her work family, including launching a closed Facebook group that ultimately became an important communication tool for all of us. Although her committee term is long over, Tiffany continues to be one of the main voices for important communications within the department, including ensuring staff know of team-building events occurring outside of our work environment.
She has multiple certifications to her name, including the Trauma Nurse Specialist designation. She has pursued higher education, and will complete her MSN/MBA degree this year.
I have been an ER nurse for almost 35 years, and when I see contests to nominate nurses who go above and beyond, and make significant impacts on others, I am always thinking about my ED staff nurse colleagues that make subtle, yet important differences every day.
Tiffany is an emerging leader for nurses,and is a fierce advocate for the bedside nurse. I witness this in her ability to manage our unit; she stands up for the nurses, and the safety of our patients. Each day in our pediatric ED brings new challenges and situations, and Tiffany is able to manage it all, presenting a calm confidence while she attempts to organize all sorts of levels of chaos.
I know sometime in the future she will be a manager for a group of nurses and support staff, and she will work tirelessly for those people. Tiffany Taylor gives me hope for the future of nursing!"
This nurse is a nominee for the St. Louis Post-Dispatch's Nurses: The Heart of Health Care program. Look for the winners in print and online on May 6.