FIN MAN fan Gary Bartels of Wentzville recently told me the story about a car he once owned back in the day. At the ripe old age of 25, Gary special-order purchased a brand new 1957 Dodge Royal Lancer coupe. (You do the math. Gary is no spring chicken.)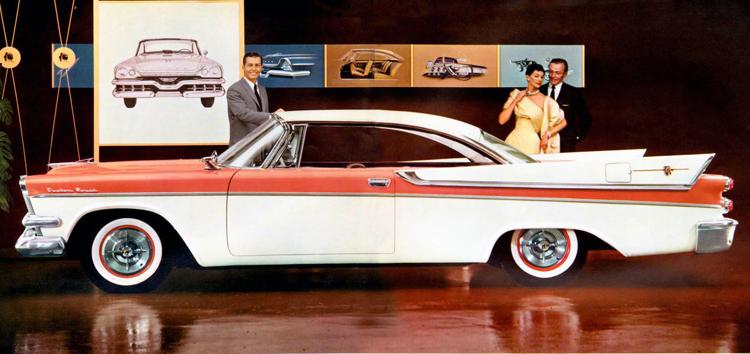 1957 was the third model year of the Forward Look cars by Chrysler which began with the 1955 models. It was a real departure from the previous generation of less-than-exciting styling.
As the years progressed, the entire line of Mopar cars became longer, lower and wider than generations past, as was the case with Ford and GM models. The aforementioned auto makers were caught off guard by the new Chrysler models and began restyling their own brands to stay with the times. Fins, of course, were one of the big features during this period and Chrysler cars offered some of the biggest and best.
When it came to performance, Mopar cars were real winners too, with their 'Hemi's' (hemispherical combustion chambers) and the venerable TorgueFlite automatic transmissions that were virtually bulletproof!
Body styles for the flagship Custom Royal series were limited to a 4-door hardtop, 4-door sedan, 2-door hardtop and convertible. The Royal Lancer 2-door hardtop that Gary ordered from Mac Malloy Plymouth, Dodge Chrysler dealership in Shenandoah, Iowa had a base factory price of $2,285—roughly $20,500 in 2019 monies. Add a few desirable options to the list, such as turn signals (yes Millennials, they were optional in 1967); power steering; power brakes; Mopar radio; power seats; power windows; heater (yes, those, too, were optional); and Chrysler's infamous Highway Hi-Fi... an under-dash-mounted record player! (Sorry no MP-3 provisions or Sirius XM radio.) And you had better not be using that Highway Hi-Fi unit on the back country roads!
Gary's Dodge Custom Royal Lancer was finished top to bottom in Jewel Black, one of 14 colors on the pallet for 1957. It was powered by the awesome D501 engine of which only 101 units found their way under Dodge bonnets that year. And of those 101, only eight were fitted with the 3-speed manual (three on the tree) transmission.
The D-501 engine was a mid-year item and Gary waited 17 weeks to take delivery on his Dodge. He was told that he would have to take a TorgueFlite automatic because the 1958 models were due to arrive soon. Reluctantly, he agreed. But to his surprise (and I'm sure delight) when his Dodge arrived at Mac Malloy's dealership, it had the 3-speed tranny that Gary had wanted all along.
---
This content was produced by Brand Ave. Studios. The news and editorial departments of the St. Louis Post-Dispatch had no role in its creation or display. For more information about Brand Ave. Studios, contact tgriffin@stltoday.com.