The '4-4-2' title was actually a 'performance option package' available on any of the three F-85 sub series–Standard, Deluxe and Cutlass. By its third year, the 4-4-2 'package' was taking aim at Olds' nearest competitor in the field, the wildly popular Pontiac GTO, which was already established as a stand-alone model. The 4-4-2- package was still considered an 'option' and not a full-fledged model in its own right, although many considered it to be just that.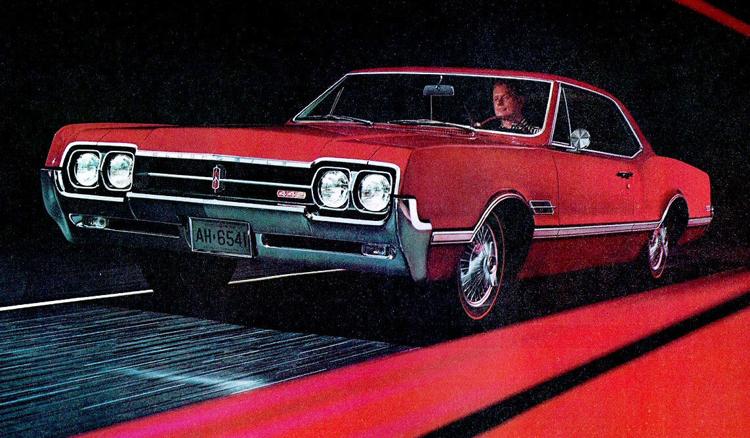 Of the four, intermediate muscle cars for 1966, Chevelle SS was the price leader, GTO the straight-away fastest of the bunch and both Buick Skylark and Olds 4-4-2 filled the need for speed, but accomplished impressive 0-60 and quarter mile times while providing a higher level of creature comfort.
Olds' styling was, in my opinion, the best of the bunch. Designers used a commendable amount of restraint when it came to application of bright work and superfluous trim, and the body lines were clean and simple, yet elegant. Little distinguished the 4-4-2 from its less muscular siblings, save a few of those nicely styled 4-4-2 badges trimmed in a hot, tri-color combo of yellow, orange and red and the full-rear wheel openings invoked a sportier, performance look.
In the performance department, the 4-4-2 package was a relative bargain, priced at just $152. Included in the price was the special, 400 cubic-inch V-8 which produced 350 horsepower; heavy-duty chassis and suspension and the aforementioned special badging.
A three-speed, synchromesh transmission with column-mounted shifter was standard, however few were built in this configuration. By far most buyers opted for the floor-mounted shifter for an additional $84, and more yet, bought the four-speed manual with Hurst shifter (in close or wide ratio gearing) for $184 or the HydraMatic for $230.
---
This content was produced by Brand Ave. Studios. The news and editorial departments of the St. Louis Post-Dispatch had no role in its creation or display. For more information about Brand Ave. Studios, contact tgriffin@stltoday.com.