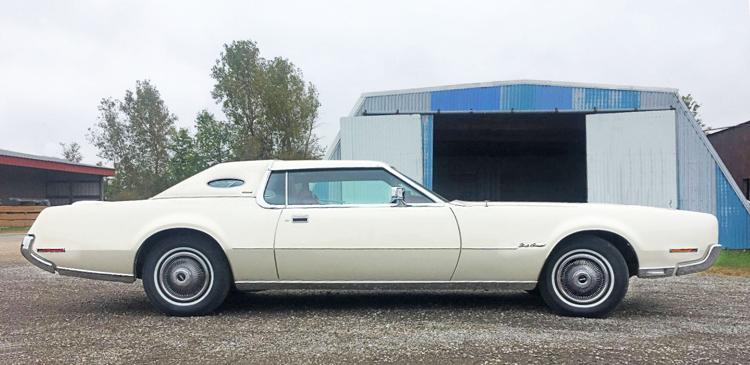 At first glance, this may look like a 'normal' 1972 Lincoln Continental MK IV. But look a little closer and you'll see that it is anything but.
On a recent Saturday afternoon, I was taking a ride in the country and cruised through Breese, Illinois. As I traveled north on Old Route 50 through town (with my OCC [Old Car Radar] fully engaged), a 1969 Cutlass 4-4-2 Hurst Olds convertible, parked at a local business, immediately set off an alarm, jerking my head to the left to have a glimpse. Well, you know me, I couldn't just let it go… I had to do a quick U-turn and go back for a better look.
The Hurst Olds turned out to be a very nice 'clone.' But that's for another story. This is about the Lincoln that was parked in a building on the property.
I went to the office of Strat-O-Span, a fifth-generation company supplying and erecting steel and wooden 'out buildings' – garages, barns, stables and such since 1899, so as to ask permission to take some photos of the Hurst clone. I was greeted by Debbie Stratmann, who welcomed me with enthusiasm. When I explained my connection with the Old Car Column, she said, "Would you like to see "the other cars"? She then introduced me to her husband, Mark Stratmann, who led me to an adjoining room with a small collection of cars, all of which had been those belonging to his late father, Don Stratmann.
The collection included a 1964 Cadillac Eldorado convertible, a 1959 Cadillac Series 62 coupe, a XJS Jag coupe and a mid-'70s Eldorado ragtop. All around the room were nostalgic signs, showcases with vintage automobile models and anything else Don could find of nostalgic interest.
I've seen a lot of collectible cars in my day, especially since I started writing this column 17 years ago this month. All of them very are special in their own way, but once in awhile their story is especially unique. Such is the story of this week's feature car, the 1972 Lincoln Continental Mark IV (Or is it a Mark V?) shown here. Allow me to explain.
Mark's father, Don Stratmann, purchased his 1972 Mark IV (?) brand new from Tri-Ford in Highland, Illinois. Now Don, as well as his son, Mark, had an affinity for the big, luxurious cars of the '30s – long-hooded Dusenbergs and such. Perhaps their most favorite of the lot being the Bugatti Royale, the one with the elephant hood ornament. Anything luxurious with a long hood was acceptable as far as Don was concerned.
Shortly after Mark's father purchased his spanking-new Continental, his car received some minor body damage, requiring body shop repair. Since it had to go in for minor body work anyway, Don figured, why not have my new car emulate the beautiful designs of the cars from the '30s? With that in mind, he set out on a lengthy pursuit of his dream, that would take him through many body shops before it was finished. Many cosmetic items were tagged for modifications, but the most ambitious of all was his desire to lengthen the hood, including the entire front clip, by 14 inches! That's right, Don was bound and determined to 'have his way' with his brand new Mark (?) Continental.
The toughest challenge for Don's plan was to stretch the car 14 inches in total length, all of which was in the front clip, just ahead of the front door edge. This would truly satisfy Don's craving for the longest hood at a car show trophy! But that would take a lot of doing. The hood itself would have to be fabricated to the specified length, as would the fenders, not to mention the chassis! Don had a 14 inch metal box laying in his shop, he knew not from what, but it was just the size needed to weld in front of the firewall to stiffen the body just a bit to avoid cowl shake! All of the electrical wiring, vacuum tubing, brake lines, HVAC ducting and more had to be lengthened the magic 14 inches. When body shop number one stretched the hood, the front raised area which met the top of the classic grill was too long, so they had to cut the grill surround, remove a few of the vertical bars in order to narrow the grill down to match the hood. (Whew!)
Next on Don's list was to remove the parking light/turn signal assembly from the front fenders and incorporate others in the front bumper.
Don also had designs on that trademark false spare tire bump on the Mark IV's rear deck. The slant which followed the contour of the rear deck was made to be straight up instead of slanted to mimic the elegant cars of the '30s.
That heavy, concave, chrome trim that runs across the roof, down the side window post and traces forward to the A-pillar? That was not factory and Mark is not sure where his father picked that piece up.
Oh, one more thing. You know how I have been teasing you about the Mark IV vs. Mark V issue? That's because Don Stratmann wanted to make his car unique in name as well as style, so he broke off all of the I's wherever there was a Mark IV badge on the car, making it read Mark V. It made sense at the time I suppose, because when he bought the car, there was no Mark V's yet.
The Mark IV was the successor to the Continental Mark III, introduced for the 1969 model year as a direct competitor to the Cadillac Eldorado after its shift to the personal luxury coupe segment in 1967. The Mark IV was, in my opinion, a far more stylish automobile than its predecessor, and the best-looking of all the IVs because along with the new model in 1973, came the five-mile bumpers, which totally ruined the effect of the Rolls Royce-styled grill. Many of the 1972 models also had a horizontal bar dividing the grill into two sections visually, in an effort to protect the waterfall grill from damage from cars backing into it, or owners bumping into cars or other objects. That government mandated change had a detrimental effect on the '72 Mark IV's styling.
The Mark IV was powered by a 460 cubic-inch, (that's 7.5 liters for all you Gen-Xers and younger), V-8 which, after new government emissions rules and a change to SAE net horsepower rating in that year, was rated at only 212 horsepower, compared to 365 for the 1971 Mark III model.
The only body style offered was a 6-passenger, 2-door coupe. As one might expect for a car of this stature, many features optional on lesser cars were standard equipment on the Mark IV, however, there was also a generous list of available options as well.
The factory suggested retail price was $8,640 or $5,624 in 2020 dollars. Don Stratmann's Mark IV was one of 48,591 made.
Every story has to have an ending whether good or bad and such is the case with this one. Several years ago, Mark's dad sold the Lincoln and everyone thought that would be the end of the story. Not so. The week after Mark's father Don passed, Mark picked up a copy of Hemmings, the bible of the collector car hobby. Paging through it, he came across an ad for a 1972 Lincoln Continental Mark IV for sale out in California. When Mark saw the photo, he was fairly certain that it was his father's Lincoln. After conferring with his brother, the two of them concluded that it WAS in fact, their father's Mark IV. Mark contacted the seller, explaining that it formerly belonged to his father who had the modifications performed on the car.
The seller was asking $9,000 for the Lincoln, which had gone through more than a couple hands since Don sold it, but after a bit of finagling, Mark was able to pick it up for $6,000! He had it shipped back to Breese, Illinois where the saga started nearly a half century ago!
BTW, that list of body shops I referred to earlier in the story included Tri-Ford in Highland, Gary Ponce in Collinsville, "Creek" Zabenden in Highland and Paul Steiman in Breese, to name the ones Mark remembers. But there may have been others. Mark said his dad was determined to have the car done to his exact wishes and it drove the body shop owners nuts! In every case, they politely told Don to take his car away and not to bring it back!
Shortly after acquiring the car, Mark took it to an all Ford show in Vandalia, Illinois. A man approached him and asked if that was formerly Don Stratmann's Lincoln. After confirming the man's question, the man told Mark that he was a mechanic at Tri-Ford and that he had installed a radar detector for his father. That old-school, rather large radar detector is still mounted right where the mechanic had installed it back in 1972, proving the old proverb that, "what goes around, comes around!"
---
This content was produced by Brand Ave. Studios. The news and editorial departments of the St. Louis Post-Dispatch had no role in its creation or display. For more information about Brand Ave. Studios, contact tgriffin@brandavestudios.com.
Auto reviews, driving trends and up-to-date news about life on the road.