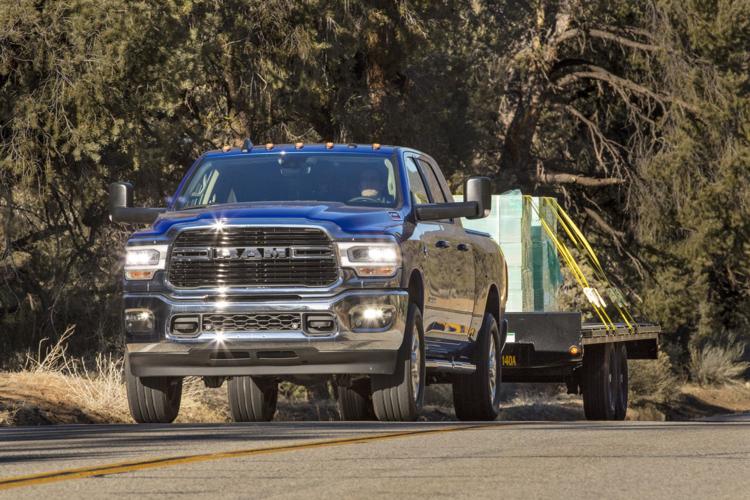 In all the media reporting on the recent 50th anniversary of America putting a man on the moon, I fear one salient fact went unreported. If I'm not mistaken, right after declaring, "That's one small step for man . . .," Neil Armstrong looked down to earth from the lunar surface and exclaimed, "Hey, ain't that a Ram Mega Cab?!!"
Yep, confirmation this truck is big enough to be seen from space.
With the 2019 Ram 2500 Mega Cab 4x4 almost 7 feet wide, over 6-and-a-half feet tall and stretching nearly 21 feet long, you don't need a driver's license for this thing, you need a parade permit.
The newly minted 2019 Ram HD, in all its iterations, is a purpose-built machine designed to haul, tow, pull and carry. The fact that, depending on trim, it can do it all while bestowing luxury on its occupants in no way diminishes its size or muscle.
Speaking of which, that muscle, in 3500 models, can reach an astounding 1,000 lb.-ft. of torque behind the available High Output Cummins turbo diesel -- grunt that, short of 18 wheels, was unheard of before this guy arrived. Meanwhile, this truck, available in 2500 and 3500 HD models, offers more flavors than Baskin Robbins, each wearing its own exterior cues and interior decor.
Specifically, there's Tradesman (the working stiff of the family), Big Horn (it's called "Lone Star" in Texas, pardner), Power Wagon (the off-roader), Laramie (western elegance), Laramie Longhorn (westernier elegance) and Limited (just elegant).
Throw in choices of 2WD or 4WD; gasoline or diesel power; 6.5- or 8.0-foot beds; and regular, Crew or Mega Cab body configurations, and you can see there are more versions of this thing than there are covers of "Yesterday."
We drove a 2019 Ram 2500 Big Horn Mega Cab 4x4 powered by the Standard Output Cummins straight-six turbo diesel, so we'll concentrate on that.
Oh, we should note the aforementioned High Output diesel, with its 1,000 lb.-ft. of grunt, is available only in the 3500. However, no slouch is the Standard Output Cummins we had, with its 370 hp and 850 lb.-ft. Capable of towing more than eight tons, few buyers will require more muscle.
For those who prefer gasoline power, a 6.4-liter Hemi V-8, producing 410 hp and 429 lb.-ft. of torque, also can be had. That engine is managed by an eight-speed automatic, the diesel gets a six-speed.
In 200 miles -- roughly 60 percent city/40 percent hwy -- we realized 17 mpg from our Standard Output diesel 4x4.
The driving experience is remarkably serene on the interstate, where this guy is in his natural habitat. At 70 mph, the cabin is quiet, the ride firm but never punishing, and the own-the-road confidence is over the top. This is a highway cruiser par excellence, and a peerless companion in towing a massive fifth-wheel travel trailer.
In town, on the other hand, the big guy is awkward. At the supermarket, we pulled through to the next space and still occupied a third of the parking space behind us.
Unsurprisingly, room in our Mega Cab was cavernous. Six adults can spread out. However, if only two folks are up front, the center-back of the front seat folded in our Big Horn for a big armrest and storage bin.
But, notwithstanding interior luxuries -- Uconnect infotainment, Android Auto and Apple CarPlay talent, dual-zone climate, heated seats and more in our rig -- this tow-monster never forgets it's a truck. Big knobs for radio and climate can be manipulated with gloved hands while myriad storage options are provided.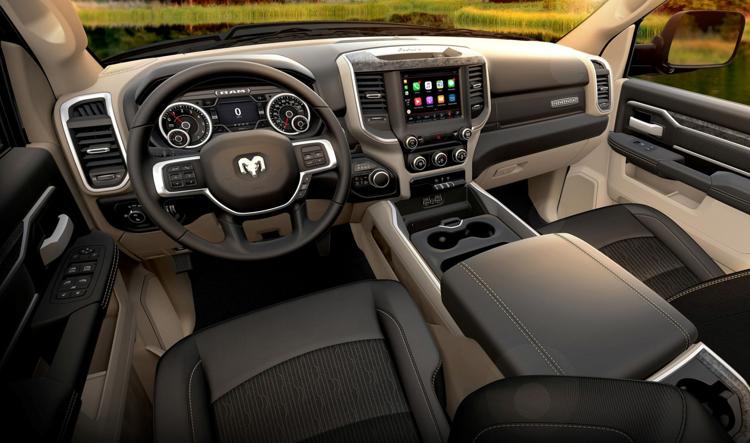 Really, our only squawks were lack of a telescoping wheel (it does tilt) and, despite push-button start, no proximity locking and unlocking. (Hey, what use is handy keyless start when you've still got to fish out the key fob anyway to unlock the doors?)
This truck in Big Horn trim is space-cowboy chic with a potent work ethic. It's no commuter vehicle, but if you need what it can do, it can do what you need. In style.
---
This content was produced by Brand Ave. Studios. The news and editorial departments of the St. Louis Post-Dispatch had no role in its creation or display. For more information about Brand Ave. Studios, contact tgriffin@stltoday.com.