For more than 40 years, upscale Land Rover's even more upscale Range Rover brand had boasted an unapologetically cubist approach to styling. Then, in 2012, the Range Rover Evoque arrived, proving that Range Rover metal benders could, indeed, think outside the box.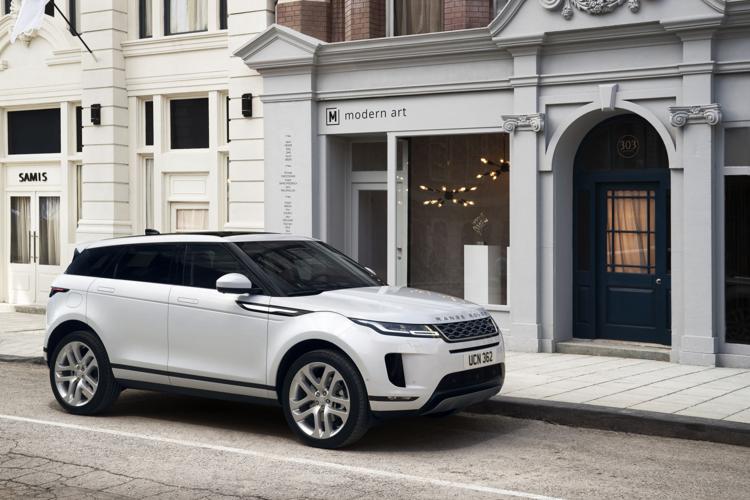 Since then, Range Rover Sport, Range Rover Velar and, to some extent, even the flagship Range Rover model itself have embraced a more seductive wardrobe.
Now, for 2020, the stylish little guy that started it all -- that upstart Evoque -- is getting its first significant update. But the changes do not include a radical alteration in duds. After all, in its eight years of existence, Evoque, worldwide, has become the best-selling Range Rover ever. So why change tailors when the wardrobe is a hit?
Consequently, this second-generation Evoque, which gains 0.8 inches in wheelbase but grows not at all in overall size, shows plenty of familiar exterior cues: slit-eye headlights, seamlessly integrated bumpers, a sleek profile that includes a narrowing front-to-back wedge of a greenhouse, rising beltline, and a "floating" roof over blacked-out pillars. Beautiful.
The primary new exterior features are the elimination of body-side cladding and nifty new door handles that fit flush against the doors when Evoque is locked, but which deploy outward for easy grip when doors are unlocked. Very cool.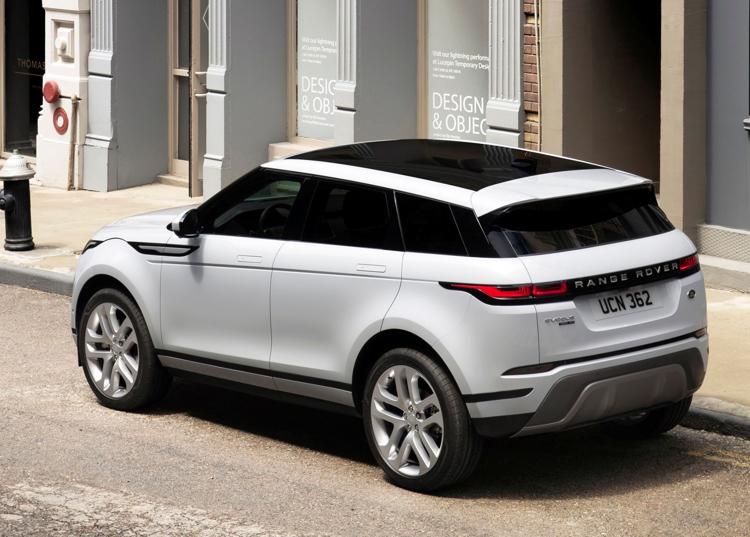 Evoque remains an absolute knockout -- as good-looking as a hatchback can get.
Although the 2-door version is history, the four-door can be had stateside with a choice of powertrains, both featuring standard all-wheel drive.
S, SE and First Edition are motivated by a 2.0-liter turbo four that makes 246 hp and 269 lb.-ft. of torque managed by a nine-speed automatic. R-Dynamic versions, offered in S, SE and HSE trims, take that same greasy stuff but add additional assist via a 48-volt mild hybrid system. The result is 296 hp and 295 lb.-ft. of twist.
We drove the non-hybrid SE and found the experience, for the most part, a joy. Oh, a few distractions exist, like brakes that felt a tad grabby; an auto-engine shutoff function that vibrates the whole car when the engine kicks back on at stops (thank goodness there's a defeat switch for that function); and the optional Head-Up display, which we had, that features a hulking open-dome housing atop the dashboard that, in bright sunlight, frequently glares off the windshield -- even when HUD is off!
Otherwise, this one's a gem -- no hot rod, but quiet, solid, athletic, peppy and confident. We greeted 60 mph in less than 7 seconds while realizing 21 mpg in 260 miles of mixed city/hwy driving.
And, we should note, this being a Range Rover, Evoque also can claim some genuine off-pavement capability (not that any Evoque buyers are likely to use it). This little guy, with its driver-selectable modes of Dynamic, Eco, Comfort, Sand, Mud/Ruts, and Grass/Gravel/Snow, will wade through nearly 2 feet of water even as its hemline rides a useful 8.3 inches above terra firma.
Inside, room is fine up front in nicely bolstered buckets that, in our car, were surrounded by two-tone black-and-maroonish (Deep Garnet) leather. Beautiful. In back, head room is OK, but -- no surprise here, this being a compact -- leg room is utterly dependent on the kindness of front passengers. Good luck with that. Three screens control infotainment, and all are reconfigurable. The one in the gauge pod offers all the usual suspects -- trip, economy, navigation and more -- while phone, audio, navigation, climate and more can be mixed and matched on the twin centerstack screens. Plan some quality time with your owner's manual.
In the final analysis, this is really an extraordinarily beautiful, all-wheel drive hatchback that will be most at home with a well-heeled single person or couple who don't often have need to accommodate rear-seat passengers.
---
This content was produced by Brand Ave. Studios. The news and editorial departments of the St. Louis Post-Dispatch had no role in its creation or display. For more information about Brand Ave. Studios, contact tgriffin@stltoday.com.
Auto reviews, driving trends and up-to-date news about life on the road.