Time marches on and -- alas -- the jokes just aren't funny anymore.
"Dodge Ram" and "hot-rod SUV" once qualified as hilarious automotive oxymorons. Today both gags are obsolete.
To be more specific, the contradictory moniker "Dodge Ram" (how could you do both?) passed into history a decade ago when Ram became its own brand.
The "hot-rod SUV" punchline went south when a handful of these truck-based, designed-to-haul vehicles began to exhibit the power and handling talent required to really haul, if you know what I'm sayin'.
Today, when it comes to these high-ticket utes (and, yes, Officer, we understand that phrase can be interpreted in more ways than one), there are numerous examples -- BMW X5 M, Jeep Grand Cherokee Trackhawk, Mercedes-AMG GLE63 and Porsche Cayenne Turbo, just to name a few.
To that pricey list you can add the six-figure Range Rover Sport SVR, a blistering-performance model courtesy of Jaguar Land Rover's Special Vehicle Operations. That's a group of in-house gearheads who, like those at BMW's M, Mercedes' AMG and Fiat Chrysler's SRT, produce hot-rod versions of regular-production models.
Sport SVR takes the 5.0-liter force-fed V-8 that already labors in Sport Supercharged and tunes it, via computer software tinkering, to 575 hp -- 57 more than the standard Sport Supe.
Supe's eight-speed automatic is retained as well but, again, is recalibrated to provide snappier shifts if the system detects that the driver is in a sporting mood.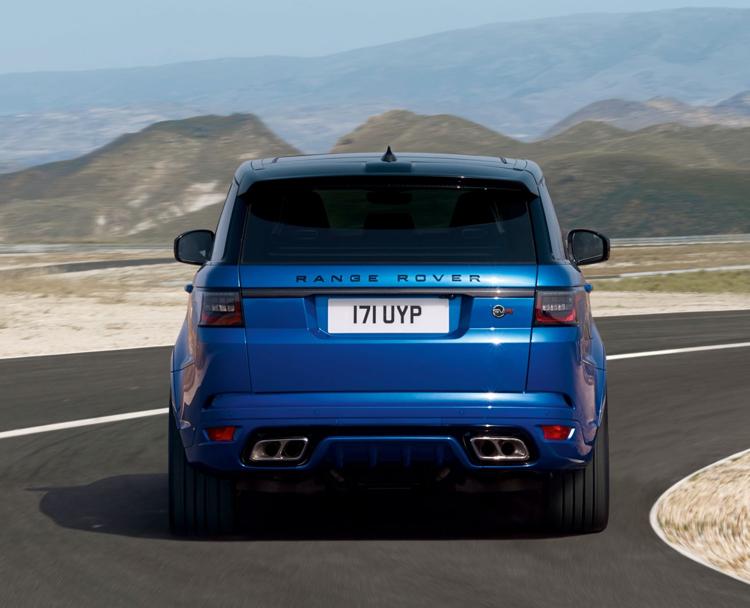 The result, aided by aggressive torque vectoring for ultra-stable high-speed cornering, is remarkable performance for an SUV that tips the scales at more than 2.5 tons. SVR greets 60 mph in 4.3 seconds on its way to a top speed north of 175 mph.
The muscular drivetrain delivered to us 14 mpg in 125 miles of city driving and, subsequently, 22 mpg during a 175-mile interstate round-trip to Steeleville, Mo.
On the road, this guy is fast and furious -- a great toy for the uber-wealthy. The snarly exhaust note burbles happily at idle but, when the blown V-8 is provoked, fills your world with its roar. Joked one pal, "At this price, you 'd think they could afford to put on a muffler!" (He obviously was not in the spirit of the proceedings.)
In highway cruising mode, the cabin is quiet but ride is firm, even in Comfort mode. Speaking of which, the Drive modes are Dynamic, Eco, Comfort, Grass-Gravel-Snow, Mud-Ruts, Sand, and Rock Crawl.
Which brings us to a remarkable thing about this hot rod: it retains off-road talent. Permanent 4WD is standard, low-range gearing delivers in-the-rough grunt, Hill Descent Control reins in spooky descents, and a height-adjustable air suspension allows SVR to raise its skirts to crawl boulders and wade through 33 inches of water. Just be aware, drivers planning on actually taking this $115,795 super-ute into the back country (seriously, you're not really, are ya?!!) will want to swap out SVR's high-speed 22-inch Continental SportContacts for rubber more suited to off-pavement duty.
Like the standard Sport, room is great up front, although that front space in SVR is furnished with hugely bolstered sport buckets. Rear head room is excellent, but rear leg room is cozy behind a tall driver.
The infotainment interface provides a radio-volume knob, thank you very much, but no tuning knob. The system's three screens include a reconfigurable display in gauge pod; a mainly navi/media screen atop the center stack; and a screen below that for (again, mainly) climate and comfort settings. That said, info can be mixed and matched among screens.
Range Rover Sport SVR is a study in contradictions -- a hot rod that's capable of carrying the whole family and towing more than three-and-a-half tons. Those who carry a heavy burden of excess disposable income will find it a family-friendly party pal.
---
This content was produced by Brand Ave. Studios. The news and editorial departments of the St. Louis Post-Dispatch had no role in its creation or display. For more information about Brand Ave. Studios, contact tgriffin@stltoday.com.