I recently received the following letter from FIN MAN fan, Bruce Luthy, of Sparta, Illinois: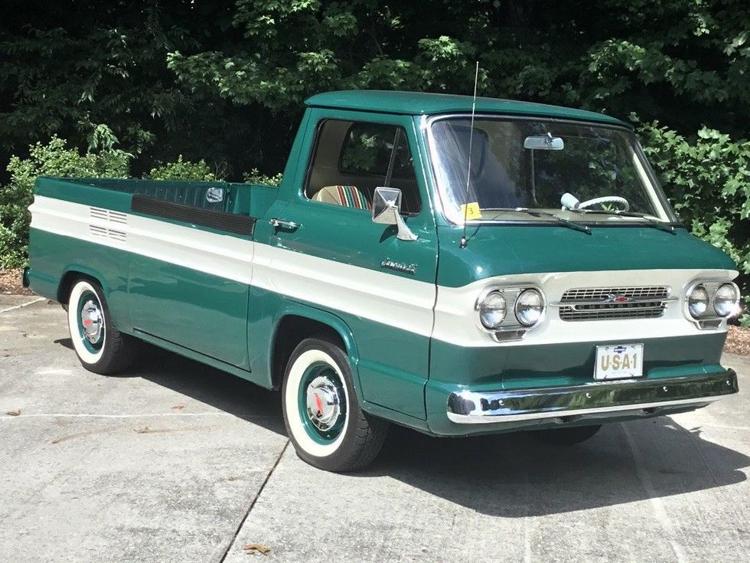 "Bruce – I know a man from Sparta, Illinois who bought an early Econoline pickup truck with a tailgate and a side gate. I remember Ford's advertising for the side gate. Do you? I think they are pretty rare."
Well, Bruce you caught The FIN MAN off guard for a moment. Something didn't ring quite true with your email. If your friend had a compact pickup with a side ramp or loading gate, unless it was a custom-built job, it had to be a Chevrolet Corvair 95 series "Rampside" pickup.
The 60s saw the introduction of compact cars and trucks by American automobile manufacturers across the board. Ford introduced its Falcon compact line in 1960, so too did Chevrolet with their controversial Corvair and Plymouth gave us the Valiant compact line with its more radical styling cues.
When it came to early, compact pickup trucks, it seemed the most practical layout was the COE or cab-over-engine, blunt nosed designs. Such was the style of Ford's Econoline, Chevrolet's Corvair Rampside and the Dodge compact van and pickup.
While Ford and Dodge models were conventional front-engine, rear-drive chassis layouts, the Corvair was built on the same frame as the Corvair automobile, but with a 13-inch shorter wheelbase. The engine, just like its automotive counterpart, was mounted way in the back of the vehicle and was the same flat-six cylinder, air-cooled engine used in the Corvair automobile.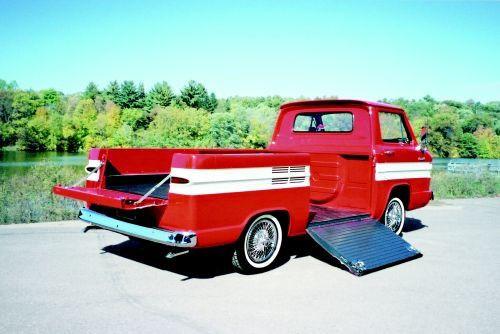 Chevrolet beefed up the flat-six for cargo carrying, giving it stronger exhaust valves, lowered compression and carburetors with larger jets for a richer mixture. When the passenger-car engine was enlarged from 145 cubic-inches to 164 cubic-inches in 1964, the pickup's engine followed suit, adding a heavy-duty, 12-plate oil cooler. The final-drive ratio for the pickups was 3.55:1, however 3.27:1 could be specified for highway use, or 3.89:1 for heavy hauling or steep hills. Transmissions offered were three and four-speed manuals as well as a Powerglide automatic.
Although short in length, and light in weight, the little Corvair had an amazing payload capacity rating of 3/4 tons! The Corvair 95 was offered with a single, rear tailgate bed called the "Loadside" or with an additional, side-located ramp with lowered to ease entry to the bed of the vehicle – hence the name "Rampside".
Sales were brisk in the early years, with production of more than 13,000 units for the first year. 80 percent of these were Rampside models. Sales in successive years fell to 4,471 for 1962, 2,046 for 1963, 851 for 1964 and none for 1965.
Bruce, if you can find me a picture of a Ford Falcon/Econoline with a ramp on the side, I'll buy you dinner at this great place called Swanson's.
FIN MANtm Factoid: Available from 1961 through 1964 model years, the Corvair's "95" model designation was derived from the vehicle's wheelbase.
---
This content was produced by Brand Ave. Studios. The news and editorial departments of the St. Louis Post-Dispatch had no role in its creation or display. For more information about Brand Ave. Studios, contact tgriffin@stltoday.com.
---