Hi Mr. Kunz,
I was reading your column Sunday, May 12 in the St. Louis Post, and it hit me – light bulb emoticon – I bet you could help me.
I have been trying, ever since I was given this photo a few years ago, to find out the year of this Chevy Truck that my uncle Everette Decker is standing by so proudly, by asking car savvy friends, with guesses, but they weren't sure. Unless I am very wrong he just bought it new, and that is why he is so proud, with his hat all cocked to the side. He was a farmer in Arkansas and I imagine he had never had a new truck before.
Can you give me the year and model of the truck?
Thanks so much,
Jan Mason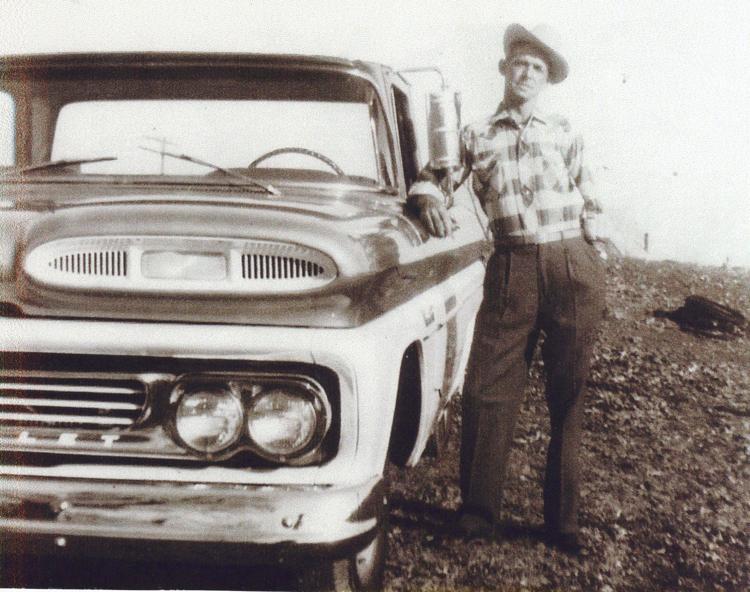 Yes Jan, I can help you solve the mystery of your uncle Everette's Chevy pickup. It is a 1960 Chevrolet Apache 10 Fleetside Pickup, series C14. This is the light-duty, half-ton model. The truck was all new for 1960 from the ground up. Styling was unique and was also used the following model year. The '60 and '61 models featured a new styling cue, the dual, slim-oval pods at each side of the hood. The way you can identify the model year is by the Chevrolet name, centered at the base of the grill. The 1961 models had the Chevrolet name centered horizontally across the middle of the grill. In addition, the 1960 models had a set of vertical louvers on either side of the parking/turn-signal lamps in those oval pods. Nineteen sixty-one models had a four-pointed star in that space with the signal lamps centered in the star.  Small details that car and truck spotters use on a regular basis to identify model years.
Judging by presence of a stainless steel trim piece along the side of uncle Everette's pickup, as well as the shiny grill and bumper, we can tell that this pickup was fitted with the, optional-at-extra-cost, Comfort King Custom Cab. Chevy marketing gurus promised buyers "easy-going, quiet comfort and real man-sized roominess in these extra-rugged new Chevrolet cabs for 1960". They delivered with Chevy's new concept in driver comfort including more shoulder, head and leg room, along with six more inches of hip room than previous models. A new windshield with a 26 percent increase in viewing area provided a better view of the road ahead!
I'm guessing your uncle may have had a camper shell on the bed of his truck, or towed a trailer of some sort, since his pickup is equipped with "West Coast" style mirrors, just like the ones the 'big rigs' use.
Well, your uncle certainly had a right to be proud of his new, totally redesigned 1960 Chevy pickup, and as you said, you can see it in his stance in this photo.
FIN MAN FACTOIDS: In 1960 a gallon of milk cost 95 cents. A one-ounce Hershey bar was five cents. A six-pack of beer was 99 cents, and a ticket to the movies was one dollar. How things have changed!
UPCOMING EVENTS: For information on upcoming events and more, follow me on Facebook at The FIN MAN. Remember, you do not need a Facebook page of your own to access someone else's page.
---
This content was produced by Brand Ave. Studios. The news and editorial departments of the St. Louis Post-Dispatch had no role in its creation or display. For more information about Brand Ave. Studios, contact tgriffin@stltoday.com.