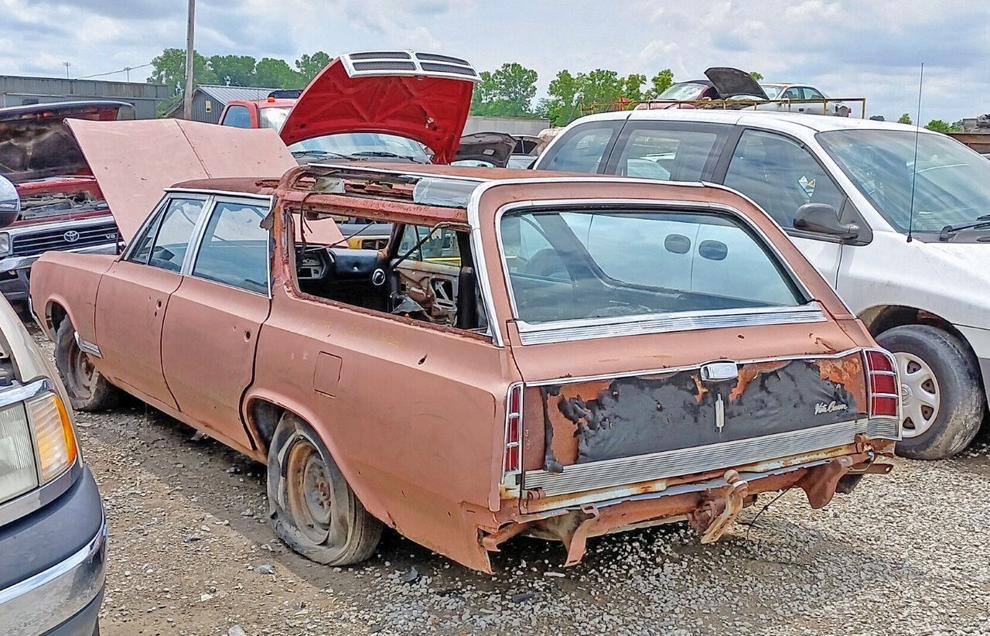 Before "political correctness" came into being (1970-1975), we called them junk yards. The first softening of that old moniker, came as "salvage yard" became the fashionable new term. Call them what you wish, but we all know that, whatever they are called, they mark the final resting place of once-pristine automobiles and trucks.
One such automobile was discovered yesterday as Dillan, one of my TKCS-STL volunteers, and I strolled through Speedway Salvage in search of a rear bumper for his Toyota Corolla. We didn't find a bumper, but we did find some interesting vintage relics for visitation.
Possibly inspired from the Greyhound 'Scenicruiser' motor coaches that travelled American highways for some years prior, a glance upward by rear-seat passengers must have made them feel as if they were traveling the interstate highway to a vacation destination.
I never had the privilege of being the child of a station wagon family. By the time I had reached adulthood, I had ridden in a station wagon maybe three or four times, and those were as a pre-teen.
although this is a very desirable vehicle to station wagon fans, it is still a station wagon and that takes a toll on its value. According to a recent copy of the Old Cars Report PriceGuide, you 'should' be able to find a No. 1 example of this 1965 model year car for somewhere in the neighborhood of $13,000. The same car in deluxe, two-door hardtop form, in No. 1 condition, is valued at $17,000 and the coveted high-performance coupe of the same model, is valued at $45,000.
The marketing mavens of the company which built the wagon pictured in this week's story came up with a catchy lead-in for the first line of a magazine ad which proclaimed, "New sky's-the-limit look in station wagons!" They went on to say, "To call anything as luxurious as this a 'station wagon' hardly does it justice. Family-room-on-wheels would be more appropriate."
UPCOMING EVENTS: The Rusty Rods car cruise will be held on Saturday, July 31, at Highland Square in Highland, Illinois. For more info, call 618-304-3560. Sunday, August 1, is the 38th Annual Roxana Park Auto Sow. For more information on this event, held at Roxana Park in Roxana, Illinois, call 618-410-9075 or 618-254-7485. As always, please let them know, The FIN MAN told you about it right here in the OCC!
Meanwhile, thanks for reading the Old Car Column, stay safe and healthy, and Keep on Cruisin'!
Rollin' with the FIN MAN V is still in the planning stages, however, event details should be finalized in another week or two.
---
The news and editorial departments of the St. Louis Post-Dispatch had no role in its creation or display. Brand Ave. Studios connects advertisers with a targeted audience through compelling content programs, from concept to production and distribution. For more information contact sales@brandavestudios.com.