Navigating the college search can be a daunting task for any student and their loved ones, and the added complications of a global pandemic are impacting nearly every high school student's junior and senior year experiences. As seniors make decisions about college and juniors start exploring post-secondary opportunities, Lindenwood University in St. Charles offers advice and guidance to support families in this unusual time.
Visit campus
Visiting campus looks different amid COVID-19 but it remains an important activity for potential students and families in understanding the college culture and atmosphere. While virtual tours and information sessions afford students a chance to learn more about an institution's goals and priorities, it cannot replace the in-person experience.
Lindenwood University hosts individualized campus tours offering a firsthand look into the student experience and personalized conversation to help juniors and seniors see their potential. Academic buildings, student life facilities and the library welcome campus visitors and allow students and families to immerse themselves in Lindenwood's culture. With safety measures in place, Lindenwood welcomes guests to register for a campus visit knowing how impactful a tour of the University, time with current students, and a conversation with a member of the enrollment management team can be during the admissions process.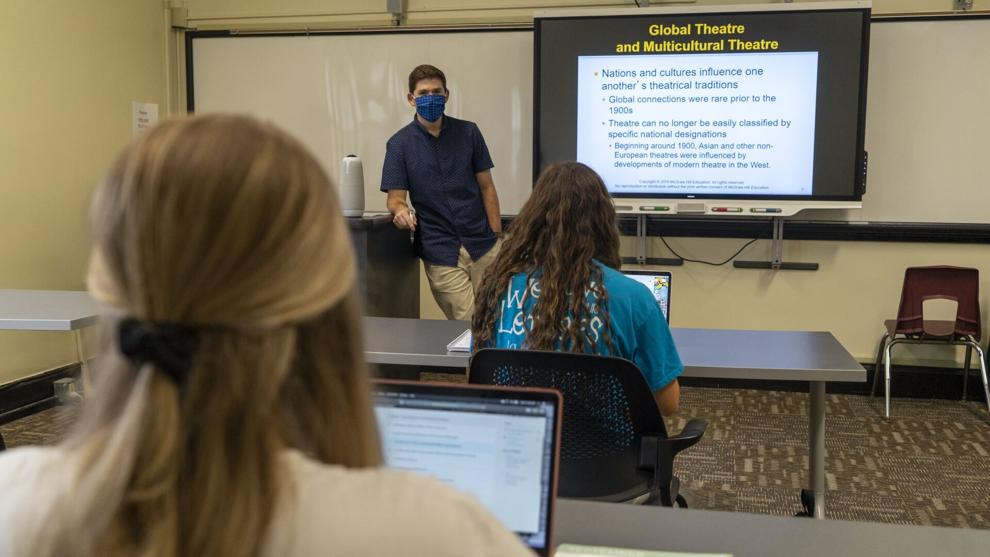 Guidance every step of the way
Pursuing your passion is a cornerstone of the college search, and students should use their search process as a time to identify what they most want out of their college experience. With academic goals or priorities in mind, a family can narrow their college search by identifying institutions with aligned program offerings. Additionally, extracurricular and social offerings should play a role in determining which college will best foster their passions.
As students persist through their college years, they must become experts in their chosen field of study as academic quality lays the foundation for career success. Students exploring colleges should evaluate the type of classroom environment and faculty engagement opportunities afforded at each institution. Small class sizes and individualized attention from faculty experts in their fields of study enrich the academic journey at Lindenwood University and foster a deeper understanding and application of classroom content. With real-world, experiential learning opportunities of the highest quality, students leave Lindenwood empowered to make an immediate impact in their post-graduate pursuits.
However, not every student has a clearly defined academic path in mind at the start of their college experience, and Lindenwood University offers an arena for these students as well. Dedicated student success advisors mentor first-year students through the transition to Lindenwood and help students identify their strengths through academic programming that excites them and propels them forward into meaningful and impactful careers. UNIV classes engage first-year students with their classmates, their new campus and the local community. Lion Life Coaches connect with students through academic engagement, problem resolution and provision of resources. The student-centered environment focuses on retention and persistence to graduation, encouraging academic and personal development every step of the way.
Find your home
Lastly, Lindenwood encourages all students who are navigating the college search to find their home. Selecting the institution that aligns with their career goals and one ready to invest in the student's success is the college search's pinnacle. Lindenwood University offers a range of scholarship and financial aid options to incoming students with dedicated counselors to help families navigate the college search's enrollment and fiscal aspects. Families should not have to sacrifice educational quality based on financial resources, and Lindenwood leads the way in affordability for private institutions in Missouri. Investing in students and their pursuit of excellence demonstrates the University's focus on student-centric and forward-thinking education, as many students graduate and begin notable careers in the greater St. Louis metro. The institution educates with intentionality to meet the needs of the job market and prepare students for success.
Founded in 1827, Lindenwood University is driven by innovation, rooted in tradition and educates for the future. With more than 100 degree programs offered in-person, hybrid or fully online, Lindenwood University has a program to meet any learner's needs. For more information about Lindenwood University's application or to tour the campus, contact (636) 949-4949 or visit Lindenwood.edu/admissions.
---
This content was produced by Brand Ave. Studios in collaboration with the Lindenwood University. The news and editorial departments of the St. Louis Post-Dispatch had no role in its creation or display. For more information about Brand Ave. Studios, contact sales@brandavestudios.com.