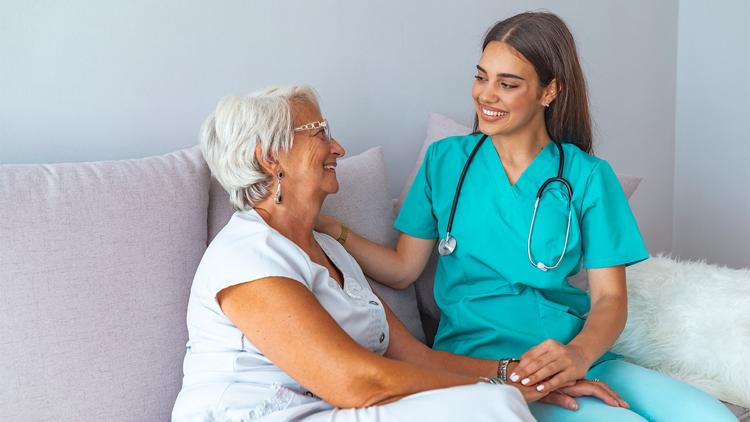 Since beginning her nursing career over 30 years ago, Kim Henrichsen says the profession has provided her with boundless opportunities, including joining Centene in 2018. As senior vice president of Population Health and Clinical Operations, Henrichsen directs teams of nursing professionals that provide managed care services for Centene's 24 million beneficiaries.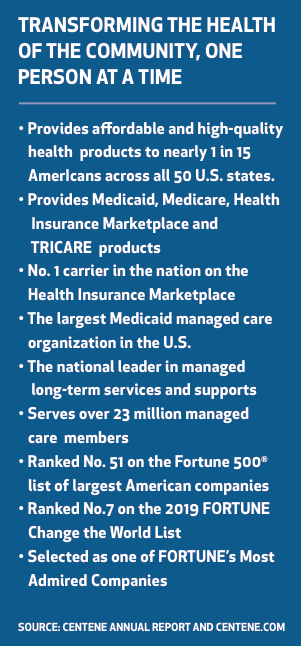 Prior to Centene, Henrichsen served as a chief nursing executive for a large hospital system in Utah and Idaho. She has provided direct clinical care across the health care spectrum, and helped shape the careers of other nurse educators, administrators, advanced practice nurses and nurse informaticists.
She says that after moving into her first managed care position at Centene, she appreciated that the company's purpose and mission aligned perfectly with her professional commitment to support the good health of communities and individuals. "I quickly realized that my approach remained the same. Centene provides a powerful opportunity to help our members achieve positive health outcomes," she says. "Managed care presents a way to really embed ourselves in the community, and think about what is needed to help people live healthier lives and contribute back to their communities in positive ways."
As a leading multi-national health care enterprise, Centene is the nation's largest Medicaid managed care organization, and the No. 1 carrier in the nation on the Health Insurance Marketplace, as well as the national leader in managed long-term services and supports. For more than 35 years, the company has remained deeply committed to transforming the health of the communities it serves.
Centene's local health plans across the U.S. help members address their specific needs. Nursing professionals are an essential part of the strategy. Teams of health service experts, using Centene's advanced clinical analytics, work together to implement award-winning programs, develop care plans, enable partnerships, and work one-on-one with members.
"At Centene, nurses who serve as care managers collaborate with behavioral health care mangers, care coordinators and community health workers to create care teams that surround and support members on their health journey," Henrichsen adds. "Members of our care teams also partner with community organizations to design and deliver care pathways for our members. It's a wonderful opportunity to be innovative and to think about how we can truly transform health care at a local level."
REAL-TIME HELP FOR MEMBERS
As health care professionals around the globe are wrestling with the threat that COVID-19 presents, nurse-led care teams at Centene health plans are working with members to keep them safe and healthy. Henrichsen says, "The pandemic has created new challenges for all of us and our care management teams have inspired me as I've watched them creatively work to ensure our members have access to continuation of critical supports and services. Nurses are helping members understand COVID-19 prevention, and they're working with families to address basic needs during this crisis. She adds, "Many of our nurses have also expressed an interest in volunteering in their communities to provide much-needed relief to their colleagues providing direct care in hospitals and other settings."
Henrichsen notes that a major shift has been occurring in health care, moving a large portion of patient care from the inpatient hospital setting toward a home and community setting. "It's very important that when thinking about where our members are receiving their care, we realize that health care most often happens in the community and a home environment. Nurses with Centene health plans are directly helping members, but they're also working with family members who are serving as caregivers, teaching them how they can best provide care for their loved one, at home." She adds, "Our members are often the most vulnerable individuals in our country. They are living with complex care needs and we are here to serve them."
NURSING OPPORTUNITIES
"For me, one of my most gratifying experiences is helping nurses realize their full potential," Henrichsen says. "I always encourage those who are entering the nursing field to be aware of the extensive opportunities this career provides for not only personal fulfillment, but also for growth and new experiences. For example, health care transformation relies on nurses who want to drive innovation, and nurses who embrace new technology solutions are positioning themselves to advance the profession." She adds, "Centene is a company that embraces the advantages that technology provides for successful health solutions."

Be the first to know
Get local news delivered to your inbox!