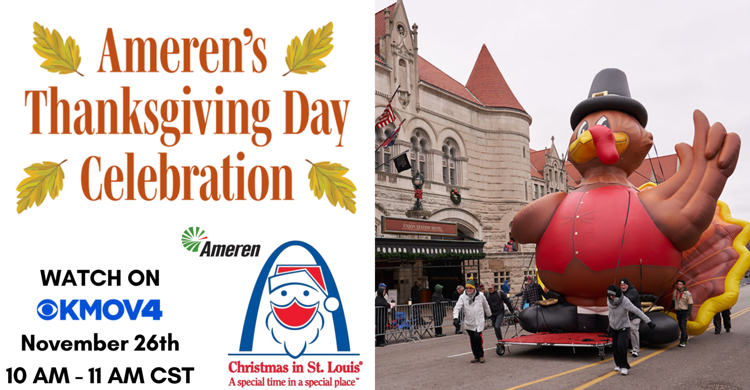 Despite the changes around us – when it comes to the holidays, some things never change. Take Thanksgiving for instance. We might be at home but there is still the chance for some of our favorites. Like pumpkin pie, watching football on the couch, holiday online shopping and maybe a nap (or a walk around the block…or maybe both!).
Our friends at Ameren and Christmas in St. Louis are determined to keep another tradition alive and bring moments of joy to the St. Louis region this season by reimagining the Thanksgiving Day Parade. This year it has been rebranded the Ameren Thanksgiving Day Celebration – and we hope you, your friends and families will tune in to watch as they shine a light on regional attractions and important charitable efforts – like the Food4All campaign highlighted below.
TUNE IN TO WATCH, THURSDAY, NOVEMBER 26 from 10 AM to 11 AM CST on Channel 4 KMOV or at www.kmov.com.
The Ameren Thanksgiving Day Celebration will bring you some of the traditional parade entertainment you have enjoyed with us over the years.
Including performances from:
Best Talent and Dance Center
Audri Bartholomew & Dynamic Dance
Belleville East HS Marching Band
moSTLy tap
Professional Dance Center
Northwest HS Marching Band
St. Louis Children's Choirs
St. Louis Performance Academy
Zoe Vonder Haar and Ben Nordstrom
And more!
Ameren's Thanksgiving Day Celebration also will kick off a fundraising effort to help meet the need for food security in our region. We implore you to learn more about the St. Louis Area Foodbank and how you can help bring warmth to our hungry neighbors by providing nutritious food.

---
This content was produced by Brand Ave. Studios in collaboration with Christmas in St. Louis. The news and editorial departments of the St. Louis Post-Dispatch had no role in its creation or display. For more information about Brand Ave. Studios, contact tgriffin@brandavestudios.com.