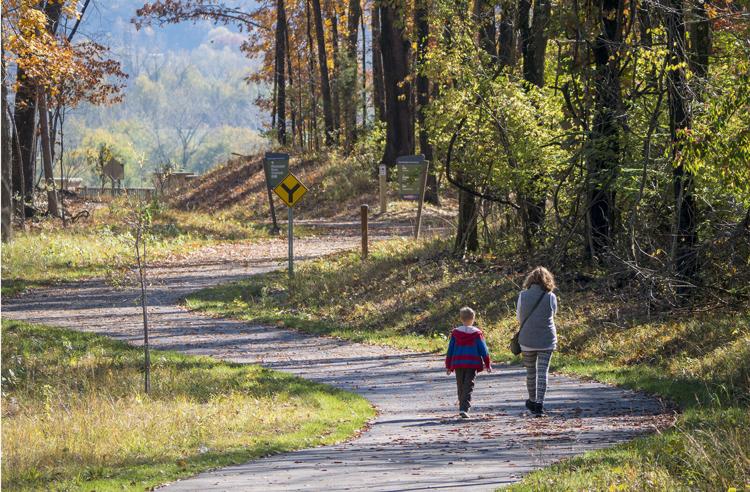 Great Rivers Greenway (GRG) is celebrating their 20th anniversary of connecting communities across St. Louis City, St. Louis County and St. Charles County with greenways. These paved, accessible spaces for recreation and transportation at the human scale allow people to explore the outdoors and nature, take a relaxing walk or even get to work via their own two legs. As the agency prepares their every-five-year strategic plan update, Great Rivers Greenway wants to hear from you!
If you aren't familiar with Great Rivers Greenway, they are the public agency formed in 2000 by a vote of the people to connect the St. Louis region with greenways. Some of the routes created since their inception include the River des Peres Greenway, Centennial Greenway and Gravois Greenway (often known as Grant's Trail), among several more — currently with a total of 128 miles of greenways in the area. And they aren't slowing down!
Future plans include the Brickline Greenway, which aims to connect the Arch grounds to Forest Park, as well as Fairground and Tower Grove Parks. This massive greenway project — currently in the planning stages — will connect people to St. Louis' neighborhoods, institutions, transit, jobs, destinations and public spaces. A full map of completed and future projects can be found on their website.
On an individual level, there are many benefits to having access to greenways. It gives people a place to be active, connect to nature and create new experiences with their friends and family. They also offer civic benefits for the community by providing environmentally friendly ways to get around town, supporting the local economy and increasing collaboration between communities.
"We're excited to be delivering this vision back to folks who have chosen to invest in greenways," says Emma Klues, vice president of communications and outreach at GRG.
There are benefits beyond those to residents as well. Greenways can be great economic drivers for tourism and spaces for visitors to connect to natural areas and see places on a human scale.
Creating an equitable impact
While Great Rivers Greenway is enthusiastic about connecting communities through greenways, they recognize there can be other impacts — both positive and negative, explicit or unintended. This is why they do more than find great routes to connect diverse communities and city centers, they also look at the potential for negative impacts.
"We know that some big projects — such as The Highline in New York City or The BeltLine in Atlanta — have in some areas led to gentrification or displacement or some [other] unwanted (and unintended) negative consequences," says Klues. Trying to consider these possibilities helps shape GRG's goals and consider new ways of engaging the community. "We try to think about what a greenway can do and what it can influence."
This sort of equity planning includes thinking about whether workforce development and job training can coincide with the creation of construction jobs the greenways will create. While this isn't GRG's main area of expertise, Klues says, bringing in partners to address things like this is a part of making sure the greenways have a positive impact on everyone living in the area.
Greenways are for everyone
Engaging the community has always been a key part of GRG's mission, and it feels especially important to the organization right now. Since the pandemic, they have seen a 70 percent increase in greenway use compared to previous years.
"We hear a lot from people that spending time in nature can help them when feeling stuck at home," says Klues. "Being able to get outside and move… has provided a lot of comfort to people in a unique time."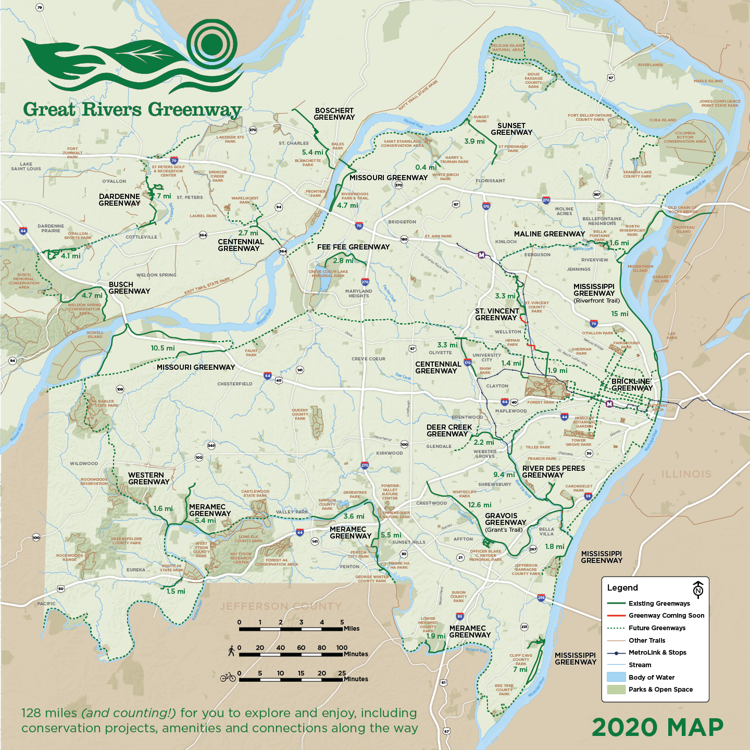 As Great Rivers Greenway looks at how to strategically plan the next few years, they are asking residents to help shape their priorities by telling them what's most important to you. Whether you've never used a greenway or you visit one every day, the agency wants to hear your input on how the next 20 years of building and maintaining greenways in the St. Louis area will look.
The strategic plan survey isn't only for current greenway users, die-hard cyclists or ultra-runners either. (But if that title does apply to you, they'd love to hear from you!) The sales tax-dollar funded organization wants to hear from everyone in the community, even if you aren't particularly aware or excited about what they're doing.
"Even if you don't live near [a greenway], it's still your sales tax dollars at work, and it's still benefitting your community," says Klues.
Take the survey here.
This content was produced by Brand Ave. Studios in collaboration with Great Rivers Greenway. The news and editorial departments of the St. Louis Post-Dispatch had no role in its creation or display. For more information about Brand Ave. Studios, contact sales@brandavestudios.com.